National
OneBeacon, International Bond & Marine Brokerage
OneBeacon Insurance Group said it has acquired International Bond & Marine Brokerage Ltd. (IB&M), a privately held brokerage and risk management firm specializing in the international trade markets.
IB&M will retain its brand and operate as a standalone brokerage, offering customs bonds, cargo, liability and other insurance coverages through its current select markets and now additionally through OneBeacon.
IB&M, headed by Kevin Tattam, president, is based in Hoboken, N.J., and has an office in Manhattan Beach, Calif.
IB&M offers custom bonds, ATA carnet bonds, ocean transportation bonds; marine, E&O/freight legal liability, and business insurance; and a technology platform for logistics companies to manage their transactions.
OneBeacon Insurance Group is the marketing brand for the insurance company subsidiaries of Intact Insurance Group USA LLC, a member of Intact Financial Corporation, the largest provider of property and casualty insurance in Canada, and a specialty insurance carrier in North America.
Coverages for OneBeacon Insurance Group are underwritten by the following companies: Atlantic Specialty Insurance Co.; Homeland Insurance Company of New York; Homeland Insurance Company of Delaware; OBI America Insurance Co.; OBI National Insurance Co. or The Guarantee Company of North America USA.
---
East
World Insurance Associates, Airways International Insurance Services
World Insurance Associates LLC acquired Airways International Insurance Services LLC of Mickelton, N.J., on May 1, 2020. Terms of the transaction were not disclosed.
Alex Morris founded Airways International Insurance Services in 2006 after more than 30 years of experience in the aerospace Industry. AIIS offers a range of products and services for the aviation and marine industries in addition to sound professional advice and contract reviews. Alex and the AIIS team are licensed pilots with more than 65 combined years of industry and professional underwriting experience.
WIA is headquartered in Tinton Falls, N.J., and is a full-service insurance brokerage providing asset and lifestyle protection with risk management, insurance and benefit consulting services for individuals and businesses.
NFP, Rose & Kiernan
NFP, an insurance broker and consultant that provides property and casualty, corporate benefits, retirement and individual solutions, has acquired Rose & Kiernan Inc. in a transaction that closed effective August 1, 2020.
Rose & Kiernan, based in Albany, N.Y., is a multidisciplinary insurance broker with capabilities in property and casualty, surety and employee benefits. Founded in 1869, the firm provides a variety of solutions, including insurance, employee benefits and risk management, to businesses, individuals and public and private organizations primarily in New York state and New England. The firm was named as one of Insurance Journal's Top 100 Independent Agencies in August 2019.
John Murray, president, chairman and CEO of Rose & Kiernan, will continue to lead the team and its operations in Albany and report to Bill Austin, president of the Northeast region, following the transaction.
NFP is an insurance broker and consultant providing specialized property and casualty, corporate benefits, retirement and individual solutions through its licensed subsidiaries and affiliates.
---
Midwest
Associated Agencies, Bensman Risk Management, Bensman Associates
Associated Agencies Inc., a privately held insurance and risk management firm based in Rolling Meadows, Ill., has acquired Bensman Risk Management Inc. and Bensman Associates Ltd., a Bannockburn, Ill.-based insurance, risk management and strategic planning firm led by CEO Bob Bensman.
Associated and its individual insurance business, Auto & Home, will work with The Bensman Group to further develop a high-net-worth individual insurance and risk advisory practice.
Bob Bensman began The Bensman Group in 1976. Through the years, the firm has grown from being primarily focused on life insurance to a multi-discipline financial services firm, including individual and corporate services.
Bensman will continue as CEO and founder of Bensman Risk Management Inc. and Bensman Associates Ltd., a division of Associated Insurance and Risk Management Advisors.
Keystone Agency Investors, Midwest Risk Partners
Keystone Agency Investors, a new strategic partnership formed by Keystone Insurers Group and Bain Capital Credit, has acquired four St. Louis, Missouri-based insurance agencies, which together will form Midwest Risk Partners LLC, a custom insurance platform serving the greater St. Louis area.
Midwest Risk Partners is comprised of former partner agencies including St. Charles Insurance Group LLC, Jerome L. Howe Inc., Eagle Insurance Agency LLC, and Bowersox Insurance Agency Company. Combined, each agency's product suite includes insurance and risk management services for businesses including workers' compensation, claim and risk management programs, health and wellness programs, benefits, and financial services, as well as a full line of personal insurance products.
Midwest Risk Partners marks KAI's fourth acquisition since launching in July 2020.
---
South Central
State Farm, GAINSCO
State Farm Mutual Automobile Insurance Co. is acquiring Dallas-based nonstandard auto insurer, GAINSCO, in a $400 million cash transaction. It will be the first time in State Farm's 98-year history that it has acquired an insurance company, the company said.
The acquisition, which is expected to close in early 2021, is subject to the approval of GAINSCO's shareholders, the expiration or termination of the applicable waiting period under the Hart-Scott-Rodino Antitrust Improvements Act of 1976, obtaining regulatory approvals, and satisfaction of other customary closing conditions.
GAINSCO, founded in 1978, specializes in minimum-limits personal auto coverage and actively distributes its nonstandard personal auto products through independent retail agents in Arizona, Florida, Georgia, New Mexico, Oklahoma, South Carolina, Tennessee, Texas, Utah, Virginia, Ohio and Alabama. Its insurance operations are conducted through its subsidiary, MGA Insurance Company Inc., a Texas corporation.
Headquartered in Dallas, GAINSCO also has a regional office in Miami, Florida.
Under the merger agreement, upon closing State Farm Mutual will acquire 100% GAINSCO Inc. stock; GAINSCO shareholders will receive approximately $107.38 per share in cash.
GAINSCO will continue to operate as a separate company and brand with continued focus on its current objectives. Over time, the parties expect to provide State Farm agents the opportunity to distribute GAINSCO products in addition to State Farm products and services.
Barclays Capital Inc. was the financial adviser to State Farm, and Mayer Brown LLP served as legal counsel for State Farm. Sherman & Company was the financial adviser to GAINSCO, and Hunton Andrews Kurth LLP served as legal counsel for GAINSCO.
Hub International, Hollis Companies, Employee Benefits Corp., Todd & Associates
Chicago-based global insurance brokerage Hub International Limited has acquired the assets of Hollis Companies L.L.C. and The Employee Benefits Corp., located in Metairie, Louisiana.
In a separate transaction, Hub acquired the assets of Todd & Associates LLC, an independent insurance agency located in Lake Charles, Louisiana.
TEBC and Hollis Companies are an employee benefits consulting firm providing benefits solutions, workplace-wellness plans and guidance on compliance issues to clients.
Michael Hollis, president and CEO of TEBC and Hollis Companies, will join Hub Gulf South and report to Hub Gulf South President Shaun Norris.
Todd & Associates is an independently owned agency with more than 100 years of combined experience in the insurance industry.
The agency provides insurance products and services tailored to clients' specific risk needs, including medical professional liability insurance.
Hub said this expertise in healthcare supports its specialty practices by complementing and strengthening Hub's existing capabilities.
Louis Todd, owner of Todd & Associates, along with his team, will join Hub Gulf South.
---
Southeast
Brown & Brown, Frank E. Neal & Co.
Brown & Brown of Tennessee Inc., a subsidiary of Brown & Brown Inc., has acquired substantially all of the assets of the Frank E. Neal & Co. Agency, according to an announcement from J. Scott Penny, chief acquisitions officer of Brown & Brown Inc., and Wink, Mark and Brent Neal, the owners of Frank E. Neal & Co.
Frank E. Neal & Co. has provided commercial, surety, personal and employee benefits insurance options to entrepreneurs, businesses and individuals throughout the Southeast region of the United States for more than 45 years. The agency has specialized in providing surety bonds and commercial insurance products within the construction industry.
The Frank E. Neal team will join with the existing Brown & Brown of Tennessee team in Nashville. Brown & Brown of Tennessee operates under local leadership of Ryan Rothrock and regional leadership of John Esposito.
Brown & Brown Inc. is an insurance brokerage firm, providing risk management to individuals and businesses.
---
West
Arthur J. Gallagher & Co., Erin P. Collins & Associates
Arthur J. Gallagher & Co. has acquired Kingman, Ariz.-based Erin P. Collins & Associates Inc.
Erin Collins and his associates will continue to operate from their current locations under the direction of Scott Gregory, head of Gallagher's Southwest region employee benefits consulting and brokerage operations.
ECA is an employee benefits and workplace well-being consultant serving clients throughout Arizona from offices in Kingman and Phoenix.
Arthur J. Gallagher is an insurance brokerage, risk management and consulting services firm headquartered in Rolling Meadows, Ill.
Was this article valuable?
Here are more articles you may enjoy.
From This Issue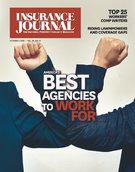 Best Insurance Agencies to Work For; Top Workers' Comp Writers; Markets: Hotels & Motels