East
Griffin Owens Insurance Specialists, Leavitt Group
Griffin Owens Insurance Specialists has affiliated with Leavitt Group.
Agents and staff will continue to work with clients from their current location following the affiliation. The affiliation will not affect current accounts, and clients will continue to work with the same personnel with whom they are familiar.
Leavitt Group is a privately-held insurance brokerage. Through its association with Leavitt Group, Griffin Owens Insurance will be able to provide clients with greater insurance market access and a range of value-added services and resources.
Alera Group, FNL Insurance Group
Alera Group, a national employee benefits, property and casualty, retirement services and wealth management firm, has acquired FNL Insurance Group, effective August 1, 2020.
For more than 40 years, FNL Insurance Group has been helping clients with their employee benefit and health care insurance needs. The firm is located in Timonium, Md., where it partners with small and mid-sized employers to develop sustainable benefits programs that support employees while keeping costs low.
Based in Deerfield, Ill., Alera Group's more than 2,000 employees serve thousands of clients nationally in employee benefits, property and casualty, retirement services and wealth management.
FNL joins Alera Group through Silberstein Insurance Group (SIG), an Alera Group company. The FNL team will continue serving clients in their existing roles.
---
Midwest
Plexus Groupe, D.H. Tank Insurance
The Plexus Groupe has acquired D.H. Tank Insurance Agency located in the Chicago suburb of Naperville, Ill.
Founded in 1968, the Tank Agency is an independent insurance agency specializing in commercial property and casualty and personal lines with an expertise in marine insurance placements worldwide. Tank Agency President Deane H. Tank Jr. joins Plexus as vice president of Business Development.
The transaction is the third Plexus acquisition of 2020. Earlier this year, Deer Park, Ill.-based Plexus expanded its national presence by acquiring two Tampa Florida agencies: Artisan Insurance Group and Community Insurance Group.
The Plexus Groupe, founded in 1990, offers employee benefits, property and casualty insurance, corporate retirement plans, personal lines insurance, benefits technology services, and mergers and acquisitions services.
In addition to Deer Park, Plexus has locations in Atlanta, Chicago, Dallas, Los Angeles, Oklahoma City and Tampa.
ReAlign Insurance Holdings, Summit Specialty
ReAlign Insurance Holdings LLC has formed Summit Specialty Insurance Co., a new surplus lines insurance carrier based in Nebraska.
A wholly owned subsidiary of ReAlign Insurance Holdings Inc. and headed by Timothy McAuliffe, Summit Specialty has received the necessary regulatory approvals to operate as a surplus lines insurer and expects to begin underwriting activity in late 2020.
The new carrier is working to achieve authorization to commence underwriting activity in markets across the country in early 2021.
McAuliffe, a former Ironshore and AIG specialty casualty executive, also serves as president of ReAlign subsidiaries, Dallas-based National Lloyds Insurance Co. and American Summit Insurance Co. ReAlign's Nebraska launch comes on the heels of its acquisition of these specialty insurance providers in July.
ReAlign Insurance Holdings LLC is an insurance holding company formed by ReAlign Capital Strategies LLC and private investors to acquire and own broadly licensed admitted and surplus lines insurance companies focused exclusively on the specialty program insurance marketplace in the U.S.
---
South Central
AccuRisk Solutions, Convex Group
AccuRisk Solutions has teamed up with Convex Group to offer occupational accident and employer's liability coverage to Texas employers that have opted out of workers' compensation.
AccuRisk said the partnership allows it to increase its market share in the occupational insurance arena as well as provide enhanced service to producers and their clients.
With operations in London and Bermuda, Convex Group is a specialty insurer and reinsurer focused on complex risks founded by Stephen Catlin and Paul Brand.
Higginbotham, Brisky & Perez Insurance Agency
Independent insurance agency, Higginbotham, and Brisky & Perez Insurance Agency, an independent firm in Brownsville, Texas, have merged operations, expanding Higginbotham's reach in South Texas.
Both firms broker commercial and personal property and casualty insurance, employee benefits and individual life and health insurance. The union marks Higginbotham's entrance into Brownsville and adds eight insurance professionals to its coastal region operations for a total of 110.
Albert L. Perez Jr. and Linda Brisky Perez, husband and wife owners of Brisky & Perez, will continue leading the office as Brisky & Perez Insurance Agency, A Higginbotham Company. They will collaborate with Higginbotham's nearby offices in McAllen, Corpus Christi and Victoria to enhance service to coastal customers.
Brisky & Perez Insurance Agency dates back 51 years in Brownsville, Texas. Originated as Brisky Insurance Agency, owners Walter and Rusty Brisky sold it to daughter Linda Brisky and her business partner Albert L. Perez Jr. in 1986. The partners married a year later.
Through two subsequent agency acquisitions, they expanded their capabilities in all lines of commercial and personal property and casualty insurance and financial services.
Higginbotham was founded in 1948 and is headquartered in Fort Worth, Texas, with more than 45 additional offices statewide and in Oklahoma, Georgia, New Mexico and California.
---
Southeast
USI Insurance, Findley
USI Insurance Services has entered into a definitive agreement to acquire Nashville, Tenn.-based Findley Inc. Subject to customary closing conditions, including regulatory approvals, the transaction is expected to close in November 2020.
Founded in 1969, Findley is an independent human resources and employee benefits consulting firm, providing actuarial, benefits and administrative consulting services to private and publicly held companies, the public sector and non-profit organizations.
Findley employs more than 250 associates, serving clients across the country from seven office locations in the Midwest and Southeast.
The firm serves organizations ranging from small employers to those with more than 200,000 employees in many industry sectors including healthcare, manufacturing, professional services, retail, financial institutions, nonprofits, multi-employers and government entities.
Upon the completion of the transaction, Findley's actuarial and retirement practices will be joined together with the resources of USI Consulting Group, a provider of defined contribution and defined benefit plan consulting and administration services, to form a national specialized retirement business. Findley's human capital and health and group benefits practices will also be joined together with USI's employee benefits resources as an employee benefits consulting and brokerage firm.
Valhalla, N.Y.-USI offers property and casualty, employee benefits, personal risk, program and retirement services to large risk management clients, middle market companies, smaller firms and individuals.
Risk Strategies, LaRocca & Associates
Risk Strategies, a privately held national insurance brokerage and risk management firm, has acquired LaRocca & Associates Inc., a specialty brokerage with expertise in health and welfare benefits across several industries.
Established in 1980, LaRocca & Associates focuses on employee benefits and property and casualty insurance. It has offices in Miami and Fort Lauderdale, Fla., as well as Atlanta.
LaRocca & Associates' clients include
businesses in a variety of industries, from manufacturing to service and hospitality, educational facilities and municipalities and non-profit organizations. LaRocca & Associates also brings a team of health care industry practitioners.
According to the company, LaRocca & Associates will now have access to a national platform of products, services and business expertise across specialty practices and industries.
In addition to developing employee benefits programs, LaRocca & Associates also assists clients with compliance administration, technology consulting, employee education, analytics and benchmarking, human resource assistance, human capital management consulting and health and wellness strategies.
Risk Strategies is a privately held, national firm with offices across the country. The brokerage offers risk management advice as well as insurance and reinsurance placement for property and casualty, health care and employee benefits risks.
Risk Strategies serves commercial companies, non-profits, public entities and individuals and has access to all major insurance markets. Risk Strategies has offices in more than 75 locations nationwide.
---
West
R.E. Chaix & Associates, National Advantage
R.E. Chaix & Associates Insurance Brokers Inc. has purchased the assets of National Advantage Insurance Services Inc. in Tustin, Calif.
National Advantage Insurance Services specializes in commercial auto, propert and casualty and personal lines.
R.E. Chaix & Associates is headquartered in Orange County, Calif., and has multiple locations throughout the state.
R.E. Chaix & Associates, which is licensed in all 50 states, offers products in property and casualty, professional liability, workers' compensation, environmental, marine, garage liability, commercial auto, oil and gas, personal lines and special programs.
CRC Group, W. Brown & Associates
CRC Group has completed its acquisition of W. Brown & Associates Property & Casualty, an Irvine, Calif. -based surplus lines broker and managing general agency.
Brown & Associates will be part of CRC Group's Commercial Solutions Division. W. Brown & Associates Aviation was not included as part of the transaction.
CRC Group is a wholesale and specialty insurance products.
Topics Texas
Was this article valuable?
Here are more articles you may enjoy.
From This Issue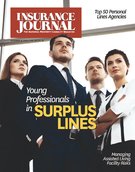 Top 50 Personal Lines Retail Agencies; Young Wholesale Brokers; Markets: Assisted Living / Long Term Care; Special Supplement: The Florida Issue; Webinar: The Ins & Outs of Agency E&O