National
ReSource Pro, Strategy Meets Action, Nolan
Insurance operations, analytics and process services firm ReSource Pro said it has acquired two strategic advisory and management consulting firms focused on property/casualty insurance, Strategy Meets Action (SMA) and The Nolan Company. The transactions were completed on Jan. 1, 2021.
By acquiring these two firms, ReSource Pro said it is "building on its strategy to deliver business transformation services and operational solutions to insurance organizations."
Boston-based Strategy Meets Action provides strategic insights, consulting services and published research to carriers, service providers and insurtech startups, including guidance on business strategy, digital transformation, core systems and customer experience. Strategy Meets Action will continue to be led by Deb Smallwood in her new role as senior partner, Carrier Transformation, SMA.
Founded in 1973, The Nolan Company in Simsbury, Conn., offers consulting services to insurance executives on strategy, growth, technology and operational improvement. Nolan will continue to be led by Steve Discher in his new role as senior partner, Carrier Practice, Nolan.
Discher is also well-known in the industry. He has almost 40 years of experience assisting clients with business performance improvement programs. With a focus on financial and operational improvement initiatives.
Morgan Partners served as exclusive financial advisor to ReSource Pro in these transactions.
New York-based ReSource Pro provides integrated operational services to insurance organizations. Its global service centers and 5,000 employees address client operational needs around the clock.
East
Arthur J. Gallagher, North Star Insurance Services, North Star Marine Insurance Services
Arthur J. Gallagher & Co. has acquired Seattle-based North Star Insurance Services LLC and Fairhaven, Mass.-based North Star Marine Insurance Services LLC.
Founded in 2001, North Star Insurance Services is a full-service marine insurance broker serving clients throughout the U.S. Its expertise spans nearly all facets of the marine industry, including hull, machinery, marine liabilities and cargo for commercial fishing, tugs and barges, shipyards and ocean-going cargo vessels.
In 2014, North Star Marine Insurance Services was established in Fairhaven to address growing customer demand in that region. John Walsh, Ian Blackburn and their associates will continue operating from their current locations under the direction of Jim Buckley, head of Gallagher's Northwest region retail property/casualty brokerage operations.
Arthur J. Gallagher & Co., a global insurance brokerage, risk management and consulting services firm, is headquartered in Rolling Meadows, Ill. The company has operations in 49 countries.
BRP Group, Armfield, Harrison & Thomas
BRP Group Inc., an independent insurance distribution firm delivering tailored insurance solutions, has acquired all of the outstanding equity interests of Armfield, Harrison & Thomas Inc., which will be converted post-acquisition to a limited liability company with the name Armfield, Harrison & Thomas LLC.
AHT is a Leesburg, Va.-headquartered brokerage and consulting firm offering property/casualty, employee benefits, retirement, personal and international services for a range of industries. BRP Group will own and operate AHT through its middle-market subsidiary and operating group.
Following the acquisition, AHT President and CEO David Schaefer will serve as a regional president within BRP Group's middle-market operating group.
With major offices in the Seattle, Washington D.C., New York and Boston metropolitan areas, AHT brings to BRP Group immediate middle-market scale in the Pacific Northwest, Mid-Atlantic and Northeast regions.
Reagan Consulting Inc. and its wholly-owned subsidiary, Reagan Securities Inc. acted as financial advisor to AHT in the transaction.
Midwest
Brown & Brown of Ohio, Berry Insurance Group
Brown & Brown of Ohio LLC, a subsidiary of Brown & Brown Inc., has acquired substantially all of the assets of Berry Insurance Group, based in Ohio.
Founded in 2002 by Mark Berry, Berry Insurance Group has grown to one of the most prominent insurance brokerage agencies in Ohio, providing commercial and personal insurance products for business and individual customers throughout the Cincinnati tri-state area.
Berry will continue to lead the Berry Insurance Group team, operating from its offices in Terrace Park and Lebanon, Ohio. He will report to Tommy Huval, regional president of Brown & Brown Retail.
Brown & Brown Inc. is based in Daytona Beach, Fla.
South Central
Global Risk Solutions, Tailored Adjustment Services
Global Risk Solutions Inc., a provider of property/casualty claims, environmental risk management and complex claims products and services, has acquired Tailored Adjustment Services Inc., based in Colleyville, Texas.
Tailored specializes in property/casualty claims as well as litigation management. It was founded in 1996 by James Buchanan and Mike Myers as an independent adjusting firm. Its operations span the Southern United States and offer claims services across many lines, including casualty, commercial and residential property, general liability, automobile, heavy equipment and marine. The operation began in Dallas and has grown to cover the majority of Texas, Oklahoma, North Carolina and South Carolina, Arkansas and Florida.
The acquisition of Tailored and its team are part of an ongoing strategy to expand throughout the United States.
Waller Helms Advisors LLC served as Global Risk Solutions' exclusive financial advisor in the transaction with Tailored Adjustment Services.
Founded in 2002, Global Risk Solutions is headquartered in Miami, Fla., and has offices in London and the United States.
Southeast
Rhodes Risk Advisors, McEver & Tribble
Rhodes Risk Advisors, an independent insurance firm, has acquired McEver & Tribble, an independent insurance agency also based in Atlanta. The acquisition was completed Dec. 31, 2020.
Mike Davis, Rhodes' managing partner who founded the firm in 2013, said McEver & Tribble has more than 50 years of experience providing insurance services to both businesses and individuals.
Rhodes's commercial specialization strategy includes real estate and construction, professional services, transactional risk, entertainment, technology, nonprofit and aviation. McEver & Tribble has a strong industry presence in the real estate, development and construction sectors.
With the acquisition, Rhodes has added a personal lines division, Davis said. McEver & Tribble partner W. Hayward McEver joins Rhodes as partner.
Based in Atlanta, Rhodes Risk Advisors is an insurance and risk management firm offering insurance products and risk management services.
Serving Atlanta and the Southeast for more than 50 years and three generations, McEver & Tribble is an independent full-service property and casualty insurance brokerage firm.
West
Crest Insurance Group, Gates
Crest Insurance Group LLC of Tucson Arizona has acquired Gates Insurance Inc.
President Michael Gates and his staff have been serving clients out of its home office in Mesa, Ariz., since 2009. Gates is a property/casualty firm specializing in small business and personal lines.
Crest has grown to include additional offices in Scottsdale, Sierra Vista, Flagstaff, an in Denver, Colo., Ft. Collins, Colo., and San Diego, Calif. The firm writes insurance business throughout the Southwest and has clients and carriers nationwide.
InterWest, Sierra Gold
InterWest Insurance Services has acquired Sierra Gold Insurance Services in Nevada City, Calif.
Sierra Gold was founded in 1997 and specializes in commercial, personal, surety bonds and employee benefits insurance programs.
InterWest is a regional insurance brokerage headquartered in Sacramento with 350 employees.
Was this article valuable?
Here are more articles you may enjoy.
From This Issue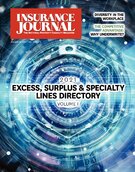 Excess, Surplus & Specialty Markets Directory, Volume I; The Diversity Issue