National
Seeto, Pattern
Two insurtech managing general agencies plan to merge to tap into embedded insurance demand for travel and other e-commerce businesses.
Seeto, which focuses on helping e-businesses build embedded coverage, will merge with Pattern, a startup designed to offer parametric and traditional insurance cover as embedded insurance.
The new joint company will be called Pattern.
Since merger plans were announced, the companies have jointly raised $25 million in funding, including a recent seed round of $10 million for Pattern.
The joint company is backed by Kamet Ventures, Comcast Ventures, MS&AD Ventures, Foundation Capital, FinTLV, TechAviv Founder Partners, Kli Capital, Abstract Ventures, and others.
They hope to close on the merger near the end of August. At that point, AXA, Spinnaker Insurance Co., Wakam and others will provide Pattern's insurance backing.
Setoo operates as an insurance managing general agency in the European Union and United Kingdom.
Pattern is in the process of becoming an MGA in the United States.
The joint company will operate both in the EU and U.S.
Pattern will offer embedded insurance products for businesses using real-time underwriting data.
East
Venerable Holdings, Corporate Solutions Life Reinsurance Company
Venerable Holdings Inc. has completed its acquisition of Corporate Solutions Life Reinsurance Company, a Delaware domiciled and New York licensed reinsurance company, from Equitable Holdings Inc.
With the close of this transaction, Venerable's pro forma assets under management and reinsurance increase to approximately $70 billion.
On a pro forma basis, Venerable has more than doubled its general account assets from $9 billion to $19 billion, in addition to more than $51 billion in separate account reinsured.
The transaction includes reinsurance of a legacy variable annuity block from Equitable Financial Life Insurance Company with the combined deal representing $36.5 billion of underlying account value and general account assets. Venerable has also reinsured its existing business into CS Life Re.
Equitable Holdings will take a noncontrolling 9.09% equity stake in Venerable's parent holding company, VA Capital Company LLC. Pending regulatory approval, a member of Equitable Holding's management team will be appointed to the VA Capital Company LLC board.
A team supporting CS Life Re has transitioned from Equitable Holdings to Venerable. AllianceBernstein L.P. has been retained as the preferred investment manager for most of the general account assets associated with this transaction, and Voya Investment Management will continue to be the preferred asset manager for the majority of Venerable's existing book of business.
Venerable is a privately held company with business operations based in West Chester, Pennsylvania, and Des Moines, Iowa. It owns and manages legacy variable annuity business acquired from other entities.
Amwins, CBIZ M.T. Donahoe & Associates
Amwins has acquired CBIZ M.T. Donahoe & Associates LLC, a Maryland-based general agent specializing in employee and individual benefits and services.
MTDA President Michael Donahoe Jr. will join the leadership team of Amwins Connect.
MTDA will join the group benefits division.
Amwins is an independent wholesale distributor of specialty insurance products serving retail insurance agents by providing property/casualty products, specialty group benefit products and administrative services. It is based in Charlotte, North Carolina.
MTDA is based in Columbia, Maryland, the company supports brokers and their clients with business located in Maryland, the District of Columbia and Virginia.
Midwest
Arthur J. Gallagher, Stellar Benefits Group
Arthur J. Gallagher & Co. acquired Solon, Ohio-based Stellar Benefits Group LLC.
Ronald Rafal, Alan Greenberg and their associates will continue to operate from their current location under the direction of Tom Lannen, head of Gallagher's Great Lakes region employee benefit consulting and brokerage division.
Stellar Benefits is an employee benefits consulting firm offering health and welfare programs for businesses of all sizes.
Arthur J. Gallagher is an insurance brokerage, risk management and consulting services firm headquartered in Rolling Meadows, Illinois.
BMS Re, Trean Intermediaries
BMS Re acquired Trean Intermediaries, a Wayzata, Minnesota-based independent reinsurance broker and services company.
Trean' staff and infrastructure transferred to BMS Re. Sean Ryan, president of Trean, assumes the new role of deputy CEO of BMS Re and will report to Pete Chandler, president and CEO of BMS Re.
JJ Johnson, managing partner at Trean, assumes the role of chief production officer of BMS Re. Ryan and Johnson will be joined by two senior partners, Mark Rex and Jeff Sorrels.
Founded as a joint venture with Trean Corp., Trean Intermediaries specializes in workers' compensation, property/casualty, accident and health, personal auto, public entity, and professional liability lines for insurer and managing general agent clients. BMS is an independent specialist insurance and reinsurance broker.
Liberty Mutual, State Auto Group
Insurer Liberty Mutual is acquiring State Auto Group, a super-regional insurance holding company headquartered in Columbus, Ohio.
Under the terms of the agreement, State Auto mutual members will become mutual members of Liberty Mutual. Liberty Mutual will acquire all the publicly held shares of common stock of State Auto Financial for $52 per share in a cash deal of about $1 billion.
The acquisition will expand Liberty Mutual's position in personal lines and small commercial insurance. Liberty Mutual distributes Safeco Insurance personal auto, homeowners and specialty products, and Liberty Mutual small business insurance through more than 10,000 independent agencies countrywide.
Liberty Mutual will add $2.3 billion in premium and State Auto's network of roughly 3,400 independent agencies across 33 states.
The transaction has been approved by the State Auto Financial board of directors, as well as the State Auto Mutual board of directors.
The deal is expected to close in 2022, pending approvals and other customary closing conditions.
State Auto Mutual entered into a voting agreement with Liberty Mutual under which it has agreed to vote its 58.8% interest in State Auto Financial in favor of the merger.
South Central
HUB International, TCG Group Holdings
HUB International Ltd. acquired the operating subsidiaries of Austin, Texas-based TCG Group Holdings LLP, doing business as Trusted Capital Group.
John Pesce, CEO of TCG; Jeff Montgomery, president; Scott Hauptmann, chief operating officer; Chris Jamail, chief marketing officer; and the TCG team will join Hub Retirement and Private Wealth in Hub Texas.
TCG is an investment and consulting firm that provides financial wellness solutions including wealth management, retirement planning and institutional advisory. TCG manages more than $4.6 billion in assets across plans in the education, local government and small-to-medium business segments.
Chicago based Hub is a global insurance broker and financial services firm.
Amynta Group, Scion Underwriting Services
Amynta Group acquired Scion Underwriting Services from Brit.
Scion will continue under the leadership of Scott Brock, president of Scion, and Michael Hattaway, senior vice president.
Dallas, Texas-based Scion operates as an MGA providing casualty insurance solutions to the excess and surplus lines market. The company specializes in excess liability, with a focus on the transportation market, and primary general liability.
Amynta Group is an insurance services company with more than $3.5 billion in managed premium and 2,000 associates across North America, Europe, and Australia.
Brit is a global specialty insurer and reinsurer.
Alera Group, AGM Benefit Solutions
Deerfield, Ill.-based insurance and wealth management firm, Alera Group, acquired AGM Benefit Solutions, a provider of voluntary benefits, enrollment services and benefits technology headquartered in Baton Rouge, Louisiana.
AGM Benefit Solutions provides its products and services to clients nationwide. The AGM Benefit Solutions team will continue serving clients in its existing roles.
Southeast
Sedgwick, Nautilus Investigations
Sedgwick has acquired the assets of Nautilus Investigations, a South Florida-based firm with a specialty in maritime claims, incidents and casualties, particularly yachts and personal watercraft.
Nautilus adjusts and investigates marine incidents, with a focus on yacht claims and investigations and claims management.
Serving clients throughout the U.S., Caribbean and Latin America, Nautilus expands the footprint and capabilities of Sedgwick's marine solutions.
West
NewFront, ABD Insurance
California companies Newfront Insurance and ABD Insurance and Financial Services have entered into an agreement to combine.
The merger values the combined company, which will be called Newfront, at $1.35 billion and is expected to close by the end of August.
The combination of the two companies will bring together 600 employees to serve over 10,000 clients and place more than $2 billion in premiums annually.
Newfront's headquarters will remain in San Francisco and will be led by Spike Lipkin as CEO, Kurt de Grosz as executive chairman, Brian Hetherington as president, and Gordon Wintrob as chief technical officer.
Headquartered in San Mateo, ABD has offices throughout California, Washington, Illinois, and New York.
Newfront is an insurance brokerage driven largely by proprietary technology.
Was this article valuable?
Here are more articles you may enjoy.
From This Issue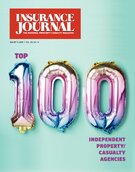 Top 100 P/C Agencies; Markets: Recreation & Leisure, Condos; Special Supplement: The Florida Issue