National
Guidewire, HazardHub
Insurance technology firm Guidewire Software has acquired HazardHub, an insurtech provider of property risk data to the property/casualty insurance industry for underwriting, marketing and claims.
HazardHub's data is delivered in a national catalog of risks that may damage or destroy property, including perils from air, water, earth, and fire.
California-based HazardHub has a team of engineers and scientists with experience creating, modeling and deploying large geospatial databases.
Mike Rosenbaum, CEO, Guidewire Software, said his company will be embedding the HazardHub data service into its platform.
East
The Liberty Company Insurance Brokers, The Budde Agency
The Liberty Company Insurance Brokers entered into a new partnership with The Budde Agency of Amityville, New York.
The Budde Agency is led by Richard Budde and Daniel Waldeck and provides personal and business insurance products and risk management services to clients on Long Island.
The agency specializes in contractors, including remediation and water proofing businesses.
The Liberty Company Insurance Brokers is a privately held insurance broker in the U.S. It provides entrepreneurial producers and agency owners with a platform to serve clients and create equity value.
Community Bank System, Thomas Gregory Associates Insurance Brokers
Community Bank System Inc. acquired the assets of the New England-based Thomas Gregory Associates Insurance Brokers Inc., a property/casualty broker specializing in the food and agribusiness industries.
TGA's assets were acquired by OneGroup, NY Inc., a wholly-owned subsidiary of Community Bank System.
Thomas Gregory Associates represents clients across the U.S. The firm specializes in all lines of property/casualty coverage, including hard to place professional liability and product recall, particularly firms requiring controlled atmospheres and controlled environments.
OneGroup is Community Bank System's insurance agency subsidiary. OneGroup operates from 18 offices in New York, Pennsylvania, South Carolina, Florida and now Massachusetts.
Midwest
Pie Carrier Holdings, Western Select Insurance
Pie Carrier Holdings received regulatory approval from the Illinois Department of Insurance to acquire Western Select Insurance Co. from a subsidiary of Premia Holdings Ltd.
The proposed acquisition represents a step by Pie Carrier Holdings, a subsidiary of the insurtech Pie, formed in 2020, to execute on Pie's strategy of becoming a full-stack insurance carrier.
Upon the closing of the proposed acquisition, Western Select Insurance Co. will be renamed Pie Casualty Insurance Co.
Since 2017, Pie has received over $300 million in funding and commitments for future funding.
Western Select Insurance Co. is a property/casualty insurance company licensed in Illinois, California, and New York.
Marsh McLennan Agency, Vaaler Insurance
Marsh McLennan Agency, the middle market agency subsidiary of Marsh, acquired of Vaaler Insurance Inc., a large independent agenty in North Dakota.
Vaaler provides business insurance, employee health and benefits, and personal lines solutions, with specialized expertise in the construction, education, and healthcare industries.
Vaaler has 81 employees across offices in Grand Forks, Fargo, and Bismarck, North Dakota, as well as in Fosston, Minnesota. Vaaler CEO Bruce Vaaler will continue to lead operations in the four locations.
Marsh McLennan Agency provides business insurance, employee health and benefits, retirement, and private client insurance solutions to organizations and individuals.
South Central
ReSource Pro, Insurance Licensing Services of America
ReSource Pro acquired Insurance Licensing Services of America, a Groesbeck, Texas-based firm that provides regulatory and compliance services to insurance organizations and professionals.
By acquiring ILSA, New York-based ReSource Pro is building on its strategy to deliver business transformation services and operational solutions to insurance organizations.
ReSource Pro is also acquiring Spot On Insurance, ILSA's insurance podcast. SOI has seen more than 100,000 downloads since it began in 2017.
With a team of more than 50 filings experts, ILSA delivers outsourced licensing and compliance filings, surplus lines tax filings and corporate/annual filings services for insurance brokers and agencies.
ILSA will continue to be led by Russ Foster and will become part of ReSource Pro's insurance experience center.
ILSA will report to Frank Phillips, ReSource Pro vice president, who has over 25 years of leadership experience in the global insurance brokerage and underwriting industry. Ted and Arleen Taveras will continue to work with ILSA in an advisory capacity.
Morgan Partners served as exclusive financial advisor to ReSource Pro in these transactions.
Southeast
Align, NBIS
Align Financial Holdings, LLC, a general agency and specialist program underwriting manager has acquired Atlanta-based NationsBuilders Insurance Services Inc., an underwriting manager specializing in providing risk management, underwriting and claims handling expertise to the crane & rigging, specialized transportation, concrete pump and equipment rental, and dealer industries.
The acquisition of NBIS advances San Diego-based Align's strategy of building a diversified underwriting business offering a broad portfolio of specialty P&C programs.
Risk Strategies, Benevestco
National specialty insurance brokerage and risk management firm Risk Strategies announced it has acquired the assets of employee benefits specialty broker Benevestco, Inc., a Resource Sevens company.
Based in Fayetteville, Georgia, Benevestco is a specialist in creating and servicing tailored benefits plans for businesses, with a focus on mid to large-market employers. Benevestco will join the Risk Strategies' National Employee Benefits Practice.
Founded in 2002 by Glendae Tuthill, Benevestco has clients across a number of industries with a base in high technology businesses.
The firm offers development of long-term strategies to ensuring compliance delivered with ongoing personalized service that supports employee engagement.
In addition to benefits consulting and brokerage services, Benevestco assists clients with human resources and compliance needs, including ERISA, ACA, COBRA and FMLA.
The team's expertise extends to health and wellness consulting, alternative benefits, financing and targeted solutions to minimize claims risk for their clients.
Was this article valuable?
Here are more articles you may enjoy.
From This Issue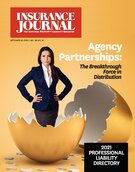 Top 20 Agency Partnerships (Aggregators, Clusters & Networks); Professional Liability Directory; Market: Small Trade Contractors