The surplus lines marketplace is often viewed as the insurer of last resort, the marketplace for bad risks with poor loss records. But particularly in a time of great economic growth like now — we're also the place where innovative companies, imaginative start-ups and new government programs look for coverage when admitted underwriters shy away from potential business that hasn't had the time to accumulate a loss history.
That role in the insurance value chain is one of the primary reasons the surplus lines sector has grown significantly in recent years, even during soft market conditions, and continues to do so.
The reason for its success is deceptively simple — it's an industry that's willing to look at the market in a different way than other players. When the standard market excludes lines of business, we're ready to jump in and solve the problem.
A Financially Successful Marketplace
A growing economy has helped the surplus lines industry grow, and the industry has returned the favor by supporting economic growth. Look at the skyline of places such as Miami today versus what it looked like even 30 years ago and you'll see why the market has grown.
The surplus lines market often serves as an incubator for new insurance products.
Or look at Texas, where economic growth has been phenomenal. Then look at the transportation industry; truckloads are up, and trucking is expanding as the economy expands, generating the need for coverage the surplus lines industry provides.
Another reason for the surplus lines market's success is its financial stability. We didn't always have that image. Some potential customers would look at surplus lines, note that the industry wasn't covered by state guaranty funds and shy away from placing business with us. But the surplus lines market has proven to be a financially successful risk taker, and is a thriving marketplace.
Where Creativity and Expertise Meet
Insurance is the oxygen of business and the economy as a whole. Everybody needs insurance to succeed. But it's not always easy to get, particularly for new industries. Where did insurance for emerging risks like drones, ride-sharing, and the ever-changing cyber risks come from? It was developed in the surplus lines market.
The great thing about the surplus lines insurance industry is that we're constantly innovating and developing new products to cover new risks. Where standard lines insurers aren't willing to take on a new risk because it's unknown or deemed simply too risky, we step in and fill the gaps.
Traditionally, we tailor coverages specific to the risk that's trying to be shifted or mitigated. Because of the role we play in the insurance ecosystem, we are more capable — in the way we're structured and regulated — to tailor-make insurance solutions for specific risk exposures.
Solving Tomorrow's Problems
The surplus lines market often serves as an incubator for new insurance products, which may eventually move into traditional insurance markets. Creativity is what it's all about. We'll continue to play that role for emerging risks, as we can see happening today in the emerging crisis-risk coverages.
Ultimately, we are selling a promise, a promise to deliver on the impact of a future act. Because we can craft policy wording tailored to best fit the risk, and that coverage is backed by the financial strength of our industry, we're solving problems for future events.
For all of these reasons and more, it's also a great sector for a new insurance professional to launch a career. The advice I give to people starting their career is to focus on a growing company in a growing industry, and then the opportunities will be endless. We have that in the surplus lines market. For someone who wants to be creative and help solve challenges, our industry can offer opportunities that are second to none.
Was this article valuable?
Here are more articles you may enjoy.
From This Issue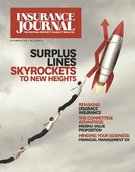 Surplus Lines: Wholesale & Specialty Insurance Association Annual; Market: Energy