In a recent Insurance Journal poll, only 12% of independent agents reported that their small business customers have contacted them about increased risks and exposures that arise during the holiday season. While alarming, it also is an important reminder of the opportunity this presents for agents to deliver value to their customers, making them more aware of looming exposures and mitigating their insurance risks.
By partnering with an independent agent, small business owners can better prepare for potential challenges during what for many is one of the busiest times of the year. Below are five areas of increased risk that agents can review to help make the most of the season.
Seasonal Employees
Many small businesses hire seasonal employees to meet the increased demands. While many business owners can find themselves in a rush to hire staff and recognize these employees will only stay on for a short time, it is important they ignore the temptation to forego proper background checks. Temporary employees are both an asset and a liability to a business and business owners are well advised to plan for both. Insurance programs often offer discounts on background checks as a service to their customers. In fact, this offering was rated a top-valued risk management service by small business owners according to the 2019 Small Business Risk Report from Forbes Insights and The Hanover Insurance Group. Small businesses also should consider adding safety training for seasonal workers.
Theft
With increased traffic and sales over the holidays, unfortunately, comes an increased risk of theft — which also was noted as one of the top five areas of risk by business owners in the same 2019 Small Business Risk Report. Day-to-day inventory and customer activity management often fall to the wayside due to heavier foot traffic, longer lines and busy employees. Many small businesses may benefit from the theft mitigation insights and tips that may be available through their insurers. The holiday season is an opportune time for agents to help business owners reduce theft and boost the bottom line.
Slips and Falls
Slip and fall accidents — and the litigation that accompanies them — are both common and largely preventable. With people more distracted than ever, an increase in foot traffic, and more precipitation likely in many parts of the country, slips and falls are increasingly common during the holiday season. Small businesses can reduce the number of accidents by preparing their places of business through on-site logistics, like proper signage and maintenance adjustments, monitoring display to avoid tripping hazards, and making sure there is enough clearance between aisles. This way they are both taking preventative measures.
Cyber
Just as foot traffic picks up at the holidays, so does online shopping and the number of digital transactions. Not surprisingly, so does the risk of cyber security incidents. The 2019 Small Business Risk Report also concluded that 67% of small business owners believe they are more vulnerable to cyber security breaches as they transition their businesses to be more digital. Experts are available to help with cyber risk management services focused on data breach preparation and remediation — so agents can help their customers understand their options.
Driver Safety
For small businesses that rely on delivering products to customers' door steps or loading docks, some of the risks above can come into play — such as seasonal drivers, theft from vehicles, and slips and falls, for example — in addition to the worry of proper driver safety training. Just as small business owners should be sure to conduct background checks for new employees, they also should take the time to provide training for new drivers and perhaps take the opportunity to provide additional training for more experienced drivers. Busier roads, stressed and distracted motorists, and larger fleets of delivery vehicles on the road, combined with winter weather in colder climates, have the potential to significantly increase risks.
As Small Business Saturday and the holidays approach, now is the best time to sit down with customers and explain the options available to help protect their businesses.
Was this article valuable?
Here are more articles you may enjoy.
From This Issue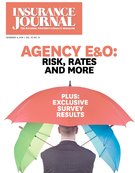 Top Commercial Lines Agencies; Agency E&O Survey; Premium Finance Directory; Market: Trucking