Advocates say the coverage still vital to national security and a long-term solution is needed
Insurance industry advocates urged Congress yet again to continue with a federal government role in terrorism risk insurance and to examine long-term solutions before the current backstop legislation, the Terrorism Risk Insurance Extension Act (TRIEA) of 2005, expires at the end of this year.
"The current public-private partnership created by TRIA, and extended in TRIEA, has worked well, allowing businesses across America to continue operating and growing, and preserving jobs in the process," said Tom Minkler, chairman of the Big "I" government affairs committee and an independent agent in Keene, N.H. Minkler testified before the Senate Committee on Banking, Housing and Urban Affairs on Feb. 28 in a hearing titled "Examining the Terrorism Risk Insurance Program." The hearing called on a collection of insurance experts to address the need for a long-term extension.
Minkler noted that the insurance market's ability to protect the American economy from the financial consequences of terrorism risk is a critical component of national security during the ongoing war on terror. Minkler said that terrorism risk coverage would become inordinately expensive and probably unavailable to many businesses if the federal role lapses.
Don Bailey, CEO of Willis North America, a subsidiary of Willis Group Holdings, said that the federal program has stabilized the market and made affordable terrorism coverage available to businesses across the country. Bailey, who testified before the Committee on behalf of Willis and The Council of Insurance Agents and Brokers, said TRIEA has been an "unqualified success, and allowing it to expire at the end of this year would be "economically devastating.
"The most important issue for the broker community is maintaining access to coverage at a price the business consumer can afford," Bailey said. "In order to get this access, we need insurers who are able and willing to provide the coverage. It is clear that they cannot and will not be able to provide terror coverage without a federal backstop or some other mechanism to cap their exposure."
The Big "I's" Minkler added that terrorism insurance coverage is not just a "big city" or a "big business" problem. "It is a business customer problem throughout the country," he said. "As take-up rates have gone up across the country, we have seen terrorism coverage purchased by a wide and diverse variety of interests, from small towns in Mississippi to small and large businesses in New York City."
From This Issue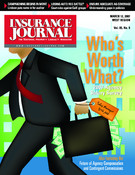 2007 Agency Salary Survey; Agency Technology/Public Entities; Agribusiness/Farm & Ranch