Clear Pot Thinking
"The governor has been clear about the importance of the marijuana industry to Oregon's economy."
— Jeff Rhoades, marijuana policy adviser for Gov. Kate Brown, said a move by the state to ease testing requirements keeps Oregonians employed and prevents marijuana from slipping back into the illegal market.
Cranes of New York
"I do not personally believe insurers will hustle back into New York due to these new regulations. This will not be a positive thing for insurers to want to jump back into writing cranes."
— Jeffrey Haynes, senior vice president and crane and rigging practice leader at USI Insurance Services, on a move by New York City building officials to better regulate crawler crane operations there. New requirements issued in June 2016 resulted in a lawsuit filed against the city's buildings department and its commissioner, Rick D. Chandler. Opponents claim the regulations are too burdensome for crane manufacturers and operators — a criticism echoed by some in the insurance industry.
Gates of Hell
"It was like the gates of hell opened up."
— A resident of Gatlinburg, Tenn., who had to flee on Noember 28 as a major wildfire quickly engulfed the tourist town where Dollywood is located. The fire killed 14 people and damaged more than 1,400 businesses and homes.
Possible Landlord Citations
"I believe that we would have a strong case to take to the law department to see if we could move forward with citations."
— Akron, Ohio, Fire Chief Clarence Tucker comments on the possibility that the owner of a rental home may be held responsible after a fire at the home killed four people. Firefighters say an Akron ordinance requires homes in the city to have working smoke detectors, but investigators haven't found any in the three-story house, where a family of five lived with a friend.
Weak Safety Protection
"This tragedy illustrates what can happen when identified weaknesses in safety protection are not addressed."
— National Transportation Safety Board Chairman Christopher Hart. The NTSB says crew fatigue caused by irregular work schedules and sleep apnea was the primary reason behind a deadly train crash in Arkansas in August 2014. The conductor and an engineer were killed when a southbound Union Pacific (UP) train sped through a stop signal and hit a northbound train. Two other UP workers were also injured in the crash. The panel that reviewed the crash data also noted that an automatic horn that improperly reset alarms and the lack of a system to stop trains automatically were contributing factors in the crash.
Was this article valuable?
Here are more articles you may enjoy.
From This Issue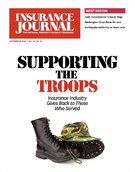 The Charity Issue; Photos of Your Organization Involved in Charity Work; Insurance Heroes