Opioid Suit
"While we cannot bring back the lives lost to opioid addiction, we can question whether Purdue has lived up to the decade-old promise they made to correct their behavior. The answer, unfortunately, is a resounding 'no!"' she said.
— Oregon Attorney General Ellen Rosenblum charged in a lawsuit that Purdue, the pharmaceutical company that makes OxyContin, has engaged in racketeering and misleading activity during the past decade.
No Issues Expected
"I do not expect any [insurer] issues as a result of this hurricane either financially or any problems with timely and sufficient claims payments. At [SC] DOI, it is part of our job to make sure companies fulfill their obligations, and I have no reason in the world to believe we will have any issues with that."
— South Carolina Insurance Director Ray Farmer on insurers' ability to respond to Hurricane Florence claims. The Category 1 storm hit the Carolinas on Sept. 14, causing severe flooding and destruction in the region.
Ruined Lives
"Vermont has suffered too long. Too many lives have been ruined."
— Attorney General T.J. Donovan commented on a lawsuit Vermont filed Sept. 5 against drugmaker Purdue. The lawsuit alleges Purdue's deceptive marketing of OxyContin and other prescription opioid painkillers helped lead to the drug crisis in Vermont and around the country. The lawsuit seeks civil penalties, fees and costs and damages — not a specific monetary amount — and calls for Purdue to change its practices.
Preventable Accidents
"These accidents are completely preventable when the people involved, from the workers to the regulators, follow well-established rules and perform their duties with a focus on safety."
— Robert Hall, the National Transportation Safety Board's director of the Office of Rail, Pipeline and Hazardous Materials, commented after the NTSB released its finding that a series of human errors led to a BNSF Railway train striking and killing two railroad workers in South Dakota last year, federal investigators said. Hall said the Jan. 17, 2017, accident near Edgemont was the 52nd fatal accident in the past 21 years involving railroad roadway worker safety. In all, 55 workers have been killed in these accidents.
Gender Discrimination Suit
"Gender equity is a pillar of the University of Louisiana at Lafayette's core values."
— The University of Louisiana at Lafayette, in a statement released after nine female athletes filed suit against the university alleging sex discrimination and inappropriate behavior by ULL President Joseph Savoie and Athletic Director Bryan Maggard. Both have denied the allegations, and ULL called the discrimination allegations "patently false and baseless." Separately, four female professors have filed Equal Opportunity Employment Commission complaints against the university.
Was this article valuable?
Here are more articles you may enjoy.
From This Issue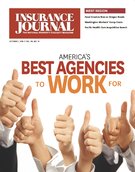 Best Insurance Agencies to Work For; Top Workers' Comp Writers; Markets: Restaurants & Bars