Disaster Insurance
"Allowing the state to invest in an insurance policy will provide predictability and limit taxpayers' risk of increasing disaster costs."
–California state Sen. Bill Dodd, D-Napa, said legislation that he introduced could lead the state to consider buying insurance in the private market to cover rapidly increasing costs of fighting wildfires due to climate change. Senate Bill 290, the California Disaster Insurance Act, cleared a key committee vote in late March.
Cosmetic Surgery Clinics
"What we found is that many of these clinics, someone will die at one of their clinics, and the next day they'll open back up and take new patients as if nothing happened."
–Florida State Senator Anitere Flores, who is co-sponsoring legislation that would require stricter regulation of cosmetic surgery clinics. The bill would require facilities and doctors to demonstrate financial responsibility to pay out claims when deemed at fault for serious injury, among other regulations. Current Florida law doesn't require cosmetic surgery clinics to have medical liability insurance.
Workplace Hazards
"Employees have the right to report workplace safety or health hazards without fear of retaliation from their employer."
–Philadelphia Regional Administrator Richard Mendelson for OSHA, announcing that the U.S. District Court for the Eastern District of Pennsylvania ordered Blown Away Dry Bar and Salon to pay a $40,000 settlement to a fired hairstylist. OSHA investigators determined the defendants retaliated against the employee when her husband reported workplace safety and health hazards.
Holding Them Responsible
"We have been working with state and federal partners to hold ITC responsible for the damages."
–Harris County, Texas, Chief Executive Lina Hidalgo said regarding a suit filed jointly by the county and the state of Texas against Mitsui & Co's Intercontinental Terminals Co. (ITC) following an explosion and fire at the Houston-area petrochemical plant run by company. The disaster sent tons of noxious chemicals into the air and local waterways; schools were closed and visits to area hospitals and clinics spiked.
Michigan Auto Insurance Fee
"Michiganders deserve to know why they are being forced to shell out hundreds of dollars in additional fees for car insurance."
–Michigan Gov. Gretchen Whitmer ordered an audit of the Michigan Catastrophic Claims Association, a state-created entity that reimburses insurers for personal injury protection benefits, after the MCCA announced the annual per vehicle fee motorists pay to cover those costs would rise to $220 on July 1. The annual assessment currently is $192.
Was this article valuable?
Here are more articles you may enjoy.
From This Issue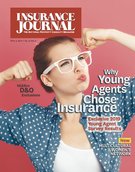 The Young Agents Issue – with Survey Results; Markets: Directors & Officers Liability