Have you ever wondered why it seems a little — or even a lot more — difficult to sell insurance than to sell … say a car that comes in all price ranges? That is not to say selling a car is a piece of cake, but there's a huge difference. One can look at, touch and ride in a car. And most importantly, a person can get some pleasure and satisfaction from owning a vehicle.
It's not so with insurance. You can hold the policy and look at a bunch of words on the policy explaining coverages, risks and exposures. Yet it just isn't the same as a test drive. No one gets pleasure from reading an in insurance policy — and it's certainly not sexy.
Is insurance invisible?
Selling intangible services as a core product offering has always had challenges. Attorneys, management consultants, healthcare and educational organizations, and of course the insurance industry, all perform and deliver people-based services, not tangible products. That is why the intangible product is "invisible." Being invisible is only one factor that distinguishes services marketing from product marketing. Another important factor is the prospects' behaviors during the buying process. To be successful in marketing and selling an intangible product, it is crucial that professionals who provide intangible products understand those key concepts, how they affect prospects' responses, and how to position an organization to improve customer perceptions.
The secret to successfully selling an intangible product is to understand the prospects' motivation and buying behavior. One solution to understanding a prospects' motivation and buying behavior is to find out why the prospect buys from one insurance agency over another. That's called differentiating your agency from the competition.
It's intangible
Insurance is intangible and cannot be possessed. Thus, assessing the quality or value is very difficult at best. What might make insurance selling a tad more difficult (some even say that selling insurance is about the most invisible thing there is to sell) is that insurance is perceived as a "necessary evil" in life. It is something people know they need to have but hate to pay for. So an insurance customer may never really know the true value of the protection purchased and the value of his or her agent for months, maybe years, maybe never. That is, until a trigger occurs: the claim. When that occurs, the client hopes to experience all that was promised when the policy was purchased. That leaves the client feeling somewhat uncertain because he or she is looking for tangible signals that the service process and quality will be as it was promised to be prior to purchase. Without the claim, there is no touch, no feel, no hearing to speak of to represent the product.
Marketing: the response is key
What can an agent do to alleviate some of the concerns? The heart of service marketing is the service itself. Therefore, the key is in the marketing response. Insurance professionals must determine how to effectively communicate what the service process is, what the deliverables are, if any, and — this is the most important response — clearly communicate the benefits of doing business with you to build customer confidence.
Speaking of benefits, that is something that is largely misunderstood. Many producers communicate features of their organizations rather than benefits. For example, they say, "We sell commercial, personal, and life and health insurance." Those are great features. A benefit will answer the, "what's in it for me?" question. So instead of the usual, "we sell commercial, surplus lines, personal, health and life insurance" consider instead saying, "XYZ agency provides every type of insurance you will ever need so you only have to deal with one company. We sell commercial, personal, and life and health insurance." Mention the benefit first, the feature second. That answers the question, "What's in it for me?"
Marketing also must include proof that indicates quality and values that come from personal interaction, trusted recommendations, clear communications, systems and processes on how claims are handled, as well as possibly include some information about how your physical business environment operates.
Promote your agency
Consider how you promote your agency. Do you say things that other agencies can say? Do you promote information that does not give the prospect any real information? Perhaps your Web site says, "We have been in business since 1970." What does that really mean? It tells a prospect nothing that will help him or her make a buying decision. You could have been performing excellent services or poor services for your customers since 1970. Or the agency may have been sold a few times. Who knows?
A better promotion would communicate the benefits of your company. Think about happy customers and get some strong testimonials that validate your story. Case studies are used to develop and build customer confidence. All communication tools, including your Web site and your direct mail pieces, must convey your benefits too.
Price is not what it is all about
Many producers think that price is the only reason prospects choose one agency over another. On the contrary, research has shown over and over that that is not the case. As one popular TV ad says, "Anyone can get you low-cost insurance." What is found to be true is that if you can demonstrate value, most consumers are willing to pay higher or premium pricing for quality. Often, low pricing hints of lesser coverage, inexperience, limited depth or lack of knowledge.
Creating that "tangible" aspect goes way beyond promoting price. Positive personality — chemistry — is the gauge of quality to the client. Clearly communicate the services provided. What that means is that it is important to set appropriate expectations and learn to represent the agency in an acceptable manner that is critical to delivering "invisible" services.
Marilyn E. Chelini and Birgit Rickert are cofounders of Insurance Results Marketing Group. E-mail: info@insresultsmktg.com. Phone: (800) 679-1572. Web site: www.insresultsmktg.com.
From This Issue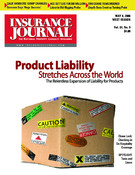 Product Liability Stretches Across the World