People
Minneapolis, Minn.-based ING named Susan Anderson president and CEO of ING Trust USA. Anderson will lead the growth and development of personal trust and directed institutional trusts nationally. She has 15 years of multi-disciplined experience in financial and legal services, estate planning and consulting, trust administration, sales, and general business management.
The board of trustees of the American Institute for CPCU and the Insurance Institute of America selected Peter L. Miller as the new president and CEO of the Malvern, Pa., institutes, replacing Terrie Troxel, who retired in October 2005. Miller has been the interim and acting president and CEO since Troxel's retirement.
Shortly after joining the institutes in 1992, Miller rose to vice president of Information Systems. He became a senior vice president in 1998, at which time he was appointed to the Executive Council. Miller had oversight for finance, information systems, and human resources. In 2002, Miller was appointed executive vice president with responsibility for the Institutes' business functions and international and executive education activities.
Swett & Crawford, based in Atlanta, Ga., appointed James E. Moylan Jr. chief financial officer. Moylan has experience in strategic and financial management of public companies in business services, energy, manufacturing, and electronics.
Arch Insurance Group, a subsidiary of Arch Capital Group Ltd., promoted Dennis Brand to executive vice president, Corporate Underwriting and Risk Management; Brian Hughes to senior vice president and chief actuary; and Charles "Brian" Schmalz to executive vice president.
Brand will assume responsibility for Arch Insurance Group's corporate underwriting and risk management functions in addition to ceded reinsurance, which he currently manages. Hughes will assume responsibility for all of Arch Insurance Group's actuarial functions. Schmalz is responsible for Arch Insurance Group's Surety Operation.
Edward Nicholls has been named managing principal and practice leader of Intergo's Aviation Practice. Nicholls has 25 years of experience in the aviation sector. He comes to Integro from Aon Corp., where he served as an executive vice president for 13 years.
Benfield, an independent reinsurance and risk intermediary, appointed Mohammed Ashab senior vice president to its Financial Consulting practice. He will be based in the Philadelphia office.
Progressive Corp. appointed John P. Sauerland president of the Progressive Direct Group of Insurance Co's. He replaces Alan R. Bauer, who had been president and left the company last month.
Sauerland, who currently serves as the claims general manager for the Midwest region, first joined Progressive full time in 1991 as an assistant product manager. He served as the auto product manager for various states, as well as the general manager for Mississippi, Minnesota and Wisconsin.
Also, John A. Barbagallo was named the new president of the company's Drive Group of Insurance Co.'s, which markets through independent agents. Barbagallo, who joined the company more than 20 years ago as a claims representative, had been the Drive Atlantic Region general manager.
Barbagallo replaced Robert T. Williams, who resigned May 17.
Also, Brian A. Silva was promoted to commercial group president.
The company will also name a new chief financial officer by the end of the third quarter to succeed Tom Forrester, who will retire in early 2007.
The National Association of Insurance Commissioners unanimously elected New Hampshire Insurance Commissioner Roger Sevigny as secretary-treasurer of the association. Sevigny fills the vacancy created by the retirement of former NAIC Secretary-Treasurer Eric Serna, who was also superintendent of the New Mexico Insurance Division. Serna agreed to retire June 14 as part of a settlement approved by the Public Regulation Commission.
Arch Capital Group Ltd. promoted Mark Lyons to president and chief operating officer of Arch Insurance Group (U.S.), effective immediately. He will assume responsibility for each of the underwriting units of Arch's U.S.-based insurance operations and will continue to report to Ralph Jones, chairman and CEO of Arch Worldwide Insurance Group.
Apex Global Partners, a Dallas-based private insurance brokerage firm providing insurance, risk management and employee benefit services to medium to large corporate clients, appointed K. Brian McLaughlin president and chief operating officer. Additionally, McLaughlin has been named a director and vice chairman of the Apex Global Partners board of directors.
McLaughlin will be responsible for the daily operations of Apex's Southwestern and New England operations, as well as continue as president and CEO of the Granite Group Benefits offices in Manchester, N.H.
Scottsdale Insurance Co., an excess and surplus insurer based in Scottsdale, Ariz., and a subsidiary of Nationwide, promoted Joseph "Joe" Griffith to vice president and chief information officer.
Griffith will be responsible for leading the information technology team in support of Scottsdale's strategic objectives and business needs. He brings more than 18 years of IT experience to the role.
Beecher Carlson expanded its risk services/captive operations with the appointment of Richard (Dick) Huntington as senior vice president and Carol Riggs as vice president. Both will operate from Beecher Carlson's Denver office.
Huntington will focus on the development and management of captive insurance companies, public agency pooling arrangements and other alternative risk techniques. His career spans more than 35 years in the insurance and risk management industry with specialized focus in alternative risk techniques, such as trust funds for self-insurance programs, single parent captives, group captives, risk retention groups and public agency pooling arrangements.
Riggs will provide risk services consulting for current and perspective clients focusing on public entity and school district pools. She has more than 16 years experience in the insurance and risk management industry specializing in claims management.
Woodruff-Sawyer & Co. named Donna Ghiorso as a senior executive in its Portland office. She will oversee client relationships and develop new business opportunities for the organization. She has experience managing property and casualty programs for large, complex clients.
Acordia Inc., a Wells Fargo Co., named Larry Sorensen vice president, national program practice leader. Sorensen will be responsible for Acordia's program business. He will serve as the lead at the corporate level based in Chicago. Most recently, Sorensen was with Endurance Reinsurance Corp. of America, where he was the senior marketing executive responsible for identifying and cultivating insurance and reinsurance opportunities.
Swett & Crawford Group, based in Atlanta, named Elizabeth Edelman J.D. general counsel for the firm. Edelman comes from RBC Centura Bank, a subsidiary of the Royal Bank of Canada, where she has been general counsel, vice president and corporate secretary for the past five years.
Integro announced that Chuck Blazina joined the company's San Francisco office as a principal in the Property Practice.
Blazina has 17 years of experience in property risk and loss control consulting, most recently serving as vice president for HRH. Prior to joining HRH, he held a senior vice president position with Marsh for seven years.
Myron Hendry joined Countrywide Insurance Group, Calabasas, Calif., as executive vice president and chief operations officer. He will oversee central operations, claims and information technology as the organization expands its personal lines and commercial brokerage insurance business and grows its positions in various lender-placed insurance business segments.
InsurBanc, a financial services provider to the independent insurance agency community, announced that Scott A. Adamsons joined the firm as vice president of sales and business development.
The Farmington, Conn.-based firm also hired Marie R. Rider to be vice president and director of marketing.
Orange County, Calif.'s Heritage General Agency added Bob Kotick as its newest assistant vice president. Kotick will be responsible for the production of surplus lines business both open brokerage and managing general agent. Kotick began his career in the early 1970s at Unigard Insurance. His professional career included both agency and insurance carrier experience.
Adrienne Chapman Ericson joined Frye Claims Consultation & Administration Inc. as director of marketing. She has more than 23 years experience as a professional liability and commercial general liability claims manager and adjuster, as well as more than four years experience as an insurance broker.
Networked Insurance Agents, a Grass Valley, Calif., professional account placement organization, appointed Charise Salivar as Northern California territorial sales vice president. Salivar has been a top production underwriter at Networked for more than two years, first in small commercial, then in the middle market.
Saylor & Hill, based in Oakland, Calif., added David M. Stewart to the firm. He previously was a vice president-producer with Driver Alliant Insurance Services in Newport Beach, Calif. Prior to that, he worked for insurance Marsh & McLennan of California in San Diego and Johnson & Higgins of California in San Francisco. Earlier in his career, he worked with Wausau Insurance Co. in San Francisco.
Alexander Morford & Woo Inc., Redmond, Wash., appointed Michelle Dyck assistant vice president. She will be the professional liability team leader and broker. Previously, Dyck was a broker with the company.
Los Angeles-based Lemac & Associates announced that Gloria Li-lien Lam has been named assistant vice president, broker specializing in workers' compensation. Before joining Lemac & Associates, she was an assistant vice president of marketing for Zenith Insurance Co.'s Los Angeles regional office. Prior to her insurance career, Li-lien Lam had worked as a newspaper reporter, political speechwriter and fundraiser.
Julie Brown, president of San Diego Insurance Staffing and the Insurance Training Academy, was recently appointed to serve as president of the San Diego Chapter of California Staffing Professionals. CSP is a staffing industry organization that provides services to its members in the areas of education, ethics, legislative advocacy and public relations.
Redwood City, Calif.-based Global Risk Advisors, a privately held risk management consulting firm, hired Christine De La Rosa as consultant. De La Rosa has more than 15 years of risk management experience in the high tech industry in Silicon Valley, Calif., where she served as a risk specialist for Hewlett-Packard and Agilent Technologies. She provided oversight management to such programs as general and product liability, contract consulting, liability claims, and due diligence for mergers, acquisitions and divestitures.
From This Issue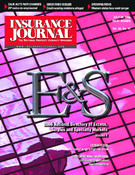 2006 Excess, Surplus and Specialty Markets Directory, Vol. I