People
The Main Street America Group has named Bonny Parker vice president for personal lines. She will be based at corporate headquarters in Jacksonville, Fla., and report to Bill Anderson, senior vice president, insurance operations.
Parker joins Main Street America from Nationwide Insurance, where she was vice president for personal lines auto insurance. In this role, Parker was responsible for a $6.3 billion personal auto portfolio. Prior to joining Nationwide, Parker was with GMAC Insurance, Winston-Salem, N.C.
Swett & Crawford appointed Kyle Chapman as vice president and director of business development. He will be working with Swett & Crawford's senior management team in Atlanta on its acquisition initiatives. Chapman will also assist Terri Snell, Swett's chief administrative officer in identifying efficiencies throughout the company's network of 37 offices.
Prior to joining Swett & Crawford, Chapman worked as a senior associate at Banc of America Capital Investors, a private firm. He participated in Swett & Crawford's divestiture from Aon Corp. in November, 2005.
Swiss Re has announced the appointment of Roger W. Ferguson Jr., as head of Financial Services and a member of Swiss Re's executive committee.
Ferguson joined Swiss Re from the U.S. Federal Reserve Board as chairman of Swiss Re America Holding in June 2006, and will continue in that role. He will have overall responsibility for Swiss Re's proprietary asset management. He also assumes overall responsibility for the capital management and advisory unit, which serves as the company's capital market platform, specializing in the growing insurance bond market and derivative activities. He will also oversee credit risk underwriting unit.
Strategic Independent Agents Alliance has appointed William J. Fahy as executive vice president for programs and specialty markets. Fahy's duties include working with SIAA's senior staff and agencies to develop SIAA proprietary programs, specialty products and excess and surplus relationships. He will establish an office of SIAA in Rome, N.Y.
Prior to joining SIAA, Fahy was an executive officer of Bailey Haskell Associates Inc. a large independent insurance agency in the Syracuse, N.Y., region in addition. In addition, he has experience in the alternative market arena and is a director of the Lewis and Clark Risk Retention Group.
Citizens Property Insurance Corp.'s board of governors appointed Scott Walker, current senior vice president of operations, as interim president and also voted to hold a national search for a permanent replacement for Robert Ricker, who has resigned from the top job at Citizens. Ricker recommended Walker take over as interim president at Citizens when he announced his resignation.
Walker will assume his interim duties when Ricker, who has served three years as Citizens president, resigns Nov. 1. Ricker will stay on through December as a consultant. Citizens Board Chairman Bruce Douglas said he hoped a national search could produce a short list of candidates by the end of November so the board could make the final selection. The candidate will have to be confirmed by the Florida Senate.
Deputy Commissioner for Property and Casualty Insurance Tom Streukens is leaving the Florida Office of Insurance Regulation to take a position with the Florida Workers' Compensation Insurance Guaranty Association.
Florida Insurance Commissioner Kevin McCarty announced the appointment of Belinda Miller as the interim deputy commissioner. Miller served as the deputy general counsel for the OIR since September 2003.
Vivian Enriquez has brought her skills in developing programs and brokering multi-line property coverage to wholesaler Swett & Crawford in Coral Gables, Fla. Before joining the Florida office she served as a broker for Allrisks Limited, a Fort Lauderdale-based broker where she developed a new book of managing general agency and brokerage business. She has also been an assistant vice president and broker at MJ Hull and Company in Woodland Hills, Calif.
Mercator Risk Services, an independent wholesale insurance broker, has appointed Beth Armstrong to its expanding Southeast practice as client relationship manager. Armstrong brings more than 14 years of industry experience to the position and will be based in the company's Atlanta office. Prior to joining Mercator, Armstrong served as marketing manager for Risk Innovations.
The Society of Chartered Property Casualty Underwriters elected these new officers and governors during its recent annual meeting in Nashville:
President: Betsey L. Brewer, senior vice president of The Rule Company in Pasadena, Calif. Brewer is a member and past president of the Los Angeles Chapter. Nationally, she has served as a CPCU Society governor from 1998 to 2002, and as a third-year governor on the executive committee.
President-Elect: James L. Britt, a managing director of Marsh USA Inc. in Charlotte, N.C. An active member and past president of the Charlotte chapter, Britt chaired the 2004 annual meeting task force. He also served as a 1995-1996 regional vice president.
Vice President: Marvin Kelly, executive director of Texas Property and Casualty Insurance Guaranty Association in Austin. Kelly will serve a one-year term as vice president, and then automatically move into the positions of president-elect, president, and immediate past president. He will serve as the 2008-2009 president.
Secretary/Treasurer: Larry L. Klein, a vice president of pricing for the Alternative Solutions-Group Captives Business Unit of Zurich North America in Schaumburg, Ill. Klein is serving a second three-year term.
Also continuing her service on the board is Millicent W. Workman, the immediate past president. Workman is a research analyst with International Risk Management Institute Inc. based in Dallas. She is a past president and treasurer of the Memphis chapter.
USG Insurance Services Inc., a national broker of commercial insurance headquartered in Tampa, Fla., has promoted Jodi Berger to assistant branch manager for its Arlington, Texas, branch. In addition, Heath McCasland was recently promoted to associate underwriter. These moves are the most recent changes in its plan to expand operations nationwide.
From This Issue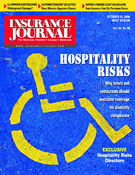 Hospitality Risks: Why hotels and restaurants should welcome coverage