People
Ken Ross has been named commissioner of the Michigan Office of Financial and Insurance Services.
Ross has been the acting commissioner since Linda Watters left the post in October. He has been with the state agency since 2003. Prior to that, he was with the Michigan Credit Union League.
The insurance commissioner is responsible for the state's portion of regulating insurance companies, banks, HMOs, investment advisers and other finance firms.
Kansas City-based Lockton Cos. named Nancy Daas as vice president and unit manager of its expanded Chicago employee benefits team. Daas oversees the initiation and completion of employee benefit consulting services for Lockton's large middle-market client organizations served from the Chicago office.
Daas has 18 years of experience in the employee benefits field and will play a key role in the growth and development of the service team and be the lead consultant for many of Lockton's largest clients. Prior to joining Lockton, Daas was a principal consultant with Mercer Health & Benefits in Chicago. She has also held positions with MetLife, Rush Prudential and United Health Care.
Lockton Cos. also is expanding the capabilities of its Chicago office to include retirement plan consulting services for corporate and not for profit organizations. Doug Morris who recently joined the brokerage as vice president, Retirement Services, will head up efforts in this area.
Morris has 20 years of experience providing retirement and employee benefits planning for companies from a wide variety of industries. Immediately prior to joining Lockton, he was vice president of Sales for the Chicago office of Diversified Investment Advisors.
Mercator Risk Services, a New York specialty wholesale insurance broker, announced that Senior Vice President Robert L. Martin, Northeast Regional Sales manager, will now be responsible for the Midwest region as well.
Martin has more than 17 years of client executive and business development expertise in the property and casualty commercial insurance industry. He began his insurance career in the early '90s in the Midwest region as an underwriter for Cigna – SRF and later for AIG. Martin founded the Corbis Group in 1998, a business-to-business insurance brokerage with three national offices.
Prior to joining Mercator in 2006, Martin worked for Allianz Global Risk US as a regional director of Business Development in the Northeast and southern regions.
Grange Mutual Casualty Co. announced the election of Douglas Buth to its Board of Directors. Chairman Emeritus Edward Billman also announced his retirement from the Grange Board. Both announcements were made during the company's annual policyholders' meeting.
New board member Buth, whose term on the Grange Board runs through 2011, was formerly chairman, CEO and president of Appleton Papers Inc. He retired in June 2005 after serving the company for 25 years.
Burns & Wilcox has hired Karen Sutera as a commercial lines producer in the company's Cleveland office.
Sutera has more than 10 years experience in the insurance industry and has an underwriting background. Most recently, she was a commercial sales manager at The Hanover Insurance Group. Sutera also worked in a variety of sales and marketing roles at St. Paul Travelers and Dawson Cos.
San Diego-based Arrowhead General Insurance Agency Inc. has named Ken Fish as chief financial officer, replacing Ronda Sedillo who has assumed the chief accounting officer position.
Fish's appointment as CFO is part of Arrowhead's overall restructuring plan.
Fish brings more than 20 years of financial management expertise in various business sectors. Most recently he served as vice president of corporate development at Allergan Inc., a specialty pharmaceutical, biotechnology and medical device company. He also served in an executive role at the Government of Singapore Investment Corp., which he joined in 2001 as vice president of special investments.
Willis Group Holdings appointed K.J. Wagner to regional partner, and president and CEO of Willis of Arizona Inc.
Wagner's responsibilities will include leading the Arizona and Nevada operations and production team. He brings 17 years of experience with him to the position, in which he worked on designing, marketing and servicing property and casualty insurance programs for national and international clients. As a significant contributor to Willis' success, Wagner is a member of the company's Exceptional Producer Council.
Since 1999, Wagner has served as executive vice president for the Arizona operations of Willis Group Holdings.
Cooper Gay Risk Services Inc. has appointed Ted Clayton as western regional director. He will be based in California.
Clayton was most recently senior vice president and western region director at wholesale broker Westrope & Associates, where he helped to start up and lead their California-based operations. Prior to that, he spent nearly 20 years with Chubb Group working at senior management level within the United States, Canada and the United Kingdom.
Midlands Management Corp. named Richard Jonathan Bird as executive vice president and chief operating officer. Bird will assist in leading all aspects of Midlands, including strategic marketing, business growth, implementation of new business opportunities and allocation of business resources.
Bird has 19 years of experience in the insurance industry, including extensive international expertise. His background includes work with insurance markets in Europe, the United States and Bermuda, significant participation in Treaty Reinsurance and Programs, and direct product placement. Prior to joining Midlands, Bird was with Arthur J. Gallagher in London where he managed workers' compensation and property and casualty package units.
From This Issue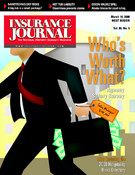 2008 Agency Salary Survey; Homeowners and Auto/Antiques and Collectibles; Hospitality Risks Directory