Agents should know when and why to refer clients to appraisers for their prized possessions
---
Although like many insurance agents you may have worked with appraisers when insuring a client's art, antiques or collectibles, there is a lot to know about the subject that can enhance and expand your business opportunities. Do you know what questions to ask your client to determine whether they need an appraisal? Are you sure they don't own special items that would make their contents coverage insufficient? Unfortunately, many homeowners themselves don't know, and as their trusted agent, you can help ensure that they are properly protected.
Most insurance agents come into contact with appraisers because a client needs an appraisal for insurance purposes. But people also get appraisals for a number of reasons, including for charitable donations, estate planning and estate tax purposes, or during divorce, bankruptcy or business dissolution. And homeowners aren't the only clients for insurance agents; a number of companies own collections of art, oriental rugs and antique furniture that need to be appraised and insured.
Instead of waiting for clients to ask about special coverage, be proactive and discuss the special items they may own. Agents can develop a checklist or questionnaire to help clients determine what they have in their home or office that might be of significant value. Questions might include: Do you own any original artwork? Do you have any family heirlooms? Do you have any special collections? A "yes" to any of these questions might merit an appraisal.
When to Appraise
If your clients are unsure of the value of what they own, you can help them hire an appraiser to do a "walk thru" consultation for a fee. During a short visit to a client's home, an appraiser can offer opinions about which items might be more valuable and merit an appraisal.
Some of my clients aren't sure whether they should have a potential valuable piece appraised and insured. I tell them that if they are concerned about protecting it and replacing it should a loss happen then they should get it appraised and insured.
The appraisal process is not like it appears on "Antiques Road Show." Experienced, accredited appraisers take a few days or even a few weeks to do the research involved in an appraisal. They may trace a piece's provenance (history of ownership), research similar pieces and study auction and retail sales to conclude value. A written appraisal report will explain the valuation method used, the intended use of the appraisal and who the intended users are, as well as describe the property and discuss support for the value conclusion.
Insurance agents should know that appraisals are conducted for different purposes, using different valuation methods. Appraisals for insurance coverage purposes, for instance, use replacement value. Clients may have an existing appraisal of a painting, jewelry or antiques that was done for estate tax reporting. That appraisal, most likely conducted using fair market value, would not be applicable for insurance coverage and, instead, a new appraisal based on replacement value would be needed.
Clients need to understand that each appraisal is conducted for a specific purpose and that appraisals for one purpose may not be applicable for a different use. Also, markets for certain types of objects may stay relatively steady, but the market for fine art, antique oriental rugs and other decorative objects can change drastically, even during a relatively short time, and require an updated appraisal every few years.
Cost of Appraisals
The cost of appraisals varies widely depending on the scope of the work, the geographic region, the type of appraisal and the appraiser's expertise. Fees are generally based on an hourly, half-day or full-day rate.
Clients should never hire an appraiser who offers to buy the item or who charges a percentage of the value as their fee. That is unethical. Except for consultations, clients can expect to pay at least a few hundred dollars for a written appraisal of a single item. Clients should ask for a fee schedule and an estimate of the appraisal cost before finalizing an agreement with the appraiser. It is advisable for the protection of the client and the appraiser to have a written agreement stating terms. This can avoid misunderstandings down the road.
When referring your agency clients to an appraiser, it is important to check an appraiser's credentials carefully. Clients should seek an appraiser who is accredited by a national organization. Nationally accredited appraisers go through years of education and testing and their appraisals will stand up in court and with the IRS when questioned. Accredited appraisers follow professional standards mandated by Congress, called the Uniform Standards of Professional Appraisal Practice (USPAP).
There is a great potential for referrals between appraisers and insurance agents. Clients often ask me to suggest an insurance agent. I refer clients to agents who I know are experienced, well-educated, patient with clients and who will have the client's best interests at heart.
Topics Agencies
Was this article valuable?
Here are more articles you may enjoy.
From This Issue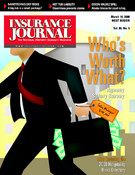 2008 Agency Salary Survey; Homeowners and Auto/Antiques and Collectibles; Hospitality Risks Directory