Man v. Machine
---
InsuranceJournal.com reported on the adventures of IBM's artificial intelligence machine, Watson, and its victory on the TV game show "Jeopardy." In the article and podcast, What's Next for IBM's Watson: Insurance Jobs in Jeopardy?, IBM's insurance industry representative Jamie Bisker suggested that there are several potential jobs in insurance for Watson. The story touched a nerve and generated a lot of comments on the likelihood of computers like Watson doing more of the work of insurance professionals. Here is a sampling of the feedback:
Yes, underwriting and regulatory compliance jobs will be lost as systems become more intelligent. It has already happened and will continue. Period.. . Also, there is a lot of age discrimination going on right now because the younger people are faster with the learning curve of tech implementation and the task of operating the systems.

I saw this coming in the '90s when we went from desk underwriting auto insurance to computer assisted underwriting models. The real question is, can Watson sell a non-standard auto policy in the hood?

What you're seeing is history in the making. Computers such as Watson will get better and better over time. The need for brokers and underwriters will be squeezed rapidly.

Want to throw a monkey wrench into the march towards automation? Get the use of credit banned in every state. This would put the business of insurance back in the hands of underwriters, regulators and agents and out of the hands of the automated bean counters.

Do these types of systems really increase productivity, accuracy and save money or do they ultimately just move figures around in the financial statements?

Not likely. Perhaps as a tool for underwriters to investigate certain aspects, but not to replace underwriters.

Here is what Watson is: Another version of Google, with some additional cross-referencing built in. Nothing I would stake an overall underwriting decision on.

[A]s a consumer of insurance I will never talk to a computer when buying a product which affects the assets and protection of my family. I may be old school in my thinking but I cannot visit a computer if there is something wrong with my house or car insurance.

OnPoint Podcast:

---

Agencies Are Like Snowflakes — No Two Are Alike

---

Johnston of Applied Systems talks about his views on social media, mobile computing and the "cloud." As cool as all the new technology is, Johnston believes that new tools must help an agency achieve basic business goals.

'Y' Blog?

In her latest Come Along For the Ride Blog on IJ.com, Gen Yers Looking for Lucky Number 29, Donna Chiapperino considers that a typical Gen Yer will have 29 jobs in a lifetime. Why do they switch jobs? Do we want "one of them" working for us? Check out the blog on IJ.com at https://www.insurancejournal.com/blogs/the-ride/2011/02/28/186699.htm

Warren Buffett Disses D&O Insurance?

Giant Berkshire Hathaway does not provide liability insurance for its own directors. Warren Buffett says that if his directors mess up with Berkshire shareholders' money, they will lose their money as well. Check out the Oracle from Omaha's views on D&O, America, corporate culture and more at No D&O Insurance at Berkshire, https://www.insurancejournal.com/news/national/2011/02/28/188339.htm

IJ Forums

Get involved with IJ Forums where fellow agents help each other with ideas on selling products, selling agencies, finding products, finding employees…and lots more. You'll find Forums under the Features tab on the Front Page.
Was this article valuable?
Here are more articles you may enjoy.
From This Issue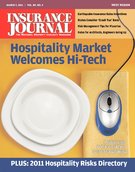 Hospitality Risks Directory, Homeowners & Auto, Technology & New Media Risks