Agent advocacy may be the number one reason independent insurance agents join professional associations, one veteran agency owner says, but the benefits of participation are many and varied.

Bob Bramlett, president and CEO of the Bramlett Agency in Ardmore, Okla., and chairman-elect of the Independent Insurance Agents & Brokers of America (IIABA or Big "I") has been giving his time and talents to agent associations on the local, state and national level since the beginning of his insurance career in the mid-1970s.
Bramlett says at both the state and national level, association lobbying teams have had "tremendous success" telling their story to lawmakers. "We win way more than we don't; but we work really, really hard at it, and we're really, really good at it," he says.

While advocacy might be the number one reason agents join the professional association, there are many other reasons agents get involved. Among them: an excellent errors and omissions program, which enjoys high participation by state associations; the ability to network and interact with other agents; and educational opportunities.
"You can't put a price on what it is to get together — whether it's a convention or an education seminar — to be able to network with your fellow agents and talk about what's going on," Bramlett says.
One major initiative Bramlett will be working as IIABA chairman is the consumer agent portal that the Big "I" began unveiling this year. Bramlett says the CAP is" ramping up very fast, where we're actually going to be doing Internet marketing in a big way to compete with direct writers. … And that is happening very, very fast."
The CAP portal aims to connect independent agents with personal lines insurance consumers at a local level. The actual roll out of the portal will begin in mid-2012.
The IIABA's Invest program — which works with high schools and community colleges to provide insurance education opportunities — is also close to Bramlett's heart. He said the association will be "putting more and more emphasis" on the program "in order to get new people, new blood. We're getting more companies involved in it."
Mainly, Bramlett seems to want to spread the message about the intangible, "priceless" aspect of association involvement.
"I will tell you this," he says. "I have gotten more out of it, I've taken more away from this than I've ever been able to give back."
Was this article valuable?
Here are more articles you may enjoy.
From This Issue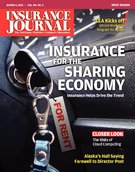 Hospitality Risks Directory; Homeowners & Auto; Technology & New Media Risks