Linda Hall started as director of Alaska's Division of Insurance on March 3, 2003, and nine-years later she's calling it a day as the top authority on insurance in the land of the midnight sun.
The state has launched a search for a new director now that Hall will retire. She plans to stay in the post until spring.
"I love what I do," Hall said. "I really love the job. But it is consuming. I think to do it the right way it takes a huge amount of time and energy. I hope I've given that to the job, but it's time I moved on to something a little less strenuous."
During Hall's tenure, the division's financial examination section received an outstanding reaccreditation review, affirming the state's ability to analyze the financial solvency of insurers, according to the division, which currently licenses more than 39,000 producers.
I love what I do. I really love the job. But it is consuming. I think to do it the right way it takes a huge amount of time and energy.
The 51-person division is part of Alaska's Department of Commerce, Community and Economic Development.

Hall, a long-time resident of Alaska, had 18 years' experience as a commercial broker before becoming director. Before entering the insurance world, Hall was a high school English teacher in Michigan.
Hall is chair of the western zone of the National Association of Insurance Commissioners (NAIC), board chair of the National Insurance Producer Registry (NIPR) and she serves on NAIC's Internal Administration and Executive committees. Hall is a past president of the Alaska Independent Insurance Agents and Brokers, and she represented Alaska on the board of the Independent Insurance Agents & Brokers of America from 1997 through 2003.
Hall has had some unique experiences as director, many of which involved dealing with fraud, she said. But one of her biggest successes as director took place early in her tenure as director, around 2003, when Hall and the state were faced with an insolvency of Freemont Industrial, a major insurance company that had written about a third of the state's workers' compensation market.
And when Freemont was placed into receivership, the guaranty fund was not adequate to take over the payment of Freemont's claims.
"Consequently we had an $8 million gap," Hall said.
Hall and the department worked with the state legislature to change the assessment base, an effort that included soliciting early access distribution from some other receiverships to make it work so that no "injured worker ever went without claims payment," she said.
"That's probably still today to me the biggest accomplishment of my tenure in the position," she added. "It also emphasized to me the critical importance of financial solvency of companies that do business in our state."
Maintaining a balance between consumer-friendly regulation and encouraging healthy business growth has been a key to her department's success, Hall said.
"It's a balancing act between good consumer protection and a healthy quasi-competitive marketplace, so you have to be constantly aware that you're not leaning too far either way and to keep that balance, because that provides consumers choice," she said. "And I think the best consumer protection any of us have is to have choices of places to provide coverage."
So, how has the industry changed in her nine-year tenure?
"It's become much more complex," she said, noting that she's seen more online insurance sales, more and varying forms of competition, and products that are becoming increasingly complex.
"It's become difficult to know who's doing business in your state," she said, adding, "We spend more time with attorneys and interpretation of products and how we enforce our statutory standards. I just think the industry's become more complex."
She sees some of that complexity altering an already changing industry, and not necessarily for the better.
"I think we have a greater, and I'm going to call it a threat, of federal regulation, federal incursion, into business that has always been regulated by the states," she said. "I think the states have done a good job. I'm a major advocate of state regulation. I think Alaskans are not going to get the same service calling a 1-800 number in (Washington) D.C. as they get calling my office with a complaint. So I think for consumers, state regulation is far better, it's more personal. I have consumers that call me on my direct line."
She added, "I don't think we can have a federal regulatory system that works that well for consumers."
Was this article valuable?
Here are more articles you may enjoy.
From This Issue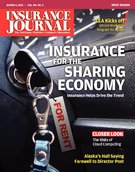 Hospitality Risks Directory; Homeowners & Auto; Technology & New Media Risks