He may not be the oldest living Chartered Property Casualty Underwriter designate, but if not, Myron F. Steves, Sr. comes pretty close.
Steves, founder of the Houston-based managing general insurance agency, Myron Steves, turned 100 on July 11, celebrating with family, friends and business associates at Houston's Briar Club. He still goes to annual CPCU national meetings where he is routinely the most senior attendee.
"I appear to be the oldest one that goes to the meetings," he said. The CPCU national "is one of the two meetings that I go to every year. … I used to go by myself but now my three children … they own the business now … if I decide if I want to go to some convention or some meeting somewhere, one of them always finds an excuse to go with me. They don't want me to go out of town by myself."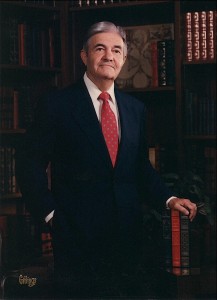 Steves entered the insurance business in 1937 in Atlanta, working for American Mutual Liability Insurance Co., which specialized in workers' compensation, general liability and automobile coverage. Cotton mills and similar risks made up the bulk of the company's business, Steves said.
He was transferred to New Orleans in 1938. There, he joined the Horse Calvary National Guard Unit and began to eye a military career. An unfortunate car accident changed all that.
"On November the 10th, 1940, I was in a head-on collision," Steves said. "I was on business, on the way to Arkansas for one of the campaigns we would have when a state passed a workman's compensation law. Arkansas and Mississippi were the two last states."
Steves suffered a chip fracture at the head of his femur, a dislocated hip and other injuries. "That ended my army career, nobody wanted me after that," he said.
American Mutual still wanted him, though, and in 1941 sent him to Mobile, Ala.
"The company needed somebody who wouldn't be drafted," Steves said. "They sent me over to Mobile because the company insured three shipyards."
American Mutual had a claims office in Mobile at the time but not a branch office, "so they sent me over there to be on the production side of it," he added.
Steves decided to go for the CPCU designation but initially "flunked one of the tests in accounting because there wasn't any accounting in my background."
He took it again and passed. He views that first failure as blessing, however, and the reason he ended up in Texas.
"Actually flunking that was one of the better things that happened to me because that year the meeting was in Chicago. The next year it was in Dallas," Steves said. "Oh, I'm telling you the people in Dallas really put on a show. … It was a marvelous meeting there in Dallas, and I thought from that time on it was all just a cut above anything I'd experienced before in the insurance business."
He received his CPCU designation in 1949, the CPCU society's 298th. "I was the only CPCU from Alabama and Mississippi. I think there was one in Louisiana and one in Georgia, and me," he said.
Steves moved to Houston in 1951. At American Mutual he worked on a salary basis, but "figured if I was going to ever make any money I had to do something for myself."
In Houston, he first worked for the John S. Dunn agency and in 1955 "decided to bite the bullet and go into business for myself. That was the start of Myron F. Steves and Co.," he said.
Myron Steves Sr. retired from the insurance business in 1989 but his company, Myron Steves, like its founder is still going strong, with 200 employees and offices in Houston, San Antonio, Austin and Dallas.
Editor's Note: Listen to the podcast, In His Own Words: Myron Steves, on IJTV.
From This Issue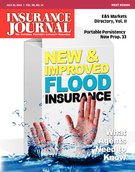 Excess, Surplus & Specialty Markets Directory Vol. II