The Workers' Compensation Insurance Rating Bureau has launched the 2018 Experience Modification Estimator for insurers, agents and brokers to help policyholders understand how their payroll and claim experience will be used in the computation of their 2018 experience modification.
Users can enter payroll, classification and claims information into the estimator to obtain an estimated experience modification using proposed 2018 Experience Rating Plan values, including expected loss rates, D-ratios and primary thresholds that vary by employer size.
The Excel-based estimator enables copying and pasting of data. The detailed estimated experience modification results can be printed or saved and are available for free.
To use the WCIRB Experience Modification Estimator, go to the Learning Center of WCIRB.com.
The 2018 Estimator will be updated with the final approved experience rating values when the insurance commissioner issues a decision on the 2018 regulatory filing, and will be available in the learning center of the WCIRB's website.
From This Issue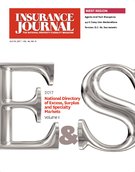 Excess, Surplus & Specialty Markets Directory, Volume II