The Mississippi Insurance Department (MID) and the Mississippi Collision Repair Association have partnered to protect residents from buying cars damaged by Hurricanes Harvey and Irma.
Officials say thousands of flood-damaged vehicles have made their way out of Texas, Louisiana and Florida and into Mississippi to be eventually sold to buyers who are unaware they were damaged, according to a statement from the National Insurance Crime Bureau (NICB). Many of the cars have been sold to unscrupulous dealers or dismantlers who clean them up, retitle them and sell them for a quick profit.
Mississippi Insurance Commissioner Mike Chaney said the biggest threat is from cars that were not insured for flood damage.
"While those insured cars may show up in NICB's VINCheck database, the ones that didn't have insurance are likely to be sold by the original owner for a few hundred dollars and then cleaned up and retitled by an unscrupulous dealer who will resell it for a few thousand dollars with no indication that the vehicle suffered any flood damage," said Chaney.
MID and repair shops that are members of the state's Collision Repair Association are working together to offer free inspections for car buyers.
John Mosely of Clinton Body Shop and the Mississippi Collision Repair Association said its members can check cars to verify they have not been in a flood.
From This Issue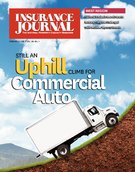 2017 Agency Mergers & Acquisitions Report; Markets: Nonprofits, Garage & Repair