The Supreme Court is preventing survivors of a 1997 terrorist attack from seizing Persian artifacts at a Chicago museum to help pay a $71.5 million default judgment against Iran.
The court ruled 8-0 on Feb. 21, 2018, against U.S. victims of a Jerusalem suicide bombing. They want to lay claim to artifacts that were loaned by Iran to the University of Chicago's Oriental Institute more than 80 years ago.
In the Court's opinion, Justice Sonia Sotomayer wrote: "The issue presented in this case is whether certain property of Iran, specifically, a collection of antiquities owned by Iran but in the possession of respondent University of Chicago, is subject to attachment and execution by petitioners in satisfaction of that judgment."
Sotomayor wrote that a provision of the Foreign Sovereign Immunities Act (FSIA) does not support the victims' case. That federal law generally protects foreign countries' property in the U.S. but makes exceptions when countries provide support to extremist groups.
The victims, who were wounded in the attack or are close relatives of the wounded, argued that Iran provided training and support to Hamas, which carried out the attack. Iran has refused to pay the court judgment.
The Court's opinion stated that the district court had ruled that section 1610 (g) under the FSIA "does not deprive the collection of the immunity typically afforded the property of a foreign sovereign." The Seventh Circuit affirmed that ruling, as did the Supreme Court.
The artifacts in question are 30,000 clay tablets and fragments containing ancient writings known as the Persepolis Collection. University archeologists uncovered the artifacts during excavation of the old city of Persepolis in the 1930s. The collection has been on loan to the university's Oriental Institute since 1937 for research, translation and cataloging.
Other items, including some at the Field Museum of National History in Chicago, were part of the case at an earlier stage.
Justice Elena Kagan did not take part in the case.
Copyright 2018 Associated Press. All rights reserved. This material may not be published, broadcast, rewritten or redistributed.
From This Issue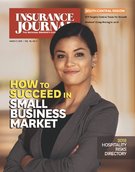 How to Succeed in Small Business Market; Directory: Hospitality Risks; Markets: Homeowners & Auto, Business Interruption