The combined global losses from natural disasters in 2017 and 2018 were the highest ever for a two-year period. While no single major catastrophe caused massive destruction in 2018, nearly 400 smaller natural disasters resulted in the fourth highest annual insurance payout on record, according to Aon. In 2017, we saw record-breaking weather-related events, such as severe hurricanes, making up 97% of overall economic losses. As we enter this year's catastrophe season, insurers must be prepared for anything. Part of that preparation includes having a clear understanding of the talent necessary to support customers during this potentially chaotic time.
According to the 2019 Q1 U.S. Insurance Labor Outlook Study, conducted by The Jacobson Group and Aon, property and casualty insurers state claims and technology roles are their greatest talent needs for 2019. In an already challenging recruiting climate, fueled by an aging workforce and virtually non-existent unemployment, insurers must plan ahead to ensure their teams can meet customers' needs, regardless of a disaster's magnitude.
Technology is a huge asset in helping today's insurance organizations navigate CAT season. Technological advancements have enabled insurers to improve and streamline disaster claims and adjustment processes. New mobile technology, such as live aerial views and minute-by-minute updates from satellite images, provides the near immediate information customers desire. Meanwhile, chatbots are enabling insurance organizations to increase interactions and be more efficient in certain areas. However, it is important that these advancements in technology are supported by a human element.
New Skills for an Evolving Industry
Technology creates a number of process efficiencies within claims; however, as a result of an increase in technology, soft or "human" skills are becoming even more important. As a number of time-consuming functions are becoming automated, claims professionals have more capacity for customer-facing tasks. Additionally, while chatbots are able to recognize negative sentiment, catastrophe claims are typically a personal and emotional event that warrants human interactions. Property and casualty insurers must seek out ways to leverage the capabilities of both humans and machines.
New mobile technology reduces the need to deploy a large number of adjusters following a catastrophe.
As technological transformations impact the property and casualty industry, certain skills are becoming more important for delivering exceptional customer experiences to policyholders. New technologies have made it possible for claims professionals to communicate with individuals shortly after a loss. This can be an emotional time, especially during CAT season when tornados, hurricanes and other disasters can destroy homes and communities. Claims adjusters may be some of the first contact individuals have after facing these new realities, making it important they are empathetic and compassionate. To support policyholders, insurers may even consider offering training in grief counseling to the professionals on the front lines.
Across all industries, consumers are expecting assistance and solutions in real-time. Insurers are focused on creating streamlined and efficient customer experiences. New mobile technology reduces the need to deploy a large number of adjusters following a catastrophe. Now, professionals can instantly review the necessary information to assist customers in their times of need. In addition to empathy, skills such as problem-solving, communication, leadership, agility and a customer service mindset are becoming even more important in this fast-paced environment.
New tools and technologies have streamlined and accelerated the claims process during CAT season. Technological aptitude is perhaps more important than ever; however, if individuals possess a customer-first mindset and are empathetic to customer needs, other qualifications can be more easily learned.
Ongoing Training and Development
An insurer's response to a catastrophe is dependent on its workforce. As baby boomers retire and an industry-wide mid-level skills gap persists, insurers should take steps to train and develop staff.
For many years, insurers were operating with lean teams and cutting back on training programs. However, now's the time to reinstate these programs and train internal staff to step into roles that may be left vacant when tenured employees chose to move on or retire.
Insurers should remain committed to supporting standard training and certification programs; however, it's worth taking employee development a step further through cyclical training programs. While cross-departmental training has been less prominent in recent years, these programs help arm individuals with a comprehensive view of the organization. This not only enables them to better perform within their own roles, but it provides the ability for them to transfer into new positions if needed.
When employees are equipped with a broad range of skills, they have more flexibility to support different functions, such as claims or customer service, when certain areas are short-staffed. Regardless of original jobs responsibilities, cross-trained employees can help reduce the talent crunch during CAT season.
Preparation for Unforeseen Talent Needs
Just as catastrophes are difficult to prepare for, so are talent needs during CAT season. Given the unpredictable nature of catastrophes, it's advisable to have contingent talent plans developed and ready to execute. No matter how proactively organizations may recruit top talent, resources may be depleted during a major natural disaster, especially in light of the tight labor market.
Immediate talent needs may arise; and in order to best service customers, insurers may want to develop relationships with staffing firms that can quickly connect them with full-time or temporary staff.
Policyholders spend years paying insurance premiums, and claims professionals are responsible for delivering on those long-term promises. Having the right talent on hand enables insurers to support customers and provide the best service possible in their times of need. By focusing on empathy and other soft skills, leaning into technology and committing to training programs, claims professionals will be well-equipped to best serve customers this CAT season.
Was this article valuable?
Here are more articles you may enjoy.
From This Issue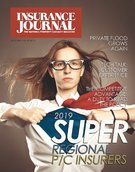 Super Regional P/C Insurers; Markets: Flood & Earthquake, E&O; Annual Ad Reader Study