When it comes to business management, there are "best practices, "bad practices" and then there is "what works for the business at the time."
Every business has its unique characteristics due to size, location, products and services, clients, and especially the people involved. So, what is considered "best practices" might not apply to a specific firm. Owners should be aware of all the management options, techniques and approaches, and then strive to develop a management approach that fits best for their business.
For independent insurance agencies, the primary management areas include: a) sales; b) service; c) administration and HR; d) financial; e) market and carrier relations; f) automation; and g) brand management.
For small agencies with one owner, the focus tends to be on sales and service with the other aspects being handled on an as-needed basis. Larger firms tend to have middle management to assist the owners with both the strategic and day-to-day management of the firm, so there is usually regular coverage of all aspects of management.
Management Systems
Regardless of who handles the management, there needs to be a system in place to ensure that everything gets handled on a regular basis. Letting problems fester until there is a crisis will result in spending more time, money and stress than if the problem was handled properly in the beginning.
Management is both an art and a science. Most agency owners forget about the science part, which is to develop and implement good systems and procedures. A good system would include a checklist or schedule to know when to look at things and key performance indicators (KPIs) to know when there are problems. Management can then take steps to correct things when off-target. See our "Minding Your Business" article on Creating Key Performance Indicators for further details.
Management Triage
A skill that needs to be developed is how to prioritize management issues. The first step is to use the "Urgent-Important" matrix made popular by President Dwight D. Eisenhower, who in a 1954 speech was quoting Dr. J. Roscoe Miller, president of Northwestern University, when he said: "I have two kinds of problems: the urgent and the important. The urgent are not important, and the important are never urgent. This "Eisenhower Principle" is said to be how he organized his workload and priorities, which allowed him to be both effective and efficient.
Important activities have outcomes that lead to one's achieving goals. Urgent activities demand immediate attention because the consequences of not dealing with them are immediate, but they are often associated with achieving someone else's goals. Understanding this concept is important. There are many resources available that provide further insight into this concept, so it is left up to the reader to explore this further as needed.
A second skill for Management Triage is the delegation of tasks. Owners and managers should only handle the tasks that they are uniquely qualified to handle. Often, simple problems are not addressed because the owner or manager holds on to them until they have the time to get it done instead of letting someone else resolve the problem. See our "Minding Your Business" article on The Power of 98/2 Delegation for an in-depth analysis on this topic.
Time and Money
The proper management of an agency will require time. Too often, owners will want to spend that time on something else such as sales because they don't enjoy management or feel inadequate handling management tasks. In firms with more than one owner, the distribution of management tasks can be uneven. This can all lead to poor or improper management of the agency due to neglect, frustration or resentment. One way to address this potential problem is to allocate compensation to the person handling the various management roles, which are the A through G functions mentioned at the beginning of this article. Rotating these functions among the owners can also be effective, as long as the owners are capable of managing those functions.
Oak & Associates recommends that agencies create a performance-based compensation plan for the owners, which includes a fee for management. The agency should set aside a strategic management fee, for example, 3% to 7% of total revenues. To determine the correct percentage, think about what it would cost to hire an agency manager who would perform all the management duties that the owners currently perform. Typically, the larger the firm, the smaller the percentage of revenue for the fee. Larger firms also tend to have a middle management layer, that assists the owners in the handling of those management duties. The allocation of the management fee should be based on the percentage of the overall management time required for each task.
This approach will also work for firms with one owner. Too often, these solo owners see management as a distraction from making money through sales and service. By having a management fee, the owner can see a correlation between the time spent on management and compensation. Some owners hire an agency manager instead of trying to perform these duties themselves, especially when they are the best sales person in the office.
Leadership
It is important to include in the discussion of agency management, the responsibility of owners and managers to provide leadership for the firm. Effective leadership will look different based on the personalities involved, but it should include creating, communicating and maintaining a vision or strategic direction for the business, encouraging and supporting employees, and resolving conflict or problems promptly.
Model Success
If the business is not going in the right direction or the same issues keep popping up, it is time to do something different.
Long-term success is only achieved by knowing what works and what does not work. That is why "best practices" should be considered, although "what works for the business at the time" has been the management technique.
Motivational speaker Anthony Robbins once said: "If you want to be successful, find someone who achieved the results you want and copy what they do, and you'll achieve the same results."
Summary
Great firms with superior agency management don't just happen. They are the result of management putting together and maintaining the right people, products and services, and an overall good organization. That is why agency owners need to develop the best management system for their business.
We will follow up this article with a series that will explore the details of different management functions, starting with financial management.
Oak is the founder of the consulting firm, Oak & Associates, based in Northern California and Central Oregon. Schoeffler is an associate of the firm. Oak & Associates specializes in financial and management consulting for independent insurance agencies, including valuations, mergers acquisitions, sales and marketing planning as well as perpetuation planning. Phone: 707-935-6565. Email: catoak@gmail.com.
Was this article valuable?
Here are more articles you may enjoy.
From This Issue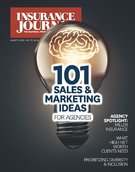 101 Sales, Marketing & Agency Management Ideas; Market: High Net Worth, Intellectual Property; Corporate Profiles – Fall Edition