Operating commercial vehicles, whether as a single driver or the owner of a fleet, carries with it significant liability. And, risks are only increasing. The commercial automobile insurance line has been a loss leader since 2011.
AM Best estimates that the 2018 industry combined ratio was 112.9% with a forecast of continued elevated loss driven by adverse loss frequency and severity trends.
Distracted drivers, congested highways and driver shortages all contribute to the adverse frequency trends. At the same time, increased litigation, medical inflation and higher vehicle repair costs are increasing the costs of claims.
It is against this backdrop that the Electronic Logging Device (ELD) rule has come into force. Congressionally mandated and part of MAP-21, the ELD rule is meant to improve driver safety. Yet, while ELDs, often called telematics, are a positive development for operators of commercial vehicles, they can also be an entirely new source of litigation liability. Thus, anyone working with commercial automobile insurance must understand where those liabilities come from and how to counsel policyholders about mitigating them.
The key to mitigating litigation risk is demonstrating the company has taken every possible step to improve driver safety — and ELDs are a powerful tool for that.
Understanding the ELD Rule
The ELD rule established by the Federal Motor Carrier Safety Administration (FMCSA) mandates the use of ELDs by commercial vehicle drivers that must prepare hours of service (HOS) records of duty status (RODS). The rule also provides minimum performance and design standards for ELDs.
According to the FMCSA, the ELD rule "is intended to help create a safer work environment for drivers, and make it easier and faster to accurately track, manage, and share RODS data. An ELD synchronizes with a vehicle engine to automatically record driving time for easier, more accurate HOS recording."
Litigation Exposure from ELDs
While ELDs are intended to increase safety, their use can increase a company's exposure to potential litigation because of how much data they gather. Under the FMCSA rule, ELDs must link to the commercial vehicle engine's electronic control module (ECM). This connection between ELD and ECM provides not just the information required for hours of service but the opportunity to access a range of telematics information such as fuel usage, idle time, GPS location and driver behavior including hard brake events, speeding events and rapid acceleration. Some ELD products can also assign a score to driver behavior data that may be used by their employer.
The information obtained through an ELD system can be a powerful business tool for commercial fleet operators. The data can empower commercial fleet operators to make more informed decisions that save time and money, eliminate safety risks and improve the bottom line.
Telematics can also be used to develop driver coaching and safety programs.
However, if a driver is involved in a collision, that helpful data might also be discoverable in litigation. This is particularly worrisome given the recent trend where plaintiffs' lawyers are going after increased jury awards and loss settlements in cases involving commercial vehicle accidents. To do this, plaintiffs' lawyers are frequently employing "reptile theory" strategies in litigation.
Rather than litigating the circumstances of a particular accident, a plaintiff's attorney using this strategy will put the company on trial. They will attempt to show that the organization doesn't take safety seriously and is only interested in making money while putting the general public at risk.
'The key to mitigating litigation risk is demonstrating the company has taken every possible step to improve driver safety — and ELDs are a powerful tool for that.'
To make the streets safer, they will argue, the jury must punish the company by hitting them where it hurts — their wallets. This is called the "reptile theory" because these types of arguments are meant to appeal to the so-called human "reptile brain" that protect us from perceived threats. In other words, plaintiffs' lawyers try to make jurors fear something similar will happen to them if they don't force the company to change with a verdict that imposes a large damages amount.
Plaintiffs' attorneys are now routinely requesting ELD data as part of discovery in lawsuits involving commercial vehicle accidents. They also request documentation for any driver coaching or training based on that data. In addition, not being able to produce a record of how it used ELD data can also harm a company's case.
Mitigating the Risks from ELDs
The threat of litigation might make complying with the ELD rule and using the collected data seem problematic and a headache waiting to happen. However, there are ways to both mitigate litigation liability and reap the benefits of ELD telematics. That should be the focus of any conversation that insurance agents and others have with commercial vehicle policyholders.
The key is for a company to develop proactive protocols for handling telematics. Showing that the company has made active use of ELD data can greatly enhance the case for the defense in accident litigation. In addition, the information provided from telematics after an accident may help to show that the driver's actions did not contribute to the accident, potentially limiting liability.
Ways to demonstrate a company has been proactive in preventing accidents and limiting liability include:
Taking the time to understand its ELD system and the information it provides;
Establishing clear guidelines for when to review the data;
Clearly communicating company expectations to drivers;
Developing a system to use telematics to address drivers not meeting expectations with coaching and corrective action; and
Maintaining documentation of any and all driver coaching and mentoring activities.
The proactive use of telematics is a win-win for commercial vehicle owners. Not only do telematics help them benefit from the valuable insights ELDs provide regarding driver behavior, but telematics will also help reduce litigation liability in the process.
The key to mitigating litigation risk is demonstrating the company has taken every possible step to improve driver safety — and ELDs are a powerful tool for that.
Insurance carriers should encourage commercial vehicle policyholders to embrace their ELDs, use them correctly and actively leverage the data to improve safety. Doing so is one way we can help improve the viability of commercial vehicle insurance.
Bateson is executive vice president, transportation at IAT Insurance Group. Website: www.iatinsurance.com. Phone: 678-381-8549 Email: Todd.Bateson@iatinsurance.com.
Was this article valuable?
Here are more articles you may enjoy.
From This Issue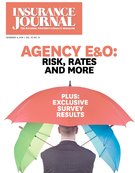 Top Commercial Lines Agencies; Agency E&O Survey; Premium Finance Directory; Market: Trucking