Data has always played an important role in the insurance industry. From actuarial analysis and risk predictions to pricing, insurance is grounded in using available information to understand the probability of certain events. However, as the industry advances further into areas such as machine learning, artificial intelligence, personalization and predictive analytics, innovative data and analytics professionals are playing an even larger role in realizing untapped capabilities.
There are a wealth of opportunities within data. For instance, product development is becoming a priority across the industry, as insurance organizations respond to consumer demands and build enhanced and personalized experiences. At the same time, insurtechs are aligning with insurers to create relevant products and vastly speed up time-to-market. Along with these new consumer products, organizations are adopting improved processes and technologies to help internal teams function with more agility and efficiency. Larger insurance organizations are implementing blockchain technologies and exploring the potential of more comprehensive information. As technology enhances insurers' capabilities, professionals are needed to lead, support and define opportunities to best leverage data — both internally and externally — to meet insurers' overall business goals.
Understandably, these individuals are in high demand in an already tight labor market. According to a 2019 LinkedIn report, overall job openings for data scientists have grown 56% year-over-year. The Jacobson Group and Aon plc's 2019 Q3 Insurance Labor Outlook Study also found that technology staff is the insurance industry's greatest hiring need. Especially in a candidate-driven market, it's important to reevaluate talent management strategies to attract innovative professionals to the industry.
Defining Your Needs
Data and analytics encompass a breadth of functions, skill sets and talents. By first understanding your organization's goals, you'll be better equipped to recruit individuals who can make the greatest impact. For instance, if an organization has limited customer information, an individual who excels in predictive analytics is less suited to the job than someone who can help collect, clean and organize data. Conversely, if an organization is more mature within its analytics capabilities, it may be ready to bring in a predictive analytics expert who understands how to leverage historical information for the company's future benefit.
Data and analytics can be used to guide numerous projects and provide insights to multiple departments.
To help ensure your recruiting team is focusing on the right types of candidates, consider asking a few key questions:
What larger business goals will this position impact?
Which other individuals and teams will the role work with most closely?
What technical skills are vital for success?
Is there a longer-term vision for the project or product?
What are future opportunities for professional advancement?
By understanding the overall goals of the position, recruiters and hiring managers can become better aligned and focus on the specific skills and aptitudes necessary for success. This will also translate to a focused position description that is more likely to resonate with potential candidates, especially in a field where job titles are often inconsistent.
Considering Necessary Skill Sets
While technical skills and interests will vary by position and project, there are a few transferable skills and attributes that are valuable for all data and analytics-focused roles. For instance, in today's quickly changing business environment, priorities and resources can shift. Those working within the analytics function must be agile and able to seamlessly pivot as necessary. Additionally, professionals must be tactical, yet also strategic in order to think about how projects and their components fit within a larger scope.
In addition to technical skills, soft skills are increasingly important for these roles. Data and analytics can be used to guide numerous projects and provide insights to multiple departments. These professionals must be able to communicate across teams and help leaders accurately interpret data to make informed decisions.
Attracting Innovative Professionals
While insurance is making major strides, industries such as retail and e-commerce are setting the bar when it comes to cutting-edge capabilities. Innovative talent is in high demand across all industries and many skills are transferrable. Yet, while this gives insurance organizations access a broader candidate pool, they are also tasked with making their organizations, teams and roles attractive options when competing within a larger recruiting landscape.
Many data and analytics professionals are driven by the ability to make an impact within an organization. As insurance ramps up its use of data, opportunities abound to play a lead role in harnessing this information and delivering actionable insights. Ensure candidates recognize how positions will drive the organization toward larger business goals, assist decision-making and impact customer experience. Presenting a longer-term product roadmap or strategy can also help professionals understand future growth opportunities within the position or department.
In today's market, the tables have turned and candidates are often the ones interviewing companies. Recruiters and hiring managers have a newfound responsibility to proactively share why their organizations and teams are the right fit. There's great competition for innovative talent and forward-thinking insurers will recognize what other organizations are offering, as well as any potential barriers they may need to overcome to remain competitive. This includes addressing any misunderstandings about the industry and reevaluating areas such as ongoing professional development, casual dress codes, and flexibility in work hours and locations. Additionally, by focusing on the candidate experience, communicating frequently and expediting the hiring process, insurance organizations can let candidates know they're valued, while also lowering the chances of another offer being accepted first.
As technology evolves, it is vital that the industry attracts innovative individuals who can improve efficiencies and services through data. By defining opportunities and roles, reevaluating recruiting processes and focusing on the candidate experience, insurers can better attract the right data and analytics professionals to support their specific needs.
Was this article valuable?
Here are more articles you may enjoy.
From This Issue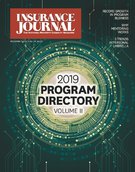 Agency HR: Recruiting, Outsourcing & Training; Programs Directory, Volume II