East
World Insurance Associates, Lewis-Chester Associates
World Insurance Associates LLC acquired Lewis-Chester Associates Inc. of Summit, N.J., on Feb. 1, 2020.
Founded in 1947, Lewis-Chester Associates is a full service, independent insurance agency providing insurance, benefits and financial services for a range of clients. The agency has more than seven decades of experience serving contractors, real estate developers, manufacturers, publicly financed housing developments, professional associations, business owners and entrepreneurs, nonprofit organizations, and individuals and families.
Lewis-Chester Associates has niche expertise in insuring the New York metropolitan commercial real estate marketplace and has developed an exclusive multi-family, affordable apartment and independent living senior apartment umbrella program.
WIA is headquartered in Tinton Falls, N.J. Since its founding in 2012, it has completed 53 acquisitions and serves its customers from 40 offices in 11 states.
Renaissance Alliance, Oak Tree Insurance Agency, Reardon Insurance
Renaissance Alliance Insurance Services, a national membership alliance for independent insurance agencies specializing in property and casualty insurance, announced that two independent insurance agencies joined its New England network: Oak Tree Insurance Agency LLC, based in Shrewsbury, Mass., and Reardon Insurance, based in Waterford, Conn.
In addition to the prospect of enhanced growth, both new members cited the ability to offload operational and processing tasks as key reasons for joining the network, according to Renaissance Alliance Executive Chairman Kevin Callahan.
Oak Tree Insurance Agency serves the personal and business insurance needs of the members of Central One Federal Credit Union and the greater Shrewsbury community. The agency was founded in 2007, and Lisa M. Griffiths is agency principal.
Reardon Insurance is a family-owned and operated independent insurance agency that has been serving business and personal clients in Connecticut, Rhode Island and Massachusetts since 1967. The agency has a commercial expertise and a special business focus in serving condominium and homeowners associations. Kevin S. Reardon is owner and president.
The Hilb Group, LifePlus Insurance Agency
The Hilb Group LLC has acquired Massachusetts-based LifePlus Insurance Agency Inc. The transaction became effective March 1, 2020.
Established in 2004, LPINS is a full-service ancillary benefits agency, primarily providing insurance for group life, worksite, dental and workers' compensation to municipalities in Massachusetts.
Following the acquisition, LPINS' associates will continue to operate out of their existing office in Marshfield, Mass., under the direction of LPINS Agency Leader Peter A. Cook Jr.
THG is a middle market insurance agency headquartered in Richmond, Va., and is a portfolio company of global investment firm, The Carlyle Group. THG is seeking to grow through targeted acquisitions in the middle market insurance brokerage space. The company now has more than 90 offices in 20 states.
---
Midwest
One80 Intermediaries, International Excess Program Managers
One80 Intermediaries, a national wholesale insurance broker and program manager headquartered in Boston, has acquired Beachwood, Ohio-based International Excess Program Managers (IEPM), a wholesale insurance brokerage and program manager operating in all 50 states.
Established in 1998, IEPM provides access to a full range of insurance products and specializes in property, liability, inland marine, errors and omissions, directors and officers, commercial auto and umbrella coverage.
In addition to wholesale access, IEPM builds tailored multi-state insurance programs for specialty industries, associations and groups of policyholders. Services include underwriting, rating structures, policy issuance and regulatory compliance.
One80 Intermediaries is a privately held, national firm with offices across the country. An insurance wholesaler and program manager, the company offers placement services and binding authority for property/casualty, financial lines, personal lines and medical stop loss risks.
One80 serves commercial companies, non-profits, public entities and individuals. Coverage spans all industry classes. One80 has offices in more than 19 locations nationwide including Boston, New York City, Chicago, Miami, Atlanta, Houston, Dallas, Nashville, San Diego and Seattle.
DOXA, Lawrence E. Smith & Associates, Scholastic Insurance of Florida
Specialty insurance agencies Lawrence E. Smith & Associates of greater St. Louis, Mo., and Scholastic Insurance of Florida in greater Orlando, Fla., have been acquired by DOXA Insurance Holdings LLC.
The two agencies specialize in insurance programs for scholastic markets.
Each agency will continue operations under the leadership of Larry Smith and his son, Lane Smith, respectively, as well as retaining their individual brand names within the scholastic insurance markets they serve in nine midwestern and southern states.
Larry Smith launched LESA in 1977, pioneering accident and health coverage within school systems throughout Missouri, eventually expanding the business to include nine states.
Lane Smith joined his father's business in 2001, and together in 2004, they acquired ownership of the Florida agency that is now the primary provider of scholastic insurance programs in the state of Florida.
MarshBerry served as financial advisor to each of LESA and SIF on this transaction.
DOXA Insurance Holdings is a Midwest-domiciled holding company that acquires specialty niche focused insurance distribution companies such as managing general agencies, wholesale brokers, program administrators and retail agencies.
---
South Central
TWFG Insurance Services, Panoptic Insurance
TWFG Insurance Services LLC has acquired the personal and commercial insurance business of The Woodlands, Texas-based Panoptic Insurance, effective April 17, 2020.
Panoptic Insurance, founded in 2008 by Arden Hetland, is a national independent insurance agency that provides comprehensive insurance products and services.
TWFG Insurance Services is a full service, national retail insurance agency with more than 386 locations in 18 states and approximately $610 million in premium.
TWFG Insurance Services LLC is a wholly owned subsidiary of The Woodlands Financial Group, which includes TWFG General Agency LLC, TWFG Premium Finance LLC and The Woodlands Insurance Co.
The Woodlands Insurance, Gulfstream Property & Casualty Insurance
The Woodlands Insurance Co. has completed a renewal rights agreement with Florida's Gulfstream Property & Casualty Insurance Co. to acquire Gulfstream's book of homeowners business in Texas.
The transaction will result in the transfer of approximately $4 million of in-force gross written premium to TWICO. TWICO will begin offering renewal terms for policies falling due for renewal on or after June 1, 2020.
Demotech Inc., which rates independent, regional and specialty insurers, in late March affirmed the financial stability rating (FSR) of A – exceptional – assigned to Gulfstream Property & Casualty Insurance Co.
The Woodlands Insurance Co. is an "A" rated carrier that offers qualifying households an all-in-one homeowners policy, which includes flood insurance, home systems protection, service line protection, identity theft and home cyber protection endorsements. TWICO is a wholly owned subsidiary of TWFG Holding Company LLC, which includes TWFG Insurance Services LLC, TWFG General Agency LLC and TWFG Premium Finance LLC.
Founded in 2004, Gulfstream, a Sarasota, Fla.-based insurance company, provides homeowners insurance and related services to customers in Alabama, Florida, Louisiana, South Carolina and Texas.
---
Southeast
AssuredPartners, Transportation Insurance Advisors
AssuredPartners Inc. has acquired Transportation Insurance Advisors LLC located in Sanford, Fla.
Transportation Insurance Advisors' team of 55 will remain under the operational leadership of Scott Light.
The agency currently reports $14 million in annualized revenues. According to Light, the agency works with trucking companies nationwide.
The group will join AssuredPartners' National Trucking Practice.
Headquartered in Lake Mary, Fla., AssuredPartners Inc. is led by Jim Henderson and Tom Riley. It acquires and invests in insurance brokerage businesses, such as property/casualty, employee benefits, surety and MGUs, across the U.S. and in London.
---
West
Alera Group, Barkley Risk Management & Insurance
Alera Group has acquired Barkley Risk Management & Insurance in California.
The Barkley team will continue serving clients in their existing roles.
Barkley serves clients throughout California and the surrounding region, providing safety and risk management, claims management, business and insurance risk and more.
Deerfield, Ill.-based Alera Group is a national employee benefits, property and casualty, retirement services and wealth management firm.
Alera Group, Cambridge Benefit Solutions
Alera Group has acquired Cambridge Benefit Solutions in Chandler, Ariz.
Cambridge Benefit Solutions joins Alera Group through Benefit Commerce Group.
Deerfield, Ill.-based Alera Group serves clients nationally with employee benefits, property and casualty, retirement services and wealth management.
Was this article valuable?
Here are more articles you may enjoy.
From This Issue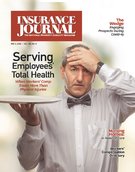 Workers' Compensation Report; Workers' Comp Directory; Markets: Healthcare & Medical Professional Liability