There is never a slow time in insurance sales, at least in theory. Yet in practice, no producer is productive 100 percent of the time. Who is? But when the number drops below 75 percent, agents must use slow time to develop future sales. Here are eight ways.
1. Producer promos. Agents need to continuously prospect on their own to supplement promotional activities conducted by the agency. Social marketing is one such approach. LinkedIn, Twitter and WordPress are the ideal starter set for finding and socially communicating with potential buyers. Use them to establish individual accounts and to publish blogs to display specialized knowledge. The results aren't instant sales, but rather instant exposure, which ultimately spawns salable leads.
2. Surf for leads. Step up spare time Googling. Explore the sites of firms with an active social media presence, checks sites like yelp.com and bbb.org for consumer reviews, and just plain surf for leads. This complements today's social media networks, and in combination, results in finding higher quality potentials.
3. Tweak sales skills. New business acquisition may be slow because producers haven't maintained their selling skills. Without continuous education, abilities atrophy. Agents can uncover problem areas by completing a "no-sale report" on each recent prospect they failed to close. This post-mortem itemizes the presumed reasons their offer wasn't accepted including pre-proposal actions, competition, premium, coverages, proposal and presentation. Agents can send "lost bid surveys" to the same non-buyers, asking for the reasons they didn't insure with them. Comparing no-sale opinions to the matching surveys uncovers trends. Use the results to improve weak areas.
4. Reactivate canceled clients. Search through ex-insureds for quality prospects worth resoliciting. Look for reasons other than price why an account was lost. Always ask the ex-insured's producer and customer service representative if the client should be re-targeted. When a personality conflict, or another known action lost the business, resolicit it in a fresh manner.
5. Look for P/C cross-sell opportunities. Use sales downtime to methodically explore existing accounts for "missing" policies and coverages. Identify and solicit the most viable cross-sell and upsell opportunities. Also use the opportunity to learn about lesser-known or newer policies (like data breach) to have something novel to offer.
6. Cross-sell non-P/C lines. When new P/C sales are slow, supplement your product line with financial services. Key-person life/disability and group life/health are typically well worth exploring. Carriers often provide product training and support personnel to help in these profitable areas.
7. Solicit testimonials and referrals. Identify your happiest and most influential insureds. Ask them for a video, audio or print-based testimonial that you can tactfully use in your marketing. Also request referrals from recent sales and renewals.
8. Creatively open doors. Don't endlessly use the same old "let me quote" methods when contacting potential leads. Instead, exploit slow periods to develop imaginative ways to entice new prospects. Unusual approaches like business "dissatisfaction" surveys, catalogs of promotional agency services, and more, can differentiate the producer and agency, and attract buyer interest.
From This Issue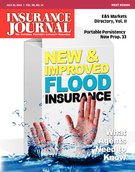 Excess, Surplus & Specialty Markets Directory Vol. II