11 deaths
Major flooding was produced by drenching thunderstorms in early May across the Plains states. The thunderstorms devastated Greensburg, Kan. In addition to 11 tornado deaths, two drowning deaths were blamed on the storms, one each in Oklahoma and Kansas. High water had poured over the tops of at least 20 levees along the Missouri River and other streams in the state, authorities said. Residents could only hope for a break in the weather to allow time for the rising waters to go down.
96.5%
The workers compensation calendar year combined ratio stands at 96.5 percent — the best underwriting result in at least 30 years and the first underwriting profit for the line since 1995 according to NCCI Holdings Inc.'s annual "State of the Line" workers' compensation market analysis. Although the underwriting results are the best in decades, the returns after investment income and federal taxes show that returns on surplus supporting the business are not close to record levels, and only modestly above the average for the last 20 years due to the low levels of interest rates in recent years.
$213 million
Chicago-based Aon Corp., reported that its first-quarter profit rose 8 percent as the company collected higher brokerage fees in other countries and bolstered its own insurance underwriting. Net income for the quarter was $213 million, or 66 cents per share, up from $198 million, or 57 cents per share, in the first quarter of 2006. Profit excluding charges and extraordinary items was 70 cents per share, beating Wall Street's estimate of 66 cents per share, according to a Thomson Financial poll.
$450,000
Douglas County, Neb., might have to pay a hefty price for an employee's failure to deliver. The county finds itself as the defendant in a medical malpractice lawsuit because, contrary to a civil process server's contention, the original defendant was never served papers. Eugenia Kudym of Omaha, Neb. is asking for $450,000 in damages, the amount her attorney said she could have recovered from her physician after she suffered complications from gastric bypass surgery in 2003. A judge last year ruled that a server from the sheriff's department did not properly serve Kudym's physician. Meanwhile, the statute of limitations for malpractice lapsed, eliminating the physician from possibly having to pay damages.
From This Issue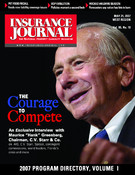 Program Directory, Vol. I; Single State Specialists