Equine Mortality and Major Medical
Market Detail: Tower Services Inc. (www.tower-services.com) is an MGA offering property, liability, auto, horse mortality, and excess coverages for a variety of farms. A listing of appetite and markets available through website.
Available limits: As needed
Carrier: Diamond States, admitted
States: Ga., N.C., S.C., Tenn., and Va.
Contact: Theresa Tuten at 888-440-4381 or e-mail: ttuten@tower-services.com
Hotels and Motels
Market Detail: Western World Insurance Group's (www.westernworld.com) coverage is available using standard ISO policy forms including custom manuscript endorsements where applicable. Property coverage offered includes: building; personal property; business income/extra expense; crime; inland marine; equipment breakdown; bailees; miscellaneous property floater.
Available limits: As needed
Carrier: Unable to disclose
States: All states except D.C.
Contact: Customer service at 201-847-8600
Crane & Rigging Contractors
Market Detail: NationsBuilders Insurance Services Inc. offers competitive coverage with loss prevention, risk management support, reliable claims service, competitive rates and custom coverage allow. Coverage is through an "A-" (Excellent) rated carrier. Programs include: concrete pumping; crane & rigging; specialized transport; and equipment dealer. Coverages include: general liability; property/inland marine; commercial auto; excess/umbrella; workers' compensation. Coverages features include: 10/01 general liability coverage form utilized providing over-the-road coverage form mobile equipment; motor vehicle law endorsement gives PIP, UM, and med pay coverages to mobile equipment; rigger's liability available under GL or IM coverage form tailored for each client; blanket waiver of subrogation and additional insured endorsements available; hired and non-owned liability and hired car physical damage coverages available; installation floaters, third party loss of use, and motor truck cargo coverage offered; and deductible incentive endorsement offers up to 50 percent of deductible waived if NBIS preferred contractual language is utilized.
Available limits: As needed
Carrier: Unable to disclose, admitted and nonadmitted available
States: All states except D.C.
Contact: 866-668-NBIS
Was this article valuable?
Here are more articles you may enjoy.
From This Issue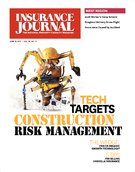 Construction; Medical Professional Liability; Umbrellas – Personal & Commercial