Environmental Contractors and Consultants
Market Detail: Landmark E&S (www.landmark-es.com) offers environmental contractors and consultants a comprehensive package insurance program to assist them with their general liability, pollution and professional liability exposures. Brokers will analyze environmental trends for potential risks and tailor coverages to meet the needs of clients.
Available limits: Minimum $1 million, maximum $50 million
Carrier: Unable to disclose, admitted and non-admitted
States: All states
Contact: Fred Baron at 949-390-4725 or e-mail: fbaron@landmark-es.com
Limousine
Market Detail: Lancer Insurance Co. (www.lancerinsurance.com) offers 15 percent commission for new limousine accounts to retail brokers. Coverage is available for stretches, sedans, super-stretches and limo buses. Coverages include commercial automobile liability, automobile physical damage, commercial general liability, garage liability and garagekeepers legal liability. Liability limits up to $5 million CSL. Coverage provided on a first-dollar basis. Larger accounts can also be underwritten with a liability deductible. Program not available to radio-dispatched vehicles, car service operations and taxis.
Available limits: As needed
Carrier: Lancer Insurance Co.
States: All states except Hawaii, Louisiana, Montana and West Virginia
Contact: Elsa Aleman at 516-431-4441 or e-mail: ealeman@lancerinsurance.com
Auto Service Shops
Market Detail: Universal Casualty Risk Retention Group (www.universalcasualty.com) is focused on the auto service industry, specifically geared toward providing products to classes of business that deal with the distribution, rental, and repair of automotive vehicles. Target clients include new and used car dealerships, auto collision and repair shops, truck repair, muffler shops, tire shops, towing, short-term auto rental, transmission shops, auto glass shops, and auto leasing companies (if also operating as a car dealership). All quoting is done through partner MGA, Inter Insurance Agency.
Available limits: Minimum $50,000, maximum $3 million
Carrier: Universal Casualty
States: All states
Contact: Joe Chvasta at jchvasta@universalcasualty.com
Lender Placed Hazard and Liability
Market Detail: Proctor Financial Inc.'s (www.pfic.com) REO Guard Lender Placed Hazard and Liability Insurance provides REO insurance property coverage with optional liability for REO/foreclosed properties where no insurance coverage is in place. PFI offers Sale Date Inspections with this insurance product to establish condition of property at date and time of Sheriff Sale. Visit www.pfic.com for more information.
Available limits: As needed
Carrier: Various, non-admitted
States: All states
Contact: Amanda Bowers at 248-824-1464 or e-mail: abowers@pfic.com
Surety Bonds
Market Detail: The Bond Exchange (www.bondexchange.com) specializes in surety bonds, a contract issued by an insurance company that provides a financial guarantee to an interested party (usually a government agency) that a named person or business will adhere to the terms established by the bond.
Available limits: Maximum $100 million
Carrier: All surety carriers, admitted
States: All states
Contact: David Gonsalves at 800-438-1162 or e-mail: david.gonsalves@bondexchange.com
Artisan Contractors
Market Detail: Southwest Risk LP Contractors (www.swrisk.com) has experience across multiple contractor disciplines to address all the challenges facing this class today, even in more difficult classes such as residential, EIFS, and industrial work among many others. Eligible contracting classes include: plaster and stucco (including EIFS); roofing; foundation (new and repair); steel and tower erection; utility; plumbing; framing; demolition; excavation; environmental.
Available limits: As needed
Carrier: Unable to disclose, admitted and non-admitted available
States: All states
Contact: Customer service at 214-206-4900
Was this article valuable?
Here are more articles you may enjoy.
From This Issue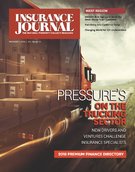 Top Commercial Lines Agencies; Focus on Professional Liability / PLUS; Directory: Premium Finance; Market: Trucking