Towing
Market Detail: Arrowhead General Insurance Agency Inc. (www.arrowheadgrp.com) provides insurance for towing businesses through its Automotive Aftermarket Program (formerly Universal Underwriters). This product provides coverage for established operations with industry experience primarily engaged in towing automobiles. This can include auto club contractors, auto body shops, auto mechanical repair shops, roadside service providers and rotational towing operations. Target markets include: Operations engaged in towing automobiles; operations running a loss ratio of 40% or less over a five-year period; experienced drivers 25-years-of-age or older with clear driving records; trained drivers (wreckmaster certification or state association training preferred); towing radius of less than 300 miles; and total liability limits of $2 million or less (higher limits may be available). Coverage highlights include: property – building replacement; contents (stock and equipment); equipment breakdown; business interruption and extra expense; broad coverage extension endorsement; automobile liability. Crime coverage available includes: money and securities; employee dishonesty; forgery and alteration. General liability coverage includes: products and completed operations; personal and advertising injury; damage to rented premises; employee benefits liability; and medical expenses. Automobile liability coverage includes: commercial tow trucks; other fleet/business vehicles; garagekeepers coverage; and cargo pollution liability. Inland marine coverage includes: mobile equipment floater; motor truck cargo legal liability; electronic data processing equipment; and business income. Arrowhead's risk management services feature: loss prevention services and tools; driver selection and training programs; employee safety handbook development; fleet maintenance/safety programs; loss prevention bulletins; on-site risk engineering visits to identify property and premises hazards, professional insight into towing industry. Claim services provided by Zurich and include loss prevention services and tools tailored for large and small businesses, adjusters who can respond to most claims within 48 hours, and on-the-spot check-writing authority.
Available limits: As needed
Carrier: Zurich
States: D.C., Fla. and La.
Contact: Marketing Info at 800-669-1889 ext. 8733 or e-mail: marketinginfo@arrowheadgrp.com
---
Accountable Care Organization (ACO)
Market Detail: Capitol Special Risks (www.csrisks.com) concept and implementation of accountable care organizations is quickly evolving — health care providers, including primary care physicians, specialists, and hospitals, work together collaboratively and accept collective accountability for the cost and quality of care delivered to a population of patients. Captiol Special Risks can help tailor policies specifically for accountable care organizations. Available coverage includes: errors & omissions, including peer review, utilization review, coordination of care, management and marketing of the ACO, providing quality assurance, and establishment of provider networks; regulatory coverage for judicial, administrative and regulatory proceedings brought on federal, state or local level, and also responds to specifically addressing ACO-specific challenges including dedicated side A coverage – excess coverage for insured persons; employment practices liability including but not limited to, protection for wrongful dismissal, discharge or termination, harassment, discrimination, wrongful failure to employ or promote, deprivation of career opportunity, demotion, evaluation or wrongful discipline, and retaliation claims; fiduciary liability and crime coverage.
Available limits: Maximum $25 million per coverage section
Carrier: Unable to disclose
States: All states
Contact: Dorothea Westin at 770-618-1010 or e-mail: dwestin@csrisks.com
---
Motor Transport Mutual Risk Retention Group
Market Detail: Motor Transport Managers (MTM) (www.mtmrrg.com) is the exclusive program manager and responsible for daily operation of Motor Transport Mutual Risk Retention Group Inc. MTM RRG is a mutual insurance company that offers auto liability, motor transport cargo liability, and general liability for last mile delivery operators in 49 states (excluding Florida). New brokers welcome with no previous book of business required for an appointment. Program highlights include: last mile delivery for furniture and appliances; 10,000 to 35,000-pound vehicles (up to Class 6); less than 100-mile radius; CAL, MCL, GL offered; excess/umbrella policy available; one to five units quoted online.
Available limits: As needed
Carrier: Motor Transport Mutual Risk Retention Group Inc.
States: All states except Fla.
Contact: Thomas Rogers at 941-894-7208 or e-mail: trogers@mtmanagers.com
---
Contractors General Liability – FL, GA, NC, SC, TX and TN
Market Detail: Frank Winston Crum Insurance Co. (www.frankwinstoncrum.com) is a commercial insurance carrier that specializes in providing reliable and affordable workers' compensation and general liability insurance. FWCI conducts business in 37 states through a network of independent agents, and an affiliate relationship with FrankCrum, a professional employer organization (PEO).
Available limits: Minimum $750
Carrier: Frank Winston Crum Insurance Co.
States: Fla., Ga., N.C., S.C., Tenn., and Texas
Contact: Tyler Huerkamp at 866-218-4219 ext. 1426 or e-mail: tylerh@fwcrum.com
Was this article valuable?
Here are more articles you may enjoy.
From This Issue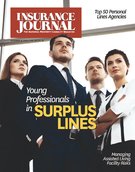 Top 50 Personal Lines Retail Agencies; Young Wholesale Brokers; Markets: Assisted Living / Long Term Care; Special Supplement: The Florida Issue; Webinar: The Ins & Outs of Agency E&O