Cannabis Surety Bond Program
Market Detail: Surety One, Inc., (SuretyOne.com) surety bond GA specializes in contract and commercial surety bonds, offering the license/permit bonds required for marijuana dispensary, grow and delivery operations in all of the states and municipal jurisdictions that require them. In addition to the surety bonds required for commercial cannabis operations, Surety One offers property, product and liability products as well.
Available limits: Minimum $1,000, maximum $10 million
Carrier: Various, admitted
States: All states
Contact: C. Poindexter at 800-373-2804 or e-mail: cpoindexter@suretyone.com
Last Mile Delivery
Market Detail: Motor Transport Managers (MTM) (www.MTMRRG.com) is the exclusive program manager and is responsible for daily operation of Motor Transport Mutual Risk Retention Group, Inc.
MTM RRG is a mutual insurance company that offers auto liability, motor transport cargo liability and general liability for last mile delivery operators in 49 states (excluding Florida). New brokers welcome.
No previous book of business required for an appointment. Program highlights include: last mile delivery for furniture & appliances; 10,000 – 35,000 pound vehicles (up to Class 6); less than 100 mile radius; CAL, MCL, GL offered; excess/umbrella policy available; one to five units quoted online;
Available limits: As needed
Carrier: Motor Transport Mutual Risk Retention Group, Inc.
States: All states except Florida
Contact: Thomas Rogers at 941-894-7208 or e-mail: trogers@mtmanagers.com
Was this article valuable?
Here are more articles you may enjoy.
From This Issue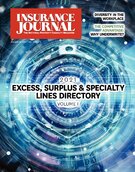 Excess, Surplus & Specialty Markets Directory, Volume I; The Diversity Issue