James Wurdeman
Florida-based Poe Financial Group announced the promotion of their executive vice president, James Wurdeman, to president and CEO. William Poe, Sr., the current CEO, will remain chairman of the property and casualty company, which he founded in 1996.
Wurdeman has been with Poe Financial Group as executive vice president since its inception in 1996 and has more than 24 years experience in the industry—including treasurer of Poe & Associates, Inc.
Prior to entering the industry, he held a position with a large national accounting firm and also served as president of a consulting company.

Thomas Kallman
Thomas Kallman, founder and president of Kallman Insurance Agency in Weston, Fla., was appointed by the Florida Bar Board of Governors to serve a three-year term on the 17th Judicial Circuit Grievance Committee. Kallman is only one of three non-attorneys on the panel.
The grievance committee's primary function is to ensure that practicing attorneys adhere to Bar rules for professional conduct. As such, members of the committee are charged with reviewing and investigating attorney complaints and recommending appropriate discipline.
Kallman serves a vice-chairman of the Weston Business Chamber of Commerce and treasurer of the Weston Democratic Club. He is involved with the Florida Association of Insurance Agents and the Rotary Club of Weston.
Prior to starting Kallman Insurance Agency six years ago, Kallman was a corporate officer for one of the largest independent insurance agencies in Miami-Dade County.
Florida-based Bankers Insurance Group added two new executives to its senior management team.

Barry Gates
Barry Gates joined Bankers as chief underwriting officer, coming from the position of senior vice president at Colony Insurance Group in Richmond, Va.
He brings more than 30 years' experience in underwriting and operations management, including executive positions with Reliance Insurance Company, General Reinsurance Corporation, and Fireman's Fund Insurance Company.

Thomas Carlson
Thomas Carlson is Bankers' new internal audit manager. He was formerly the manager of internal audit for Workflow Management, Inc., of Palm Beach, a $640 million supplier of business printing and supply chain management services.
During his 20-year career he has held auditing, accounting and management positions with several banks in the Northeast as well as with Danka Business Systems in St. Petersburg.

John Nail
RewardsPlus, a provider of benefits management solutions, announced that John Nail has been named executive vice president of sales and marketing.
Nail brings more than 28 years experience in sales, management and leadership positions in the employee benefits industry to RewardsPlus. He will head up the company's sales and marketing unit and be responsible for new business development, expanding partner relationships, sales administration and positioning the company in the marketplace.
Nail's experience includes more than 17 years with UNUM Provident Corp. where he served the company in various employee benefit sales, sales management and regional/corporate management positions in New York, Chicago, Michigan, Baltimore and Washington, D.C.
U.S.I. Holdings Corp. appointed Robert Nesbit to the position of senior vice president and chief human resources officer.
Before joining USI, Nesbit served as vice president for global staffing and diversity at Campbell Soup Co. where he created a corporate staffing function in collaboration with senior management and human resources leadership, along with facilitating the development of an integrated talent management model.
USI is a distributor of insurance and financial products and services to businesses throughout the U.S., operating 59 offices in 19 states.
Restaurant Insurance Corp. appointed Dan Knise to the position of executive vice president.
Knise will be responsible for marketing and public relations for the company. Knise was formerly president of Dionis Insurance Holdings, an investment company for new insurance ventures.
XL Capital Ltd. announced that Paul Giordano, executive vice president, general counsel and secretary of the company, has been appointed president of financial solutions operations with responsibility for XL Financial Solutions (XLFS).
He joined XL in 1997 as senior vice president and general counsel. He was formerly in private legal practice in New York and London where he focused on general corporate law and financial transactions.
Willis Re, the reinsurance unit of Willis Group Holdings, announced the appointment of Gene Mason to the position of senior vice president.
Mason most recently served as global professional liability (E&O) product P&L leader and second vice president at GE ERC.
Bermuda-based IPC Holdings Ltd. announced that Peter J.A. Cozens has been elected senior vice president of IPC Holdings, Ltd. and IPCRe Limited.He joined the company at its inception in June 1993 as its London representative and transferred to Bermuda in March 1995 as vice president of IPCRe Limited. IPC also announced that Stephen Fallon has been elected senior vice president of IPC Holdings, Ltd. He joined IPCRe Limited in October 1997 as vice president and was elected senior vice president of IPCRe in December 2001.
Was this article valuable?
Here are more articles you may enjoy.
From This Issue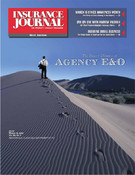 EPLI / E&O