Eric Rothman
Eric Rothman was promoted to chief operating officer at Woodland Hills, Calif.-based C.M. Meiers Insurance Company. In his new position he will manage the overall operations of the inner office, including human resources and overseeing office rules and procedures. Rothman began his insurance career in the rating department of San Diego, Calif.-based Golden Eagle Insurance Company. He has been with C.M. Meiers since 1996, where he most recently served as vice president of operations.

Derek Ross
Derek Ross recently received the William Van Duesen award for his service as president of Insurance Brokers & Agents of the San Fernando Valley (IBA SFV). The award is the highest that the IBA SFV gives on an annual basis. Ross chaired most of the IBA SFV's events and developed the association Web site. Ross is the immediate past president of IBA SFV and will help mentor a new era of leadership in 2004. Ross is currently vice president of Woodland Hills, Calif.-based C.M. Meiers Insurance Company. He began his insurance career at an independent broker specializing in insuring exotic vehicles and has been involved with IBA SFV over the last seven years.

Lynette Marks
Phoenix, Ariz.-based Lovitt & Touché Inc. recently appointed Lynette Marks as human resources director. She will oversee the human resources duties for Lovitt & Touché's staff of nearly 200. Marks has eight years of human resources experience, including positions at Bourn Properties and Fulbright & Jaworski LLP. Prior to joining Lovitt & Touché she was human resources manager for Bombardier Aerospace/Learjet in Tucson, where she supported the company's human resources needs as it more than doubled its number of employees.

Rob Salazar
Concord, Calif.-based RA&MCO Insurance Services has hired Rob Salazar as an underwriter specializing in professional liability insurance for architects and engineers. Salazar most recently worked at SBC/Pacific Bell. He gained 10 years of project management experience in the nuclear weapons test program at Lawrence Livermore National Laboratories. He also spent 13 years with companies such as CISCO, Hewlett Packard and Fluor/Daniels.

Paul Limitone
Paul Limitone has been promoted to underwriter at RA&MCO. Limitone joined RA&MCO in 2001 as an assistant underwriter for architects and engineers and project-specific professional liability insurance. In his new position, Limitone will expand his portfolio of architects and engineers professional liability accounts.
Chris Engstrom (chris.engstrom@sbic.com) has been appointed president of Seattle, Wash.-based PointSure Insurance Services Inc. His primary responsibility will be to drive the company's national expansion. Most recently he was the Northwest regional executive officer for Willis Group Holdings. Prior to that position he served as president & CEO of Willis Seattle and as senior vice president of Eagle Insurance Companies. Engstrom has over 19 years of experience in the industry.
Denver, Colo.-based Restaurant Insurance Holdings Inc. announced that Dean Carras has joined its board of directors. Carras is currently the owner of Innovative Coverage Concepts, a Parsippany, N.J.-based firm that serves as Managing General Agent for RIC for the New York, New Jersey and eastern Pennsylvania markets. Prior to forming ICC, Carras spent more than 20 years at Spectrum Insurance Group. He has more than 25 years of experience in the industry.
Michael Korn has been appointed senior vice president at Lockton Insurance Brokers. He is charged with establishing the Global Property practice which complements Lockton's operations in Northern Calif. He will work out of the company's recently opened San Francisco office. Korn has 18 years of experience in the insurance industry, serving for 12 years as senior vice president of property marketing with a national consulting firm.
Jeff Voorhees has been promoted to assistant vice president at Santa Monica, Calif.-based White & Company Insurance Inc. Voorhees will be a commercial producer with sales and account management responsibilities. Prior to joining White & Company, he was a claims administrator for Integrated Claims, a subsidiary of Dodge, Warren and Peters.
Jeff Bryant has been hired as a producer in the Walnut Creek, Calif. office of Diablo Valley Insurance Agency. Bryant is charged with developing new business opportunities in the mid-sized to large commercial account arena with production and account responsibilities focused in the greater Bay Area. Bryant previously spent seven years as a senior producer at ATP Insurance and Zion's Insurance in Salt Lake City, Utah.
Los Angeles, Calif.-based Brown & Riding Insurance Services added two new members to its property division. Ronda Whaley will serve as a property broker. She has over 20 years of experience in commercial property insurance and most recently worked for Sander A. Kessler & Associates in Santa Monica. She was previously employed by Grosslight Insurance and Robert F. Driver Company.
Juliet Carillo will serve as an associate broker for the company. She gained 13 years of experience with Insurance Corporation of Hannover, where she underwrote a variety of risks including property, workers' compensation and general liability.
Charlotte Briones has been promoted to claims supervisor at the Long Beach, Calif. branch office of Mandeville, La.-based F.A. Richards & Associates. Briones is responsible for the claims supervision of one of FARA's program business accounts. Briones worked as a senior workers' compensation adjuster for CGU Insurance in Glendale, Calif. and as the branch supervisor of Crawford and Company's El Segundo, Calif. office. She joined FARA in 2003 as a claims adjuster.
Was this article valuable?
Here are more articles you may enjoy.
From This Issue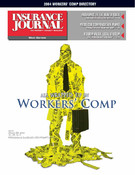 Workers' Comp Directory