Pete Brown
Concord, Calif.-based Jenkins Athens Group has named Pete Brown to its board of directors. Brown, the company's former president, founded Athens Administrators in 1976 as a wholly-owned subsidiary of Jenkins Insurance Services. As a director on the executive board, Brown will be responsible for strategic oversight of Athens Administrators, including long term planning. Before founding Athens Administra-tors, he worked for 12 years for Aetna, where he handled multiple-line claims. He has 40 years of industry experience.

Jim Kerr
Jim Kerr has been promoted to COO of Athens Administrators. Kerr joined Athens Administrators as senior vice president in August 2002. He has 17 years of experience in workers' comp claims administration. In his new position as COO, he will be responsible for the day-to-day operations of Athens Administrators, including business development, finances, staffing and new products. Before joining Athens Administrators, Kerr worked at Employers Occupational Services in Walnut Creek, Calif., for 11 years, serving for eight years as the claims manager.

Merle Harris
Phoenix-based MiniCo Inc. has hired Merle Harris as market development manager. He will be responsible for developing and expanding business opportunities for the company's commercial insurance division. Harris brings over 20 years of insurance industry experience to MiniCo Inc. Throughout his career, he has served in a variety of sales and marketing positions at the company, wholesale and retail levels. Most recently, Harris served as senior vice president for a Phoenix-based commercial insurance agency. His previous positions include vice president at Titan Insurance Group and premium finance manager at Gainsco Inc. He also managed the commercial finance division of Elton George & Co.

Robert Daneri
San Francisco-based State Compensation Insurance Fund has appointed Robert W. Daneri as chief counsel. Daneri, of Redwood Shores, brings more than 25 years of legal workers' compensation experience to his new post at State Fund. He served for four years in private practice before joining State Fund in 1978. He began his career at State Fund as staff counsel and two years later was promoted to staff counsel II. In that post, he handled both workers' compensation litigation and corporate legal research. In 1986, Daneri was promoted to senior staff counsel, serving as head of the Legal Department's entire Corporate Services division at State Fund. He was promoted to assistant chief counsel in charge of Corporate Services and Appellate sections in 1987.

Mark Brissman
Allmerica Financial Corporation announced that Mark D. Brissman has been appointed vice president and chief actuary of its lead companies, Citizens Insurance Company of America and The Hanover Insurance Company. He will be responsible for the development of product and pricing strategies and for all reserving and reinsurance activities. Brissman also will serve as a member of the company's Operating Committee. He comes to Allmerica from CNA where he served in a number of senior level roles, most recently as vice president and actuary in the company's commercial lines division. Brissman also served as senior actuarial and underwriting officer in CNA's personal lines division. Prior to joining CNA, he was president of Landmark Insurance Company, an excess and surplus lines insurance subsidiary of AIG. Brissman also held various positions at the Gainsco Companies and State Farm.
Napa, Calif.-based The Doctors Company announced the appointment of Robert D. Francis as COO. He will begin his work with The Doctors Company on July 1. Francis joins The Doctors Company after 20 years with ProAssurance Corporation. Most recently, he served as president of Red Mountain Casualty Insurance Company, where he was responsible for ProAssurance's excess and surplus line initiatives. He was also senior vice president of ProAssurance Professional Liability Group. Prior to these positions, Francis held a variety of senior executive and board positions for the company and its subsidiaries, serving a major role in its transition from a single state mutual company to a multi-state, publicly traded company.
Employers Insurance Company of Nevada has announced the re-election of two members of the company's board of directors. John Sande and Rose McKinney-James were re-elected to additional three-year terms as board members. Sande, a partner in the Nevada law firm Jones-Vargas, has been a member of EICN's board of directors since 2001. McKinney-James, owner of Las Vegas-based Energy Works Consulting, has also served on EICN's board since 2001.
Zenith National Insurance Corp., headquartered in Woodland Hills, Calif., announced that Catherine B. Reynolds has been elected to its board of directors. Reynolds is the ninth member of the board. She is chairman and CEO of the Catherine B. Reynolds Foundation. She is also chairman and CEO of EduCap Inc. and vice chairman of the American Academy of Achievement.
Willis Re, the reinsurance unit of Willis Group Holdings, announced that Dennis Suchomel has joined its Los Angeles office as senior vice president. He will be responsible for producing and marketing new treaty reinsurance opportunities in the growing Southern California region. Suchomel brings 26 years of reinsurance experience to the firm. He was most recently at Benfield Inc. in Los Angeles where he was a property/casualty treaty broker responsible for new business production.
Michael Kona has been promoted to vice president/branch manager of the Los Angeles office of Crouse and Associates. Kona will be responsible for production of transportation, casualty and property/DIC business. In addition to managing the office, he will be developing and supporting retail production sources and will continue to build and support current and future carrier relationships. He began his insurance career in 1996 at Intercargo Insurance Company/XL Specialty Insurance Company. Kona joined Crouse & Associates in 2002.
Yvonne Mesa has been hired by Los Angeles-based Heritage General Agency to head its Northern California office as assistant vice president. She will lead the team of professionals in the new Sacramento office. Mesa will be responsible for brokerage, MGA business and serving the needs of HGA agents. She began her insurance career in 1981 at Continental Insurance Company as a commercial lines rater. In 1984, Mesa joined Warren G. Bender Company as commercial customer service representative. In 1987 she moved to Cal-Ag Insurance and later was an underwriter/broker at Burns & Wilcox. Most recently Mesa placed P/C business at a large wholesaler in Northern California and also managed a book of DIC, E&O and D&O.
Boulder, Colo.-based International Catastrophe Insurance Managers announced that Peter Pilawa has joined the company as a senior underwriter. Pilawa joins ICAT's Middle Market Business Unit and will focus primarily on underwriting earthquake exposed accounts in the Western U.S. Pilawa most recently was vice president of First Specialty Insurance Corporation, a General Electric Company, where he was responsible for establishing the carrier's presence on the West Coast. Prior to his work at First Specialty, he worked for XL Insurance in Bermuda and for Ace/Westchester Insurance.
Chicago-based Acordia Inc. has named Jean Luckey a commercial lines producer in its Salt Lake City office. Luckey is responsible for generating new commercial business and servicing and maintaining existing accounts. Most recently, she held the position of commercial customer service agent for Acordia Mountain West. Luckey was responsible for assisting in all aspects of the commercial lines business and maintaining relationships with all customers and carriers. She is a surplus lines broker and insurance agent with over 30 years of experience in the insurance industry.
London American General Agency of Arizona Inc. recently announced the addition of Donna Meeker as a broker. She has previously worked for wholesale operations including Market Finders Inc. in Albuquerque, N.M.
Margaret Horde recently joined the professional liability staff at London American's San Diego office. Horde will serve as an associate broker with expertise in habitational and related exposures, including Homeowners Association D&O, EPL and P/C lines, Property Managers E&O, and apartments and other dwellings. She previously worked at RLI Insurance Company, where she was a professional liability technical assistant.
Ken Meeker joined London American as marketing representative for Northern California. Meeker previously held the position of underwriter in London American's San Diego office, where he handled a number of programs with a particular focus on small artisan contractor programs.
Westport, Conn.-based Benfield, an independent reinsurance intermediary, has appointed Fred Madsen as executive vice president. Madsen has been in the reinsurance industry for over 23 years. Prior to joining Benfield, he was president of XL Re America where he oversaw broker and direct sales, reinsurance underwriting and associated operations. Previously, Madsen was executive vice president and chief casualty underwriter at NAC Re. He also served as casualty underwriter for General Re and Aetna Life and Casualty. Madsen will be based in Benfield's Westport, Conn. office.
Was this article valuable?
Here are more articles you may enjoy.
From This Issue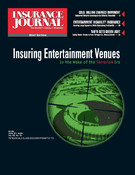 Entertainment Insurance