Dana Drago
The Hartford Financial Services Group Inc. announced that Dana A. Drago has been appointed executive vice president of field, sales and service for its property/casualty operations. Drago joins The Hartford from Bank of America, where she most recently led strategy, marketing, training and communications for its small business and premier segment. She succeeds Frederick Eppinger who left the company last year.

Jeff Nathanson
Banknorth Group Inc. in Portland, Me., named senior vice president Jeff Nathanson as its new director of investor relations and corporate communications. He will report directly to Banknorth Chief Operating Officer Peter Verrill. Nathanson has been involved in various strategic initiatives at Banknorth since joining the company in 2001. Prior to joining Banknorth, Nathanson worked at FleetBoston Financial in a variety of management capacities, including commercial lending, learning and development and as manager of the company's intranet.

Rick Morello
Rick Morello, vice president in charge of personal lines, ADP Statewide/Insurance Agency, and James Colangelo, producer, ADP Statewide/Insurance Agency, were presented with the Professional Insurance Agents of New Jersey Inc.'s Community Service Award from PIANJ's newly installed president, Louis Beckerman, and immediate past president John D'Agostino Jr. (Last issue's photos misidentified Beckerman as Morello.) This award recognized Morello and Colangelo's dedication to Family Reach Foundation which, through various fund raising events, helps families with children suffering from cancer.

John Burke
The PMA Insurance Group in Blue bell, Pa., announced that John Burke has been promoted to vice president, eastern and central region claims. He is primarily responsible for leading the day-to-day operations for all insurance claims-related activities in the New York, Pennsylvania, New Jersey, Maryland and Virginia offices. Burke began his PMA career in 1988 as an account claim representative. Burke was promoted to assistant vice president in 1998 and subsequently assumed responsibility for PMA's eastern region claims operation in 2001.

Michelle James
Michelle James has also joined the PMA Insurance Group as assistant vice president of southern region claims. Based out of PMA's Charlotte office, James will lead day-to-day operations for all insurance claims-related activities in North Carolina, Georgia, Tennessee, Virginia and Florida. Prior to joining PMA, she spent 13 years with Travelers.
Markel Corp. announced the appointment of J. Ruffin Branham Jr. as the next president of Markel Re. Ruffin is a 35-year veteran of the industry. He began his career with Aetna C&S, and held leadership roles at Johnson & Higgins for 24 years. Most recently, Ruffin was with Palmer & Cay, headquartered in Savannah, Ga.
Willis Group Holdings announced Todd Jones was named national leader of Willis' Executive Risks Practice. In this capacity, Jones is charged with continuing the positive pace of growth the practice has enjoyed over the past year. Jones will continue to report to Don Bailey who earlier this year assumed leadership of Willis Risk Solutions, the broker's large account practice, and retains his role as Global Leader of the Executive Risks Practice. Prior to his 10-year tenure with Aon's Financial Services Group which culminated in his role as mid-Atlantic practice leader, Jones was a financial analyst and corporate lender for First Union National Bank.
Dave Thomas is the newly appointed treasurer and chief financial officer of FirstComp Insurance Co. based in Omaha, Neb. Before joining FirstComp, Thomas spent 17 years at Monroe Guaranty Insurance Company of Carmel, Ind. Under his leadership, the company grew from a start-up to a Midwest market leader with more than $135 million in commercial property/casualty premium volume in six states. By 2000, Monroe was one of the five largest property/casualty insurers in Indiana, Kentucky and Ohio. Thomas also served as Chief Information Officer and Chief Financial Officer for Indiana Lumbermens Mutual Insurance Company in Indianapolis for nine years.
For the second year in a row, Patricia Smith, commercial lines senior account manager and team leader of The NIA Group LLC, was awarded the NJYIP Director of the Year award by the New Jersey Young Insurance Professionals at the annual business conference of the Professional Insurance Agents of New Jersey Inc. held in Atlantic City. The NJYIP Director of the Year award is given to an individual who actively supports and works for the goals and objectives of the NJYIPs. Smith was honored for her progressive leadership, attention to responsibilities and tireless work ethic.
Pennsylvania Insurance Commissioner Diane Koken has named Sarah H. Lawhorne as deputy insurance commissioner for the office of policy, planning and administration. Lawhorne will oversee the department's legislative, communications, technology and policy efforts. The job also includes administration and budget responsibilities. Lawhorne joined the department in 2002 as a special assistant to the commissioner. She also served as the deputy insurance commissioner for the Office of Medical Care Availability and Reduction of Error Fund, where she helped facilitate Gov. Rendell's medical malpractice liability reform initiatives. Prior to joining the department, she was the president and chief operating officer of a liability insurance company.
The Citizens and Hanover Insurance Companies announced that Sophia A. Phillips has been named vice president, commercial marine division. Phillips comes to Citizens and Hanover from St. Paul Travelers where she served as vice president of the company's commercial inland marine division. Prior to joining The St. Paul, she was vice president of marine operations at Kemper Insurance for seven years, leading the commercial inland and ocean marine profit center to create one of the industry's most profitable marine operations. Phillips also spent 10 years at Northbrook Insurance.
Was this article valuable?
Here are more articles you may enjoy.
From This Issue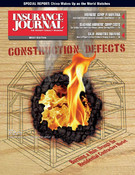 Contractors