Robert Drew
Global insurance broker Willis Group Holdings announced the appointment of Robert Drew as CEO overseeing all Alabama operations – Mobile, Birmingham and Montgomery.
Drew, with Willis for 10 years, the last three of which he has served as CEO of the Mobile office, is now charged with growing statewide operations just as he has done in the Southern Alabama area.
By bringing the three offices under one leader, Willis hopes to foster greater partnership and closer coordination befitting its global, One Flag approach to delivering best-in-class service to clients.
Drew's plans for aggressive growth of the Alabama operations include continued organic growth as well as recruiting additional producer talent to join Willis. He will also actively explore acquisition opportunities across the state.
As part of the three offices coming together, Lane Milam, currently CEO of Willis' Birmingham office, will take on the newly created role of executive vice president, Willis Risk Solutions. In this capacity, he will focus his efforts on growing Willis' large account practice in Alabama.

Steve Burgess
Florida's Chief Financial Officer Tom Gallagher announced that he has re-appointed Steve Burgess as the state's insurance consumer advocate.
Burgess, who served as the state's first insurance consumer advocate in the early 1990s, replaces Elsie Crowell who recently retired. Burgess will represent Florida citizens on insurance matters before state lawmakers, regulators and other stakeholders.
The Florida Legislature created the insurance consumer advocate's post in 1990 to represent the interests of the public, with the authority to appear before the Division of Administrative Hearings, the Department of Financial Services, and the Office of Insurance Regulation, including any forum in matters that arise under the Department's jurisdiction.
In addition to participating in the legislative process and selected rate issues, Burgess will serve on various boards, including Florida Workers' Compensation Joint Underwriting Association, National Council on Compensation Insurance (NCCI) Workers' Compensation Appeals, and the Statewide Subscriber Assistance Panel.
For the past seven years, Burgess has been the Deputy Public Counsel with the Office of Public Counsel on consumer issues before the Florida Public Service Commission.

Barry Gates
Florida-based Bankers Insurance Group has promoted Barry Gates to senior vice president and chief underwriting officer for Bankers' property and casualty companies.
Gates joined Bankers in 2003 as vice president and chief underwriting officer. He has more than 30 years' experience in underwriting and operations management, including executive positions with insurance and reinsurance companies.
Prior to Bankers, Gates was a senior vice president at Colony Insurance Group in Richmond, Va.

Richard Smith

Marc Meiches
GE's Employers Reinsurance Corp. (GE ERC) has named Richard Smith its CEO and Marc Meiches as its chief investment officer.
As COO, Smith will lead continuing reinsurance, commercial insurance and life insurance business units as well as the company's property/casualty product management teams. Smith has previously been responsible for the company's $4 billion P/C reinsurance operations.
Meiches will be responsible for investment portfolios totaling $57 billion, business development and the management of discontinued operations. He will continue to serve also as the company's CFO until a replacement is selected.
Both Smith and Meiches are vice presidents of the General Electric Co.
The Property Casualty Insurers Association of America (PCI) announced that Benjamin McKay III, former chief of staff for U.S. Representative Katherine Harris (R-Fla.), will serve as the new director of federal affairs in its Washington D.C. office.
Before working for Representative Harris, McKay served for over a decade as senior staff in both the Florida House and Senate. His tenure included service to legislators on the insurance committees of both chambers, including the vice chair of the Banking and Insurance Committee in the Senate and a member of the Property and Casualty Subcommittee in the House.
He also served as deputy secretary for International and Legislative Affairs at the Florida Department of State under the Harris Administration and was promoted to chief of staff for the agency where he presided during the 2000 election.
ACE USA, the U.S.-based retail operations of The ACE Group of Cos., announced two appointments in ACE Select Markets' Recreational Vehicle unit for the Tampa, Fla. area.
Pam Simon has been named assistant vice president, responsible for developing product strategy and identifying new distribution channels for ACE Select Markets' suite of recreational vehicle insurance products. Joining her is Barbara Martin as assistant product line manager, responsible for sales, agent relations, licensing and underwriting.
Simon joined ACE in 2001 and has held several positions within ACE Select Markets' Recreational Vehicle unit.
Martin most recently served as insurance manager for Lazydays RV Supercenter, a recreational vehicle dealership in the United States, where she was responsible for all aspects of the dealership's in-house insurance agency.
Prior to joining Lazydays in 2001, she was a senior account agent at Allstate Insurance Co., focusing on consumer insurance products. Martin has been a licensed Florida agent for more than 20 years.
Was this article valuable?
Here are more articles you may enjoy.
From This Issue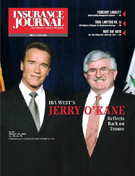 Commercial Property