Ernst Csiszar
The Property Casualty Insurers Association of America (PCI) has named South Carolina Director of Insurance and current president of the National Association of Insurance Commissioners (NAIC) Ernst N. Csiszar to serve as the association's next president and chief executive officer. He will begin his new position Oct. 4.
He will replace retiring PCI president Jack Ramirez. Ramirez will become president emeritus on Oct. 4, and will retire Oct. 31, after the first PCI Annual Meeting. Also retiring Oct. 31 will be Rodger Lawson, PCI executive vice president.
Csiszar has resigned his position in South Carolina to which he was appointed in 1999. He also resigned his position as president of the NAIC. Prior to his appointment as South Carolina regulator, Csiszar served as president and chief executive officer of Seibels Bruce Group, Inc., a Columbia, S.C. insurance company, from 1995 to 1998. He was a visiting professor at the University of South Carolina from 1993 to 1995 and served as managing co-director of the European investment-banking firm Holborn Holdings Corporation in Geneva, Switzerland from 1979 to 1988.
Selective Insurance Group, Inc. of Brandywine, N.J. announced the following executive appointments:

Michael Lanza
Michael H. Lanza to senior vice president, general counsel. Lanza joined Selective in July 2004 with securities, compliance and insurance experience. Recently a corporate advisor and consultant, he previously served as executive vice president and corporate secretary of QuadraMed Corporation, a health care information technology company.

James McLain
James McLain to senior vice president, chief claims and personal lines officer. McLain was formerly senior vice president, claims. In his new role, he has oversight for Selective's claims and personal lines operations, as well as the company's underwriting and claims service centers.

Charles Musilli
Charles A. Musilli to senior vice president, chief field operations and marketing officer. Musilli was formerly senior vice president, Selective Risk Managers, reinsurance and risk management. In addition to his previous responsibilities, he now has oversight for Selective's six regional offices and agency relationships and marketing.

Eduard Pulkstenis
Eduard J. Pulkstenis to senior vice president, chief commercial lines underwriting officer. Pulkstenis was formerly vice president of the small commercial business unit. In his new role, he has oversight for the company's commercial strategic business units.
Nancy A. DeRiso to vice president, director of internal audit. DeRiso joined Selective in 1992 as supervisor of internal audit and has held a number of positions within the accounting department, most recently as director of financial accounting.
Jeffrey F. Kamrowski to vice president, and senior vice president, business services unit and agency accounts. Kamrowski was formerly senior vice president, business services unit. In his new role, he adds management of the agency accounts department to his existing responsibility for the business services unit that oversees implementation of company-wide automation projects.
W. R. Berkley Specialty Underwriting Managers LLC has named Cindy Broschart as president of its new division that will offer insurance products for the entertainment and sports industries. She most recently served as a senior vice president in charge of Gulf Insurance Group's entertainment and sports division, and has over 27 years of insurance industry experience.
Michael Harris has been named vice president of the division. He most recently served as a senior vice president with Gulf 's sports division and has 22 years of insurance industry experience.
Boston Insurance Brokerage, Inc. announced that Joseph M. Curley has joined the firm as vice president and manager of its newly created financial products division. Curley will focus on the production and servicing of directors & officers, financial institution, professional liability (E&O), employment practices, crime/fidelity, surety, and related lines of coverage. Curley has held various underwriting and managerial positions at Aetna, Travelers, and Chubb. Most recently, he served as manager of special risks at Thomas E. Sears, Inc.
Boston Insurance Brokerage, Inc. also announced that Lori L. Gaudet has joined the firm as a vice president in its casualty division. Gaudet brings over a dozen years of experience including underwriting professional liability for a regional managing general agency and for a division of American International Group (AIG). She most recently was a casualty account specialist for Risk Placement Services of Boston.
Eastern Insurance Group of Salem, Mass. has named Michael B. Uretsky as vice present/sales executive, working in the agency's employee benefits unit, Harbour Benefits. Uretsky is responsible for individual life, disability and long term care insurance product lines, targeting closely-held and middle market companies in New England. Prior to joining Eastern, Uretsky was managing director of Mazonson Insurance in Peabody, Mass.
OneBeacon Professional Partners, a division of OneBeacon Insurance Group, announced the addition of Cameron Stracher as counsel to its media liability products group. Stracher's services to OneBeacon Professional Partners in Avon, Conn.will include handling media-liability claim activity, supervising outside counsel, and product consulting. Prior to joining OneBeacon, he practiced media law at Levine Sullivan Koch & Schulz in New York City where he was named partner in 2003.
ACE USA, the U.S.-based retail operating division of The ACE Group of Companies, has announced the creation of the ACE USA Financial Services Practice to focus on risk management for commercial banks, diversified financial services organizations, insurance companies, mutual funds and securities firms. Joe Clabby has been named to lead this new practice. Clabby adds this responsibility to his existing role as senior vice president of ACE Financial Solutions. Clabby will be responsible for the coordination of the marketing and distribution of ACE USA's capabilities, as well as developing opportunities to expand existing relationships in this market segment. Prior to joining ACE in November 2001, Clabby was a member of senior management for the banking industry practice of Swiss Re.
Topics South Carolina Chubb
Was this article valuable?
Here are more articles you may enjoy.
From This Issue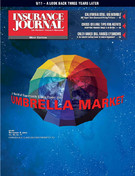 Umbrella Insurance