William Thornton
Perhaps coming under the heading of, "you can take the man out of Texas but you can't take Texas out of the man," William Thornton, president of Acadia Insurance Company in Westbrook, Maine, was presented the Raymond Mauk Leadership Award at the Annual Mid-Year Property and Casualty Symposium presented by the Insurance Council of Texas and the Association of Fire and Casualty Companies in Texas Symposium. Thornton, who spent nearly 20 years working in the insurance industry in Texas, is the seventh recipient of the prestigious insurance award, which honors former Texas Fire Commissioner Raymond Mauk. The award recognizes someone who has made a notable contribution to the Texas property/casualty insurance industry. Thornton rose through the ranks of the insurance industry, starting off as an agent in Denver, Colo., for Mutual Benefit Life. He moved to Safeco 1970 and worked his way up to property manager and eventually commercial manager for the Safeco office in Dallas. In 1982, Thornton joined Trinity where he served as vice president. In 1990, Thornton became president of Union Standard in Dallas, a position he held for 10 years. Since 2000, Thornton has served in his current position as president of Acadia.

David J. Lane
The Insurance Library Association of Boston will present its annual Insurance Professional of the Year Award to industry leader and public servant, David J. Lane, an owner and chairman of Hastings Tapley Insurance Agency, based in Woburn Mass., and now part of USI Holdings, and a former member of the Massachusetts House of Representatives for 30 years. Lane will receive the award on Nov. 3.
In l957, Lane became an owner in the Tapley Insurance Agency of Boston and Danvers. After a merger with the Hastings Agency of Cambridge and Saugus he became chairman of the Hastings-Tapley Insurance Agency, which became one of the largest agencies in this region, having offices in several Massachusetts communities and in Connecticut, New York and Virginia. In recent years he has been chairman of NetCare Services, the risk management subsidiary of the agency. In 2003, the national brokerage firm, USI Holdings, acquired the agency and Lane continues in his role with the subsidiary.
Lane has served as president of the Boston Chapter, CPCU; president of the Massachusetts Association of Insurance Agents; a director of the national Council of Insurance Agents and Brokers; and member and chairman of the Governing Committee, Commonwealth Automobile Reinsurers. Lane has also been an elected official for more than 30 years. He was a member of the Massachusetts House of Representatives in the l970s and Essex Town Moderator for more than 20 years.
The Citizens and Hanover Insurance Companies has named a regional president for New England and two key corporate marketing executives.

James S. Hyatt
James S. Hyatt has been named regional president for the New England region. Hyatt will be responsible for commercial lines in Maine, New Hampshire, Vermont, Massachusetts, Connecticut and Rhode Island, and for personal lines in all but Massachusetts. Hyatt comes to Allmerica from The Hartford, where he served the last two years as a regional vice president in northern New England. Prior to that, Hyatt worked for more than 17 years at Chubb.

Margaret Norman
Marilyn G. Norman has been named vice president of marketing and distribution management. Norman replaces Richard W. Lavey, who has been appointed vice president of operations and strategic initiatives and chief operating officer for commercial lines. Norman comes to Allmerica from The St. Paul Companies where she has served as vice president of marketing and distribution manager since 2003. From 1999 to 2003, she was at Zurich North America. Prior to joining Zurich, Norman was with Marsh, Inc.

John Chandler
Also, John W. Chandler has been appointed vice president of corporate marketing. In this capacity, Chandler will lead all aspects of the company's branding and communications processes, including positioning and communications for the Allmerica property and casualty brands of Citizens Insurance Company of America, headquartered in Howell, Mich., and The Hanover Insurance Company, headquartered in Worcester, Mass. Chandler has nearly 20 years experience in consumer products marketing. Most recently, he was senior vice president for marketing at Hasbro Inc. Prior to his work at Hasbro, he was with Holiday Inn.
Willis Group Holdings, the global insurance broker, announced the appointment of Lyn Rossano as senior vice president and life sciences practice leader. The life sciences practice is a sub-practice/specialty within the healthcare practice. Rossano will be located in the Bethesda, Md. office. Rossano's role is to provide production assistance for pharmaceutical, biotechnology and medical device business to Willis offices around North America. She is also charged with new product development and working with underwriters at the home office level. Rossano has been with Willis for three years, specializing in biotechnology business. She began her insurance career in with the American International Group (Lexington Insurance Company) in Boston in healthcare liability and life sciences liability. She spent seven years with the CNA in New York City.
The National Association of Mutual Insurance Companies (NAMIC) has named Bart Anderson as senior vice president of member services and communications. Anderson brings more than 16 years of insurance management experience to his new position. Prior to joining NAMIC, Anderson served as an operations vice president for Conseco Services LLC, in Carmel; and as vice president/director of sales for GRE Insurance Group, also in Carmel. Anderson previously served as marketing manager for AIG Specialty Auto and manager of AiNetwork, an AIG enterprise headquartered in Alpharetta, Ga. Anderson previously served as territory manager and later operations team leader with Progressive Corporation, Cleveland. Immediately prior to joining NAMIC, Anderson served as the director of Nursing Knowledge International (NKI).
The board of directors of Safety Insurance Group Inc. in Boston announced the election of Frederic H. Lindeberg as director of the corporation. Lindeberg has replaced Bruce R. Berkowitz on Safety's board. Lindeberg is an attorney and certified public accountant. He was a partner-in-charge at KPMG. Safety is a leading writer of personal automobile insurance in Massachusetts.
Was this article valuable?
Here are more articles you may enjoy.
From This Issue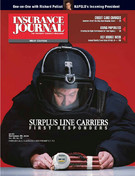 Surplus Lines Issue