Ernst Csiszar
The Board of Governors of the Property Casualty Insurers Association of America (PCI) named South Carolina Director of Insurance and current president of the National Association of Insurance Commissioners Ernst Csiszar to serve as the association's next president and CEO, announced Anthony Dickson, PCI chairman. He will begin his new position Oct. 4.
Csiszar last month resigned his position as South Carolina director of insurance. He was appointed director in 1999. He also resigned his position as president of the National Association of Insurance Commissioners. His term was to end in December.
Csiszar was appointed director of the South Carolina Department of Insurance in 1999 after a successful career in business and in academia. He also assumed a leadership role within the NAIC, serving as secretary-treasurer, vice president and president.
Prior to his appointment as director, Csiszar served as president and chief executive officer of Seibels Bruce Group Inc., a Columbia, S.C. insurance company, from 1995 to 1998. He was a visiting professor at the School of Business at the University of South Carolina from 1993 to 1995 and served as managing co-director of the European investment-banking firm Holborn Holdings Corp. in Geneva, Switzerland from 1979 to 1988.

Melissa Jones
Venture Programs Inc., a provider in designing, underwriting and administering industry-focused insurance programs, announced a new staff member for the company's new Atlanta office. Melissa Jones will be production underwriter for the company's Southern Region.
She will be responsible for broker relations, qualifying prospect opportunities, closing sales and binding contracts, and working with Venture's technical underwriters and retail brokers.
Jones comes to Venture from Fireman's Fund Insurance Company, where she was territory underwriter for the state of Georgia and earned a Production Achievement in 2003. She has also held insurance positions in the Atlanta area with ADP Total Source, Atlantic Mutual Insurance Co. and AIG Environmental Insurance Co.

Glenn Hargrove
Crump Insurance Services Inc., a provider of wholesale insurance brokerage services, announced the appointment of Glenn Hargrove as chief operating officer. In this newly created position, Hargrove will have responsibility for day-to-day operations of Crump's 17 offices in the U.S.
Hargrove joined the Crump organization in 1997 as a broker in the Houston office. In 2002 he was promoted to Office Head for Crump's Memphis office. He will split his time between Dallas and Memphis where he will continue to manage branch operations.
Prior to joining Crump he served as an officer and broker for two other Excess & Surplus Lines brokerage firms.

Glen Curley
Virginia-based Markel Corp. has hired Glen Curley as president of its Investors Underwriting Managers subsidiary.
Curley has been involved in the insurance industry for more than 20 years in various capacities. Curley has experience in specialty casualty, professional liability, property coverages and various reinsurance segments. He most recently served as senior vice president for the direct reinsurance operations of American Reinsurance.

Heather Philbin
Heather Philbin was named the new executive director of Trusted Choice, according to Big "I" Executive Vice President Debra Perkins. Trusted Choice is the consumer marketing brand created by the Independent Insurance Agents & Brokers of America (the Big "I") and different independent agency companies.
Philbin will manage the day-to-day operations of the Trusted Choice brand, including strategic planning and implementation, recruiting agents and brokers as well as carriers, advertising, Web site management, and public relations activities.
She joins Trusted Choice from CGI (formerly American Management Systems), a Virginia-based business and information technology consulting firm.
Florida-based Seitlin, an Assurex Global partner, announced the appointment of Michael Ginsberg as chief financial officer.
Ginsberg joined Seitlin as chief financial officer and is responsible for financial oversight and operations for the company. Prior to joining Seitlin, Ginsberg was the controller for Vista Healthplan in Hollywood.
Seitlin, an independent agency founded in 1945 and based in Miami and Fort Lauderdale, provides insurance and business services in the areas of Property Casualty, Employee Benefits, Life Insurance, Financial Planning, Human Resource Outsourcing, Safety Management and PEO Solutions.
Florida-based Poe Financial Group announced that Randy Jones will serve as senior vice president of Poe Insurance Managers.
Jones has more than 18 years of experience in the property/casualty business encompassing various underwriting, marketing and sales roles in both home office and field office environments.
Poe Financial Group was formed anew in 1996 and is the latest business venture of its founder, W.F. Poe. Mr. Poe's previous company was Poe & Associates, the publicly traded company which was the largest property and casualty agency in Florida and the 12th largest in the nation when it was merged as Poe & Brown in 1993. Under the direction of founding businessman and former City of Tampa Mayor William F. Poe, Sr., Poe Financial Group was established in 1996 as Southern Family Insurance Company. By January 2003, Poe Financial had acquired Atlantic Preferred Insurance and formed Florida Preferred Property Insurance Company. Poe Financial Group also manages its own agency, Poe & Associates, and claims processing divisions, Poe Insurance Managers and Mariah Claims Services.
Topics Florida South Carolina
Was this article valuable?
Here are more articles you may enjoy.
From This Issue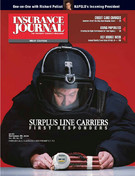 Surplus Lines Issue