Troy Moody
Denver-based Moody Insurance Agency, which specializes in insurance, risk management and bonding services for contractors, announced Troy Moody has been named the company's first COO. In his new role as COO and vice president, he will oversee day-to-day operations of the 32-year-old, privately-owned agency, as well as continue current client service and sales development. Moody joined the agency 10 years ago as an account executive specializing in construction-related clients, particularly electrical, mechanical and general contractor businesses. He developed and continues to manage the agency's automation department.

Bill Dochterman
Torrance, Calif.-based ePolicy Solutions Inc., a provider of Web-based policy administration solutions for the property/casualty industry, announced that Bill Dochterman has joined the company as vice president of product management. Dochterman has more than 20 years of experience in the insurance and technology industries. Most recently at Fair Isaac Corporation (formerly HNC Software), he served as vice president of business unit operations and vice president of business development and strategic relations.

Suzanne Molinari
Keenan & Associates, based in Torrance, announced that it has named Suzanne Molinari as vice president of Human Resources. Molinari comes to Keenan from Blue Shield of California where she served as director of Human Resources. She previously worked at several California-based organizations, including Washington Mutual in Irvine, and PacifiCare/Secure Horizons in Cypress.

Ernst Csiszar
The Board of Governors of the Property Casualty Insurers Association of America has named South Carolina Director of Insurance and current President of the National Association of Insurance Commissioners Ernst N. Csiszar to serve as the association's next president and CEO. He will begin his new position Oct. 4. Csiszar resigned his position as South Carolina director of insurance. He was appointed director in 1999. He also resigned his position as president of the National Association of Insurance Commissioners. His term was to end in December. Csiszar was appointed director of the South Carolina Department of Insurance in 1999. He also assumed a leadership role within the NAIC, serving as secretary-treasurer, vice president and president. Prior to his appointment as director, Csiszar served as president and CEO of Seibels Bruce Group Inc., a Columbia, S.C. insurance company, from 1995 to 1998. He also served as managing co-director of the European investment-banking firm Holborn Holdings Corporation in Geneva, Switzerland from 1979 to 1988. Retiring PCI President Jack Ramirez will become president emeritus on Oct. 4, 2004, and will retire Oct. 31, after the first PCI Annual Meeting. Also retiring Oct. 31 will be Rodger Lawson, PCI executive vice president and former president of the Alliance.

Lyn Rossano
Willis Group Holdings, the global insurance broker, announced the appointment of Lyn Rossano as senior vice president and life sciences practice leader. The Life Sciences Practice is a sub-practice/specialty within the Healthcare Practice. She will be based in Bethesda, Md. Rossano's role is to provide production assistance for pharmaceutical, biotechnology and medical device business to Willis offices around North America. She will assist local client teams, facilitate the coordination of Willis resources and advocate for clients. She is also charged with new product development and working with underwriters at the home office level. Rossano has been with Willis for 3 years, working with the Capital Market, specializing in Biotechnology business. She began her insurance career in 1984 as an underwriter for the American International Group (Lexington Insurance Company) and spent seven years with the CNA Insurance Company.
Hub International Limited announced the appointment of Kathy M. Quintana as president and CEO of the company's Los Angeles-based office, Hub International of California Inc. Quintana, who has been serving as COO of Hub California since 2001, succeeds Frank C. Hayes. Hayes will continue to remain active in Hub California, serving as chairman of the company. Quintana joined Hooper, Hayes & Associates Inc. in 1998 as vice president of operations and was appointed senior vice president and COO in 2001. Hub International acquired Hooper, Hayes in 2002. Prior to joining Hooper, Hayes, Quintana spent 24 years with a global insurance broker. She served as executive vice president and managing director of the Orange County, Calif. office where she directed the claims management activities for the Western region.
John B. Collins Associates Inc., a reinsurance intermediary, announced that Spencer Woodbury has joined the firm as a senior vice president in its San Francisco office. In his new role, he will be responsible for establishing new reinsurance brokerage client relationships as well as serving the needs of existing clients. Woodbury brings 25 years of insurance and reinsurance experience to the company, most recently in positions with reinsurance intermediaries Market Re and Guy Carpenter.
Dean McNicol has joined the Santa Ana office of Yates & Associates in the transportation department as senior commercial transportation underwriter. McNicol will work with the transportation department team on all new and renewal business, state regulatory filings and large fleet accounts. He was previously senior commercial auto underwriter at Robert Moreno Insurance Services in Fullerton for over 10 years. Prior to that, he worked mainly on commercial auto/GL/garage liability. He has 20 years of experience in the transportation industry.
Lisa Lesandro has joined the Fresno, Calif., office of Burns & Wilcox Ltd., in the position of renewal underwriter. As renewal underwriter, Lesandro will be responsible for evaluating, classifying and issuing renewal policies for Burns & Wilcox's excess and surplus lines insurance. Formerly an underwriter with Fireman's Fund, she also served as customer service consultant with Aetna Insurance in Fresno immediately prior to joining Burns & Wilcox.
San Francisco-based Woodruff-Sawyer & Co. announced the appointment of Jennifer Walsh as an account executive with the firm's Employee Benefits Practice. Walsh's role will be to provide strategic consulting and brokerage services to Woodruff-Sawyer's Benefits clients. Her background includes more than 14 years of experience in the group benefits industry. Most recently, she worked for ProBusiness (recently acquired by ADP) as a client service manager focusing on national accounts. Walsh has also held positions with Lincoln National and PM Group Life Insurance Co.
Wayne Wilson, vice president legislative and regulatory affairs, Farmers Insurance Group, has been elected chairman of the Personal Insurance Federation of California board. Wilson joined Farmers Insurance Group as vice president, legislative and regulatory affairs in 1998. Prior to joining Farmers he served as regional vice president for the American Insurance Association. He was responsible for the development and implementation of a broad-based legislative and regulatory program to further the interests of the insurance industry in the ten western states. From 1986 to 1987 he was an attorney and lobbyist for Heron, Burchette, Ruckert & Rothwell, representing numerous lobbying clients including the Insurance Agents and Brokers Legislative Council, Nationwide Insurance Company and Variable Annuity Life Insurance Company.
Mountain View, Calif.-based Thoits Insurance Service Inc. has elected Ronald L. Ludwig to serve on its board of directors. Before retiring from the practice of law in San Francisco (1973-99), Ludwig was nationally acknowledged as a leading legal authority on employee stock ownership plans. He has written and lectured extensively on ESOPs, employee ownership issues and corporate governance over the past 31 years. He has testified on numerous occasions before the U.S. Senate Committee on Finance and the U.S. House of Representatives Committee on Ways and Means regarding ESOP legislation and before the Internal Revenue Service regarding ESOP regulations. Ludwig currently serves as a member of the boards of directors of Norcal Waste Systems Inc, J.E. Higgins Lumber Company and The Sundt Companies Inc. and on the board of advisors of Alliance Holdings Inc.
Crump Insurance Services Inc., a provider of wholesale insurance brokerage services, announced the appointment of Glenn Hargrove as chief operating officer. In this newly created position, Hargrove will have responsibility for day-to-day operations of Crump's 17 offices in the U.S. He joined the Crump organization in 1997 as a broker in the Houston office. In 2002 he was promoted to office head for Crump's Memphis, Tenn., office. He will split his time between Dallas and Memphis where he will continue to manage branch operations. Prior to joining Crump he served as an officer and broker for two other Excess & Surplus Lines brokerage firms. During his 18 years in insurance he has managed casualty and specialty programs, including London contracts and oil and gas facilities. Hargrove was also a partner in several oil and gas service businesses in Texas.
Topics USA California South Carolina
Was this article valuable?
Here are more articles you may enjoy.
From This Issue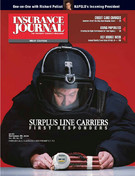 Surplus Lines Issue