Bill Litjen
San Diego-based insurance brokerage G.S. Levine Insurance Services Inc. has announced the promotion of Bill Litjen to president. He joined the firm in 1997 and most recently held the position of chief operating officer. During his 27-year career in the insurance industry, Litjen has worked with another San Diego insurance brokerage firm as well as with one of California's largest insurance companies.

Becky Patel
San Mateo, Calif.-based LISI, a provider of employee benefits broker services, announced the appointment of Becky (Renuka) Patel as president of LISI.
Patel joined LISI in 1985 and has worked in every area of the LISI business before becoming vice president of LISI in 1994. She helped create each department at LISI, including customer service, underwriting and sales, human resources and information technology. Patel is attributed with building and managing the LISI team of 150 employees, developing relationships with carriers and creating sales models, products and services. She also developed LISI's subsidiary, CoPower (formerly the California Employers' Benefits Alliance). Patel and CEO Philip Lebherz will continue to work as a team.

David Kuhn
Irvine, Calif.-based Balboa Insurance Group Inc. announced that David Kuhn has joined the organization, serving as executive vice president, agency and business insurance operations. Kuhn will lead efforts to build the commercial insurance operations division and expand the capabilities of the organization's retail agency, Countrywide Insurance Services Inc. In this newly-created position, Kuhn will be responsible for helping Countrywide and Balboa serve the commercial lines insurance needs of their customers through CIS. Additionally, he will develop commercial insurance products by partnering with leading commercial lines carriers and delivering those products to CIS customers. Kuhn most recently served as regional president for the St. Paul Companies. Prior to that, he held executive management positions with Hartford Specialty, Travelers and Aetna.

Micki Jordan
Micki K. Jordan has joined the Denver office of Farmington Hills, Mich.-based national specialty insurance wholesaler, underwriter and managing general agent Burns & Wilcox Ltd., in the position of underwriting manager. Jordan is responsible for directing the overall operations of the Denver office's commercial lines unit and Service General division, the personal lines division of Burns & Wilcox. She will manage the development of the branch's MGA contract authority business, manage the commercial and Service General underwriting teams, and be responsible for mentoring, training and developing personnel. Prior to joining Burns & Wilcox, Jordan served as commercial lines manager with Talty Agency in Denver.

Frank Mike-Mayer
ACE USA, the U.S.-based retail operating division of The ACE Group of Companies, announced the appointment of Frank Mike-Mayer, senior vice president, to lead the ACE USA Construction Group. Based in New York City, Mike-Mayer will be responsible for The ACE USA Construction underwriting practice, which is staffed by a team of construction professionals to address the unique insurance needs of builders and contractors. With more than 25 years risk management and underwriting experience with emphasis on the construction segment, Mike-Mayer joins ACE USA from Zurich NA, where he served as senior vice president, field operations, construction.
Willis Group Holdings, the global insurance broker, announced that David C. Benson has joined Willis as executive vice president and office leader for its Denver office. Benson, who has 18 years of insurance industry experience, most recently worked in the Denver office of Marsh where he served as a client executive and new business development leader for the last 10 years.
The company also announced that Hugh Devlyn, September Udemans and Trisha Tyler, all Employee Benefits professionals who worked in the Denver office of Aon, have also joined Willis in Denver.
Devlyn, formerly a vice president at Aon, joins Wills as an executive vice president. He brings over 18 years of experience in the employee benefits consulting field and has served as a national practice resource.
Udemans, formerly an assistant vice president at Aon, joins Willis as a vice president in the Denver office. She has over 10 years of experience in employee benefits with previous work with third party administrators and carriers as well as consulting.
Tyler, formerly a consultant at Aon, joins the Denver Willis office as an associate vice president. She has a background in health and welfare consulting as well as property/casualty experience.
Steve Bateski, formerly with Aon in Denver, has joined Willis as a senior vice president. Bateski brings over 10 years of experience to Willis in insurance agency management and new business development focusing in the Mining and Agri-Business industries.
Santa Ana, Calif.-based Yates & Associates announced that George A. Smith has joined its corporate headquarters as an underwriter in the commercial transportation department. Smith began his insurance career at Liberty Mutual Insurance shortly after his discharge from the U.S. Army as a commissioned officer. With over 30 years of experience in the industry and almost 20 of those years specializing in transportation, Smith will specialize in monoline auto, physical damage, cargo and truckers GL. He was most recently with a large wholesaler in the San Francisco area as a wholesale transportation underwriter for California brokers. Previously he worked as assistant marketing manager at Inter America's Insurance Services in San Diego, where he provided agents all lines of transportation coverage in Arizona, California and Nevada. Smith has worked on both the retail and the wholesale side of the transportation industry since 1969.
Marjorie Segale has been promoted to vice president of Insurance Skills Center. As vice president, Segale will be responsible for developing curriculum, training instructors as well as research and development of new products and services to benefit agents/brokers. Formerly the education director for ISC, she will continue her role in conducting the E&O Consulting Service, writing customized procedure manuals and developing classes for the broker/agent community. Segale has been with ISC for 16 years, and previously owned and operated an agency in the Central Valley.
National Specialty Underwriters Inc. announced the hiring of Leslie Miller as senior vice president in charge of NSU Healthcare, a division of the company that specializes in the wholesale of medical professional liability to retail brokers nationwide. Miller has 27 years of experience in sales, marketing and management. In 1986, she joined the insurance industry at Cigna Healthcare in Florida, later working for the Health Alliance in Cincinnati and then Marsh Inc., before joining NSU. Miller will lead the planned expansion of NSU's medical malpractice insurance operations from a centralized operation to a multi-office national enterprise. Miller will be located in the newly-opened Chicago office.
W. Birks Erskine joined the New York office of American E&S Insurance Brokers as assistant vice president, according to Denis Brady, president and CEO. Erskine has more than 25 years of experience in large casualty and alternative risk financing.
Adrian Barger has joined M.E. James Surplus Lines Insurance Brokerage as the company's director of marketing. Barger will oversee all marketing and advertising functions and will manage agency production. Barger's career spans more than 40 years beginning at Allstate Insurance Company as a senior account agent. In 1973 he moved to Unigard Insurance Group where he worked for 17 years as the marketing manager for Southern California. Most recently, he worked with Golden Eagle Insurance Company for 10 years as a senior workers' compensation underwriter.
John Dunlap has joined Collier Shannon Scott, a Washington, D.C.-based law firm, as a government relations advisor. Based in Sacramento, Calif., Dunlap will help clients navigate California's political and regulatory climate by working with the governor's office, California's state agencies and boards and the Legislature. He will advise and represent clients on matters involving insurance, the restaurant and tourism industry, agriculture, the environment and workers' compensation. Dunlap has been a political appointee of the past three California governors and served on several of the top boards, commissions and regulatory agencies in the state. He continues to serve the Schwarzenegger administration by playing a key role in workers' compensation reform, qualifying a statewide ballot referendum on health care reform and serving as a frequent sounding board for the administration on a host of government streamlining and economic issues. Dunlap previously served as chairman for the California State Compensation Insurance Fund.
Was this article valuable?
Here are more articles you may enjoy.
From This Issue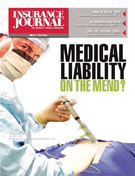 Professional Liability