Harvey Pierce
Harvey R. Pierce, chairman and chief executive officer of the American Family Insurance Group has been elected chairman of the Property Casualty Insurers Association of America (PCI).
Pierce began his career with American Family in 1963 as an agent in Minnesota. During his 41-year career with American Family, Pierce has held various positions including district sales manager, state director, regional vice president and executive vice president of field operations. He assumed the position of president and chief operating officer in January 1990 and served in that role for nine years before being elected chairman and chief executive officer.
PCI members also elected Gerald Whitburn, president and chief executive officer of Church Mutual Insurance Company, as first vice chair and Thomas J. Tierney, chairman, president and chief executive officer of the Vermont Mutual Insurance Group, as second vice chair. Whitburn joined Church Mutual Insurance Company in 1996 as vice president, administration, became executive vice president and was elected to Church Mutual's Board of Directors in 1998. He became president and chief operating officer in January 2000 and chief executive officer in 2001.

Charles Nyce
Charles M. Nyce, PhD, has joined the American Institute for CPCU and the Insurance Institute of America in Malvern, Pa., as director of curriculum. He is responsible for the curriculum, textbooks and examinations for one course in the Chartered Property Casualty Underwriter (CPCU) professional designation program –CPCU 510 –as well as for curriculum development in other Institute programs.
Before joining the Institutes, Nyce was assistant professor of risk management and insurance at The Terry College, University of Georgia, in Athens, where he twice received an Outstanding Faculty Member Award. Before that, he was assistant professor of insurance at The Barney School, University of Hartford (Conn.), where he also served as director of the R.C. Knox Center for Insurance and Risk Management Studies. Nyce has also worked at The Wharton School of the University of Pennsylvania.

Rod Smith
Catastrophe specialist International Catastrophe Insurance Managers LLC (ICAT) announced that Rod Smith has been appointed vice president of sales and marketing for the Eastern seaboard. Based in Atlanta, Smith will be responsible for ICAT's producer relationships along the East coast. Smith has more than 15 years in the insurance industry, most recently as vice president with National Program Management (NPM), where he developed Web-based marketing campaigns targeted toward producers and their clients.

Edward Kushlis
Edward Kushlis has been appointed sales leader for the Baltimore office for Willis Group Holdings. Kushlis has been with Willis for 20 years. This past year he served as the regional operating officer for the company's Southeast Region. In this new role, he will be creating sales opportunities and enhancing client service for the Baltimore- Washington, D.C., market area. He will focus upon organic growth as well as recruiting producers and exploring acquisitions.
Kushlis's transition to Willis' Baltimore office will be made easier by the continued presence of David Shuey, former leader in Baltimore. Shuey will remain in Baltimore and return to new business production.

Wayne White
Wayne F. White, president and chairman of Home Mutual Fire Insurance Co. has been elected chairman of the board of the National Association of Mutual Insurance Companies. The election took place during the association's business meeting, held at the 109th annual convention. In addition, Robert A. Wadsworth president and chief executive officer of Preferred Mutual Insurance Co., was named vice chairman. Gerald P. Schmidt, president of Mutual of Enumclaw Insurance Co., was elected vice chairman, and John T. Hill II, president and chief operating officer of Magna Carta Cos., continues as secretary/treasurer.
Harleysville Group Inc. announced that Bruce J. Magee will step down from his role as senior vice president and chief financial officer in 2005. The company said a search for a successor is underway. The company also announced the appointment of Robert A. Kauffman as senior vice president and general counsel. In that position, he also will serve as secretary and chief governance officer for Harleysville Group.
Magee has been a member of the Harleysville leadership team for the past 18 years. He will continue as CFO through the conclusion of the 2004 year-end financial reporting cycle.
Most recently, Kauffman was a shareholder in the securities litigation department of Berger & Montague, a position he held since joining the Philadelphia law firm in 2003. Prior to that, he was an equity partner in the law firm of Reed Smith LLP in Philadelphia.
OneBeacon Insurance, a Boston-based wholly owned subsidiary of White Mountains Insurance Group Ltd., announced that Matt Mueller has joined the company to lead its high-tech commercial insurance business. Mueller comes to OneBeacon from Chubb, where he led the technology business for the Central states.
Citation Re, a New York- based reinsurance company has added Russell Kroszner to its team as assistant vice president. Working with FM Global for nine years, Kroszner concentrated on managing global insurance programs for the Fortune 1,000 on both a brokered and direct bases.
Citation Re is a subsidiary of Jimcor Agencies. Founded in 1999 for the purpose of writing property facultative business, the reinsurance company recently relocated to 40 Fulton Street, New York, N.Y.
Connecticut Governor M. Jodi Rell has nominated former Seymour First Selectman Scott A. Barton to the state Workers Compensation Commission. Barton served as Seymour's First Selectmen from 1999 to 2003. He has served as a caseflow coordinator for Connecticut's judicial branch for approximately 10 years. He is a member of the Connecticut Bar Association, the Connecticut Trial Lawyers Association, the Seymour Republican Town Committee and the Valley Bar Association.
Barton will be sworn in following approval from the General Assembly's Judiciary Committee. He will serve on an interim basis, pending confirmation during the upcoming legislative session.
Was this article valuable?
Here are more articles you may enjoy.
From This Issue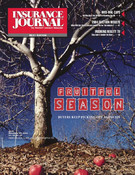 Agency Management