Craig Streem
Aon Corp., the world's No. 2 insurance broker, has named Craig A. Streem to the position of vice president and head of investor relations. Streem was most recently vice president of corporate relations and communications for Household International, now part of HSBC Holdings. Streem will be based at Aon's Chicago headquarters, in Aon Center, 200 East Randolph St.

Mark Tisdale
Mark Tisdale has joined Insurance Journal as regional manager responsible for advertising sales emerging from firms located in the Southeast and Midwest regions.
A native of the Cleveland area with a journalism degree from Kent State and a long stint living on the West Coast, Tisdale joins the magazine after running his own independent advertising sales firm in the Atlanta area that represented video-game trade publications and high-school sports consumer magazines.
Prior to launching his firm, Tisdale performed advertising sales and sales management duties for a number of large-scale project construction magazines produced by Mercor Media. Before Mercor, Tisdale handled advertising sales and sales management at a major video-game industry magazine publishing company, was a leading ad salesperson for a Crain Communications waste industry magazine, ran a media-buying consulting service, and was an account manager at a major advertising agency.
"Insurance Journal is fortunate to have a versatile advertising professional of Mark Tisdale's caliber join our sales team," said Alan Ring, marketing and sales vice president for Wells Publishing, publishers of IJ. "Insurance Journal's Southeast and Midwest advertisers and industry contacts will benefit greatly from Mark's experience, insight and expertise."

Harvey Pierce
Tisdale can be reached at (770) 476-7370, and at mtisdale@insurancejournal.com.
Harvey Pierce, chairman and CEO of the exclusive-agent carrier American Family Insurance Group has been elected chairman of the Des Plaines, Ill.-based Property Casualty Insurers Association of America.
Pierce began his career with American Family in 1963 as an agent in Minnesota. Pierce held various positions within American Family including district sales manager, state director, regional vice president and executive vice president of field operations. He assumed the position of president and chief operating officer in 1990 and served in that role for nine years before being elected chairman and chief executive officer.
PCI members also elected Church Mutual Insurance Co.CEO Gerald Whitburn, as first vice chair and Vermont Mutual Insurance Group CEO Thomas Tierney as second vice chair.

Michael Holm
The Malvern, Pa.-based American Institute for CPCU has named Charles M. Nyce its new curriculum director and Michael P. Holm its new Midwestern region marketing director.
Nyce is responsible for the curriculum, textbooks, and examinations for one course in the Chartered Property Casualty Underwriter professional designation program–CPCU 510–as well as for curriculum development in other Institute programs.
Before joining the Institutes, Nyce was assistant professor of risk management and insurance at the Terry College at University of Georgia in Athens. Before that, he was assistant professor of insurance at the Barney School at the University of Hartford in Connecticut, where he also served as director of the R.C. Knox Center for Insurance and Risk Management Studies. Nyce has also worked as a research assistant and instructor at the Wharton School of the University of Pennsylvania.
Holm is responsible for marketing activities that involve maintaining relationships with organizations that use and teach Institute courses, developing new customers, and participating in regional and national insurance industry meetings and conferences.
Holm works with organizations in Illinois, Indiana, Iowa, Kansas, Kentucky, Michigan, Minnesota, Missouri, Ohio, South Dakota, Nebraska, North Dakota, West Virginia and Wisconsin. Before joining the Institutes, Holm headed his own consulting firm and was a senior consultant and advisor for Zurich North America Insurance Co. Previously, he was with the Great American Insurance Co., where he started his career as a senior underwriter in the surety department.
Holm is based in Cincinnati and can be reached by phone at (610) 389-5646, by e-mail at holm@cpcuiia.org, or by fax at (610) 725-5954.

Aubrey Branch
The Washington, D.C.-based National African-American Insurance Association recently named Aubrey Branch, CEO of Branch, Olson & Hernandez agency in Las Vegas, as chairman.
Branch is the former vice chair of NAAIA. He has more than 16 years of insurance experience, and he holds licenses in both property/casualty and life and health insurance. Branch also is treasurer of the Nevada chapter of the National Association of Minority Contractors. He is a member of the Urban Chamber of Commerce and the Rotary Club. In 2002, he received the prestigious Senatorial Recognition Award from the Nevada Minority Purchasing Council.
NAAIA is dedicated to empowering African-American insurance professionals as well as increasing their numbers nationwide by sharing information for personal growth and professional development, while also providing opportunities for networking, continuing education, and building mutually beneficial partnerships.
The Insurance Industry Charitable Foundation announced the addition of Bonnie Delehoy as vice president of development and partner relations. In this new full-time position, Delehoy will be responsible for nurturing and growing existing relationships and focus on implementing creative strategies to engage new partners and increase fundraising and other forms of valuable involvement in community efforts.
Was this article valuable?
Here are more articles you may enjoy.
From This Issue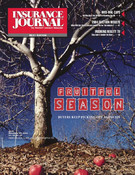 Agency Management