Lee Patkus
The Citizens and Hanover Insurance Companies have named M. Lee Patkus regional vice president of The Hanover Insurance Company's Florida region. In this capacity, Patkus will be responsible for all aspects of commercial and personal lines distribution, marketing and sales in the region.

Akhil Tripathi
Patkus, an industry veteran with more than 25 years of experience, comes to Citizens and Hanover from the Harleysville Insurance Group where he served as president and chief operating officer for the last two years. From 1999 to 2002 he served as executive vice president of operations and chief executive officer of Harleysville's insurance subsidiaries, responsible for the company's field operations and fee-based businesses.

Kevin Toth
Harleysville Group Inc. appointed Akhil Tripathi to the positions of senior vice president and chief information officer. Tripathi will direct the Pennsylvania company's information technology strategy, integration and development efforts. He will also oversee related technology services, which include Harleysville's call center, agency service center, and processing operations. He will report to chief executive officer, Michael Browne. Most recently, Tripathi was managing director and CIO of Marsh Affinity and Private Client Services, a division of Marsh & McLennan Cos.

Richard Whitt
Also, Kevin Toth became vice president, associate general counsel and chief litigation counsel for Harleysville. He will oversee all company litigation, with an emphasis on claims litigation. Before joining Harleysville, Toth was a senior associate in the litigation department of the law firm of Reed Smith LLP in Philadelphia.

Bill Jenkins
Markel Corporation in Richmond, Va., announced that effective at its next annual meeting, May 23, Darrell D. Martin will hand over the role of chief financial officer while continuing on a reduced time basis to assist the company as executive vice president.
Effective the same date, Richard R. Whitt III, will be promoted to senior vice president and chief financial officer. Whitt joined Markel Corporation in 1991 in the corporate finance department and was promoted to controller in 1994. He served in that role until 2001 when he assumed the position of vice president, treasurer and controller. In 2003, Whitt joined Markel International in London as chief administrative officer.
Bill Jenkins, who most recently was executive director of the Applied Systems Client Network, has joined the National Association of Professional Insurance Agents as vice president of business development and marketing. Jenkins resigned as executive director of ASCnet to accept the position with PIA National. From 1985-1993, Jenkins was director of advertising and a vice president of the Independent Insurance Agents and Brokers of America.
Marsh & McLennan Co. Inc.named Scott Gilbert senior vice president and chief compliance officer. He will be responsible for supervising and implementing MMC's compliance policies and programs on a global basis and will report to Michael Cherkasky, president and chief executive officer. Gilbert joins MMC from the General Electric Company where he was chief compliance counsel. Prior to joining GE in 1992, he served as assistant U.S. Attorney in the southern district of New York.
Ray Pomante, formerly senior vice president of Marsh's sports and entertainment practice, is joining Willis Group Holdings in its own sports, entertainment and media division. Pomante is charged with developing a new national sales strategy to meet the executive risk, environmental, construction and employee benefit needs of employers in the fields of sports, entertainment and media, including special events and contingent coverages.
Bermuda's ACE Limited announced the appointment of Robert F. Cusumano as general counsel, effective March 1. He succeeds Peter Mear, who plans to retire as ACE's chief legal officer after a nine-year tenure. Cusumano has been a partner in the New York office of the international law firm Debevoise & Plimpton LLP.
Flordia-based Brown & Brown Inc. announced that Thomas E. Riley has been elected as regional president, responsible for the company's operations in the northeastern U.S., as well as certain offices in south Florida. Riley has been with Brown & Brown since 1990, when he joined as chief financial officer. In his new position, Riley will continue to be responsible for his current regional operations but will have an expanded role in further growing the company's overall operations.
At the same time, Robert F. Iocco was elected a regional executive vice president for Brown & Brown Inc., and will assume responsibility for certain operations in New Jersey, New York and Pennsylvania. Iocco joined Brown & Brown in 1992, after serving three years as an independent auditor with Ernst & Young LLP. He served in several capacities prior to being promoted to manager for the company's national Physicians Protector Plan insurance program, in 1997. In 2000, Iocco was named the divisional executive vice president responsible for the Bethlehem, Penn., office.
Pennsylvania Gov. Edward G. Rendell recently appointed Cindy Fillman, a consumer advocate, to the new position of consumer liaison. Fillman will report to Insurance Commissioner Diane Koken. Rendell said that one of the first tasks of the consumer liaison will be to create a consumer advisory group. Most recently, Fillman served as an attorney with governor's office where she advised the Department of Public Welfare on client benefit issues.
Citation Re, a New York- based reinsurance company manager, has named Brendan K. Cook as assistant vice president. Working in various positions over the past 20 years, Cook began his career in the insurance industry as an underwriter and reinsurance supervisor in Australia. Most recently he was a senior property facultative underwriter in Connecticut.
Was this article valuable?
Here are more articles you may enjoy.
From This Issue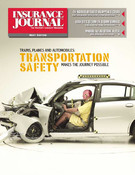 Transportation