Michael Miller
The St. Paul Travelers Companies Inc., headquartered in Saint Paul, Minn., promoted Michael Miller andBrian MacLean to the newly created positions of chief operating officers. Miller is responsible for the specialty business and regional executive organization, and MacLean is responsible for the commercial business, including runoff businesses, along with his previous claim responsibilities.

Brian MacLean
In addition, Joseph Lacher, who has served as the chief executive officer of the personal lines business, was promoted to executive vice president of the company; he continues to lead personal lines. Douglas Elliot, who most recently served as chief executive officer, commercial and personal lines, has decided to pursue other career opportunities and is leaving the company.

David Pagoumian
Napco LLC, a New Jersey-based wholesale property and casualty broker, appointed David Pagoumian as president and chief operating officer. Pagoumian will be responsible for the operation and direction of the company with more than 15 years of insurance experience. He has held various executive positions with Napco, including the marketing of large complex property insurance programs and the direction of operational initiatives to advance technological goals. Before joining Napco in 1996, he was assistant vice president of the national accounts unit for Tri-City Brokerage.

Peter Hearn
Willis Re, the reinsurance unit of Willis Group Holdings, appointed Peter C. Hearn to the position of CEO of Willis Re US. Hearn assumes the position previously held byGeorge Reeth. Reeth is now president of Willis North America. Hearn has been president of Willis Re US since 2002. He will report to Grahame Millwater, chairman and chief executive of Willis Re, globally. Hearn joined Willis as a senior vice president in January 1994 to establish and manage the Philadelphia office. He was appointed eastern region manager in October 1994, and executive vice president in 1997. In 1999 Hearn was appointed one of three global/national production leaders, and in 2000 was assigned overall responsibility for directing new business production efforts.

Robert Detlefsen
Former insurance studies research fellow and strategic public affairs counsel, Robert Detlefsen, Ph.D., joined the National Association of Mutual Insurance Companies, based in the District of Columbia, as director of public policy. Detlefsen will direct public policy, communication and media relations strategies in support of NAMIC's strategic objectives. He will conduct public policy research and analysis, and coordinate the development of NAMIC's issue agenda and advocacy campaigns. Detlefsen's analyses have appeared in a number of specialized insurance publications. He is the author of a book, Civil Rights Under Reagan, ICS Press, 1991, and has testified before state regulatory bodies.
Former New York Insurance Superintendent Gregory Serio has been hired to head a new division of Park Strategies, a consulting and lobbying firm run by former Sen. Alfonse D'Amato. Serio will be managing director of the Park Strategies Risk Management Group. "Helping businesses and insurers find new ways to manage and finance risk, respond to major challenges to their organizations, and integrating these concepts into a larger corporate strategic planning regimen will be some of the focus of my work," Serio said in a statement distributed by Park Strategies. Gov. George Pataki has nominated former state Assemblyman Howard Mills to replace Serio.
HCC Insurance Holdings Inc. announced that James Donovan has joined its underwriting agency subsidiary Professional Indemnity Agency, based in Mount Kisco, N.Y. Donovan will be senior vice president responsible for all errors & omissions underwriting at PIA in New York and its recently acquired RA&MCO division in Concord, Calif. He joins the company from Hartford Financial Products where he has served as vice president since 2001. Donovan has 18 years experience in all aspects of professional indemnity and spent time at Fireman's Fund and AIG during his career.
Amica Mutual Insurance Company's new President and Chief Executive OfficerRobert A. DiMuccio and new members of the company's board of directors were introduced at the company's recent annual meeting of policyholders. Thomas A. Taylor, president and CEO since 1994, retired after serving the Lincoln, R.I.-based company for 35 years. Taylor will remain a member of the company's board
Taylor's successor, DiMuccio, has been with Amica for 13 years. DiMuccio served as vice president; senior vice president; treasurer; and chief financial officer; and most recently was Amica's executive vice president before being elected president and CEO. Before joining Amica, he spent 14 years with KPMG Peat Marwick in Providence.
Also, M. Stuart Towsey Jr. was confirmed as Amica's new executive vice president. Towsey has been with Amica for 31 years, having most recently served as the company's senior vice president and superintendent of claims.
The company also announced the retirement of Peter B. Freeman after 17 years of service on the board of directors. The board elected Richard A. Plotkin, CPA/PFS, to fill Freeman's unexpired term. Plotkin is a shareholder with Tofias PC of Newport.
Amica Mutual Insurance Company is a national writer of automobile, homeowner, condominium, renter, boat, yacht, and personal umbrella liability insurance. Life coverage is available through Amica Life Insurance Company, a wholly owned subsidiary.
David Gamsey has been appointed senior vice president and chief financial officer of Beecher Carlson Holdings Inc., which is based in Atlanta. Prior to joining Beecher Carlson, Gamsey served as senior vice president, chief financial officer, treasurer and secretary of Innotrac Corp., a position he held since May 2000. Beecher Carlson Holdings Inc. also maintains operations in Burlington, Vt.; Denver; Honolulu; Los Angeles; Nashville; New York; Princeton, N.J.; The Cayman Islands, and Hamilton, Bermuda.
Was this article valuable?
Here are more articles you may enjoy.
From This Issue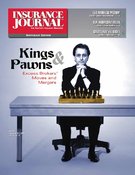 Wholesale Industry M&A Trends