Douglas McDonough
Citizens and Hanover Insurance Companies have named Douglas H. McDonoughregional president of their emerging Mid-Atlantic region. In this role, he will manage all aspects of sales and distribution for the companies' commercial and personal lines operations in Maryland, Virginia, North Carolina, South Carolina and Pennsylvania, further developing the companies' presence in these areas. This is a newly-defined territory within the company's Southern region, according to Robin A. Nicks, president of the Southern region.

Daniel Reardon
McDonough joins from St. Paul Travelers, where he served for the last year as vice president and regional executive of the company's commercial lines operations for the Mid-Atlantic states. From 1998 to early 2004, McDonough was the regional executive for the St. Paul's middle market business, responsible for distribution management and operations of the company's Mid-Atlantic region.

Michael Scafidi
The companies are subsidiaries of Allmerica Financial Corporation, based in Worcester, Mass., where Hanover is also headquartered. Citizens is headquartered in Howell, Mich.

Edward Ryan
Plymouth Rock Assurance Corporation, a Boston-based insurer, has appointed Daniel J. Reardon as marketing supervisor for Connecticut.

Robert Bothwell
The company has also appointed Michael J. Scafidi as senior marketing representative in northern Massachusetts.
Reardon will supervise all marketing activities within the Connecticut market. He has spent the past seven years in a senior marketing role at Plymouth Rock providing service to agents in Massachusetts and New Hampshire, and he possesses more than 15 years of experience in the industry.
Scafidi will handle daily sales activities within the northern Massachusetts market. He has spent the past nine years in a senior marketing role at Hanover Insurance providing service to independent insurance agents. He has more than 14 years of sales experience in the industry.
Plymouth Rock Assurance also announced the appointment of Edward F. Ryan to oversee the company's entry into the group sales market in Connecticut. Ryan arrives at Plymouth Rock with more than 30 years of experience in insurance marketing for insurers including Fireman's Fund, Metropolitan, Hanover and Middlesex Mutual.
The Plymouth Rock Group sells auto and homeowners insurance through independent agencies in Massachusetts, New Hampshire, Connecticut and New Jersey.
Beecher Carlson Holdings Inc. has opened a Boston area office in Hingham, Mass., and appointed Robert J. Bothwell to lead the office as managing director in addition to heading the company's National Energy Practice.
The firm also announced that Brenna C. Melvin has joined the Boston office as a senior vice president andGeraldine Kerrigan will be vice president.
Bothwell was formerly a principal at William Gallagher Associates and has more than 17 years of experience in the power generation industry. His background includes work in domestic and international insurance markets for the power generation industry. While at William Gallagher Associates, Bothwell led that firm's energy practice group working with power generating facilities of all types.
Melvin was previously marketing director for William Gallagher's power generation business handling risk management and service issues for large energy accounts. Her experience includes a position with Willis Corroon in its risk management department.
Kerrigan was a former senior client coordinator at William Gallagher Associates in their energy and environmental practice; she also provided customer support and served as mentor leader.
Tower Group Inc. in New York announced the appointment ofJoseph P. Beitz to a newly created position as managing vice president of program underwriting. Beitz's primary responsibilities will be the production of new program opportunities. With 25 years of experience in the industry, Beitz most recently served as president and chief operating officer of NOVA Casualty Company in Buffalo, N.Y., where he managed the program division through a subsidiary, NOVA Alternative Risk. Prior to that, Beitz was with Odyssey America Reinsurance.
ACE USA, the U.S.-based retail operating division of The ACE Group of Companies, has appointed David Zelickman as senior vice president and Boston branch manager for ACE Risk Management. Zelickman will have overall responsibility for overseeing branch operations, new business development and underwriting activities.
With more than 19 years of risk management and underwriting experience, Zelickman most recently served as casualty manager for the Boston branch of ACE Risk Management. He joined ACE USA in October 2000. He previously held positions in the large-risk field operations arena with Reliance Insurance Company and Crum & Forster.
Banknorth Group Inc. has named Joseph Fico, formerly regional president of the Banknorth Insurance Group Massachusetts, as the new president of the Banknorth Insurance Group. Prior to joining Banknorth in 2003, Fico held senior sales and management positions at the Aon Corporation, the PHICO Group, and the St. Paul Company. He will be based at the Banknorth headquarters in South Portland, Maine, and will also maintain an office in Massachusetts. The Banknorth Insurance Group is the largest independent insurance agency in New England, writing more than $550 million in premiums.
House Minority Leader Robert M. Ward, (R-N. Branford), received the Professional Insurance Agents of Connecticut Inc.'s Legislator of the Year award at PIACT's recent convention at Foxwoods Resort Casino. "Representative Ward has built a reputation as an intelligent, honest and dedicated leader during his tenure as a legislator and House Minority Leader in Connecticut," said PIACT President Jeffrey Parmenter, CPCU.
Insurance Center of New England Inc. has promoted Christine A. Stark to operations manager and senior account executive within its employee benefits division. Stark, who began with ICNE in 2000, will focus on streamlining the benefits division as it continues its growth, according to William Trudeau, executive vice president of ICNE, a regional agency based in West Springfield, Mass.
Was this article valuable?
Here are more articles you may enjoy.
From This Issue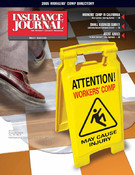 Workers' Comp Directory