Gregory Case
Aon Corporation announced the election of Gregory Case as president and chief executive officer. Case has also been elected to the Aon board of directors. Case succeeds Patrick Ryan, who has served as Aon's CEO since the company's founding. Ryan will serve as executive chairman of the Aon board.

Joseph Bishop
Case most recently served as head of the financial services practice at McKinsey & Company, the international strategic management consulting firm.

Peter Milnes
Aon announced last September that Ryan would be retiring and it had begun a search for his successor. Michael D. O'Halleran, Aon's president and chief operating officer, removed himself from consideration as a candidate for the CEO position at that time. He became senior executive vice president of the company with continued responsibility for global reinsurance brokerage, wholesale brokerage, and managing underwriting activities.

Robert Restrepo
Aon Corporation also announced the appointment of Dave Hartoch as president and CEO of Swett & Crawford. Hartoch previously headed the company from 1997 to 2003.

Neil Alldredge
Terry Winkler will continue to serve as chairman of Swett & Crawford. He and Hartoch, along with executive committee members Neal Abernathy, Bob Greenebaum, Ed Magliaro, Don Shorey and Terri Snell, will steer the firm as its future course is determined, according to the company.
Hartoch replaces Thomas Comer, who announced on March 14 that he was leaving the company. Comer was named president and CEO of Swett & Crawford in 2003.
Chicago-based Aon Corp. reported earlier this year that it was exploring alternatives related to its ownership of Swett & Crawford, including a possible sale of the wholesale arm. The status of any change in ownership of the company remains unknown at this time. Swett & Crawford is the largest U.S.-based wholesale insurance broker with more than 900 employees in 40 offices.
Joseph Bishop was elected president of the Professional Insurance Agents of Connecticut during the group's annual convention in Mashantucket, Conn. Bishop is vice president and secretary of Associated Insurance Agencies Inc. in Hamden, Conn. He succeeds Jeffrey Parmenter, a principal with S.H. Smith & Co. Inc. in West Hartford, who will serve as immediate past-president.
John DiMatteo, president of A.A. DiMatteo Insurance Service Center in Trumbull, Orange and Bethany, Conn., was chosen president-elect Elected vice presidents were Christopher Wilson, general manager for C.V. Mason & Co. in Bristol, Conn., and James Goodman, president of Goodman Insurance Inc. in Shelton, Conn. Michael F. Keating, president of Michael J. Keating Agency Inc. in West Hartford, Conn., was elected secretary. Diane L. Eger, vice president of Orange Insurance Center in Orange, Conn., was elected treasurer.
Since joining PIACT in 1989, Bishop has served as vice president from 2002-2004 and treasurer in 2001-2002. He also is a past president of PIACT's Young Insurance Professionals organization.
The Marketing Alliance, Inc., a consortium of independent life insurance brokerage general agencies located throughout the U.S., has appointed Peter R. Milnes as an independent member of the board of directors. Milnes replaces George Cates, who recently retired. Milnes has more than 25 years of experience in the insurance and financial services industry. From 1985-1995, he served as president of The Insurance Exchange, one of New England's largest independent insurance agencies. From 1995 to 2000, he was chairman and chief executive officer for USI New England. In 2001, he founded INEX Capital & Growth Advisors, a consulting firm dedicated to adding value for independent insurance agency principals. Headquartered in Pittsburgh, TMA provides support to independent insurance brokerage agencies. TMA currently has 150 independent life brokerage and general agencies in 43 states.
The Main Street America Group announced Robert Restrepo Jr. has been appointed as its senior vice president, insurance operations. Restrepo will oversee the company's commercial lines, personal lines, claims, information technology and staff marketing functions.
Most recently, Restrepo was president and chief executive officer of Allmerica Property and Casualty Companies, a subsidiary of Allmerica Financial Corporation, based in Worcester, Mass. While at Allmerica, Restrepo was responsible for day-to-day management of a $2.3 billion business that included a portfolio of insurance products distributed through more than 2,000 agents and brokers in 22 states. He also led the restructuring of Allmerica's regional property and casualty carriers, Citizens Insurance and Hanover Insurance.
The National Association of Mutual Insurance Companies announced that Neil Alldredgehas been named senior director of state advocacy. In his new capacity, Alldredge will be responsible for development and execution of all advocacy strategies before state legislatures and national organizations He will supervise NAMIC's state affairs managers who cover all 50 states.
The Professional Insurance Agents of New York State Inc. announced that Thomas P. Nerney, chairman, president and chief executive officer of United States Liability Insurance Group in Wayne, Pa. will receive the 2005 Long Island Regional Awareness Program Executive of the Year Award. The formal presentation will take place during the Long Island Regional Awareness Program, April 21, 2005 at Leonard's of Great Neck, N.Y. Nerney began his insurance career 27 years ago at Maguire Insurance Agency. He took over as president when the company evolved into Philadelphia Insurance Co. and retired May 1996. He came out of retirement in July of that year when he joined United States Liability Insurance Group.
The Association of Professional Insurance Women has selected Marsha Cohen to be its 2005 Insurance Woman of the Year. Cohen represents the Reinsurance Association of America where she is senior vice president for state relations and directror fo education. Cohen will be honored by the APIW at a ceremony on June 8 in New York.
Was this article valuable?
Here are more articles you may enjoy.
From This Issue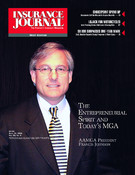 AAMGA Issue